reMarkable Daily Journal
$9.69
Added to cart.


Continue to checkout
OR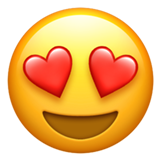 37 reMarkable Planners
+Future Releases & Updates
$19.97
Added to cart.


Continue to checkout
After purchase, enjoy unlimited customizations and downloads of your planner or bundle at no added cost
🌟 Dive Deep with the reMarkable Daily Journal! 🌟Transform your days, capture your moments, and organize your life with unmatched precision. Let the reMarkable Daily Journal be your guide in this ever-evolving journey.
🔥 Exceptional Features for Your Dynamic Life: 🔥
1️⃣ Daily Depth: 📝 5 Unique Schedules, 🌟 Daily Gratitude, 💡 Ideas Inbox, 🍎 Daily Wellness Journal, 🎯 Priority Matrix, 🧠 Brain Dump.
2️⃣ Weekly Wonders: 🗓️ 5 and 7-day Schedules, 🔄 Weekly Routine, ✅ Weekly Goals, 🌐 Weekly Overview, 💰 Income/Expense Tracker.
3️⃣ Monthly Magic: 🎯 Monthly Goals, 📑 Monthly Review, 📚 Monthly Reading, ⏰ Reminders, 📅 Monthly Planner.
4️⃣ Quarterly Quests: 📊 Quarterly Focus, 🎯 Quarterly Goals, 🌅 Quarterly Overview, ❤️ Life Check-In.
5️⃣ Yearly Yields: 🗓️ Yearly Plan, 🎯 Yearly Goals, 🌍 Yearly Overview, 🔄 Yearly Tracker, 📚 Yearly Reading.
6️⃣ Social Media Mastery: 📱 Social Media Planner, 🌐 Social Media Accounts, 📊 Social Media Stats.
7️⃣ Expand Your Horizon: 📚 Reading List, ✒️ Favorite Authors, 🖋️ Favorite Quotes.
8️⃣ Stay Connected & Secure: 📞 Contacts, 🔒 Password Log, 🎤 Conference List, 📝 Conference Notes.
9️⃣ Notes Nirvana: 30 diverse notes templates for every whim and fancy.
Craft your narrative, plan your progress, and embrace every nuance of life. 💪 Start your journey with the reMarkable Daily Journal today! 📘✨
Features
Hyperlinks
for easy navigation
Tabs
for quick access to important pages
Custom dates
that fit your needs
Customize Your Planner
adapt your planner to your life by choosing the most suitable layouts
Sunday / Monday
start day of the week that you prefer
Editing mode
draw, write and sketch on the go
Seize Control of Your Day
We recognize that individuals striving for success demand top-notch tools to accomplish their goals. From capturing meeting notes to crafting comprehensive to-do lists and monitoring tasks, our planner provides the essential elements for achieving your objectives and maximizing daily productivity. Take charge of your day with confidence and efficiency using our unparalleled planner.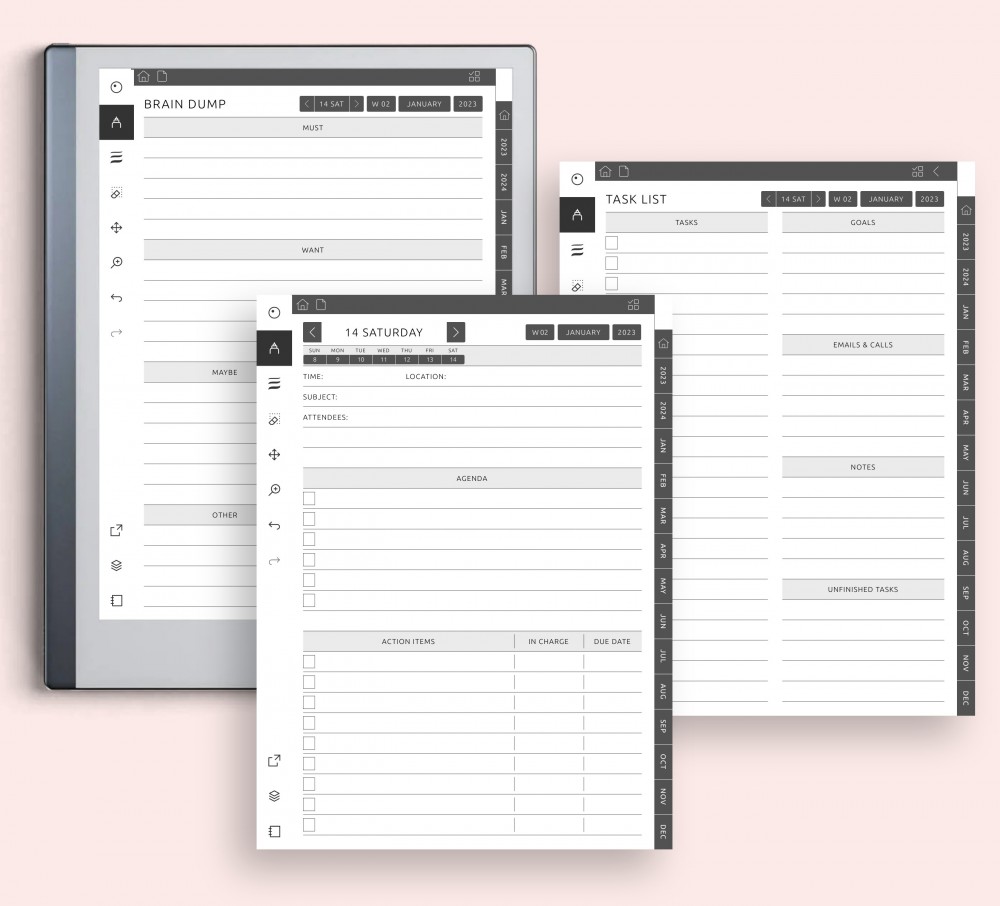 Effortlessly Schedule Your Appointments, Meetings, and Events
Revolutionize your appointments, meetings, and events management with our cutting-edge planner. Say goodbye to scheduling complexities as our intuitive system simplifies the process for you. With dedicated monthly, quarterly, and annual pages, you can effortlessly plan and organize your calendar. Stay in control and keep track of your schedule easily, allowing you to focus on what truly matters. Experience an increased level of efficiency and productivity with our user-friendly planner.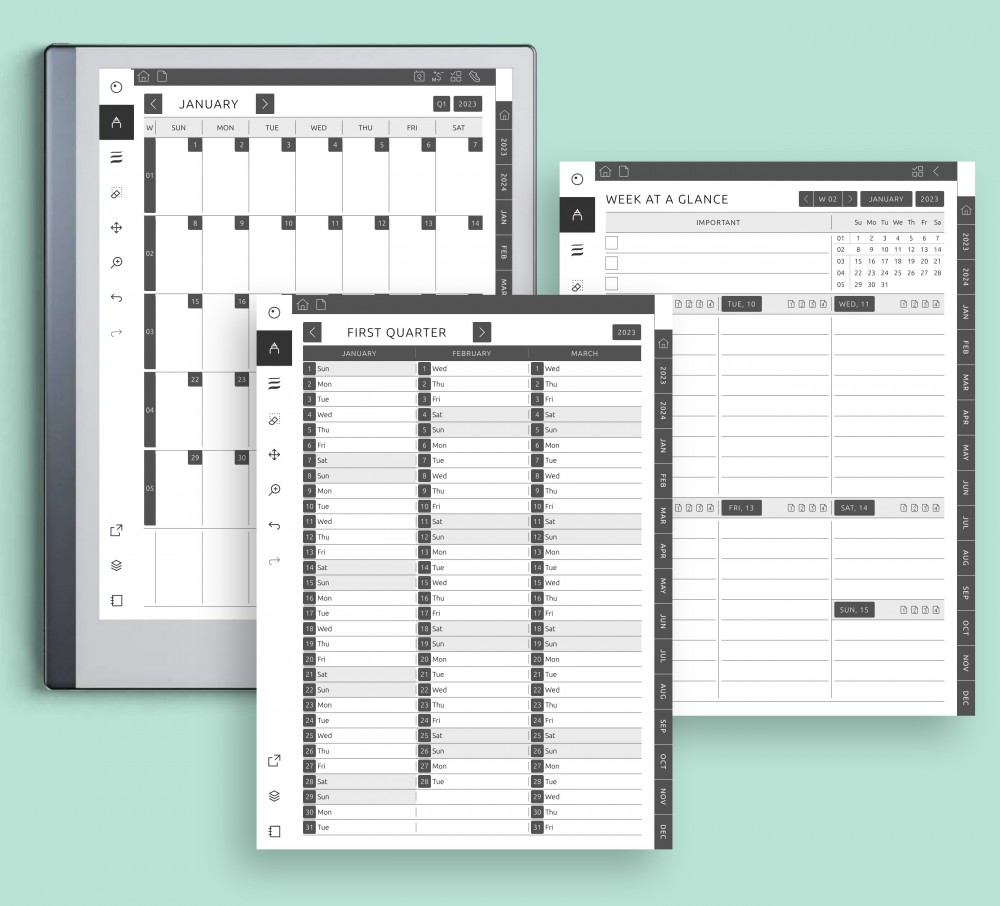 Unlock Your Creativity and Personalize Your Note-Taking Journey with Our Customizable Templates
Ignite your imagination and add a personal touch to your note-taking experience with our diverse range of customizable templates. With an extensive collection of 30 unique designs, you have the power to create notes that reflect your individual style and preferences. Express yourself and make each note truly your own with our versatile planner templates.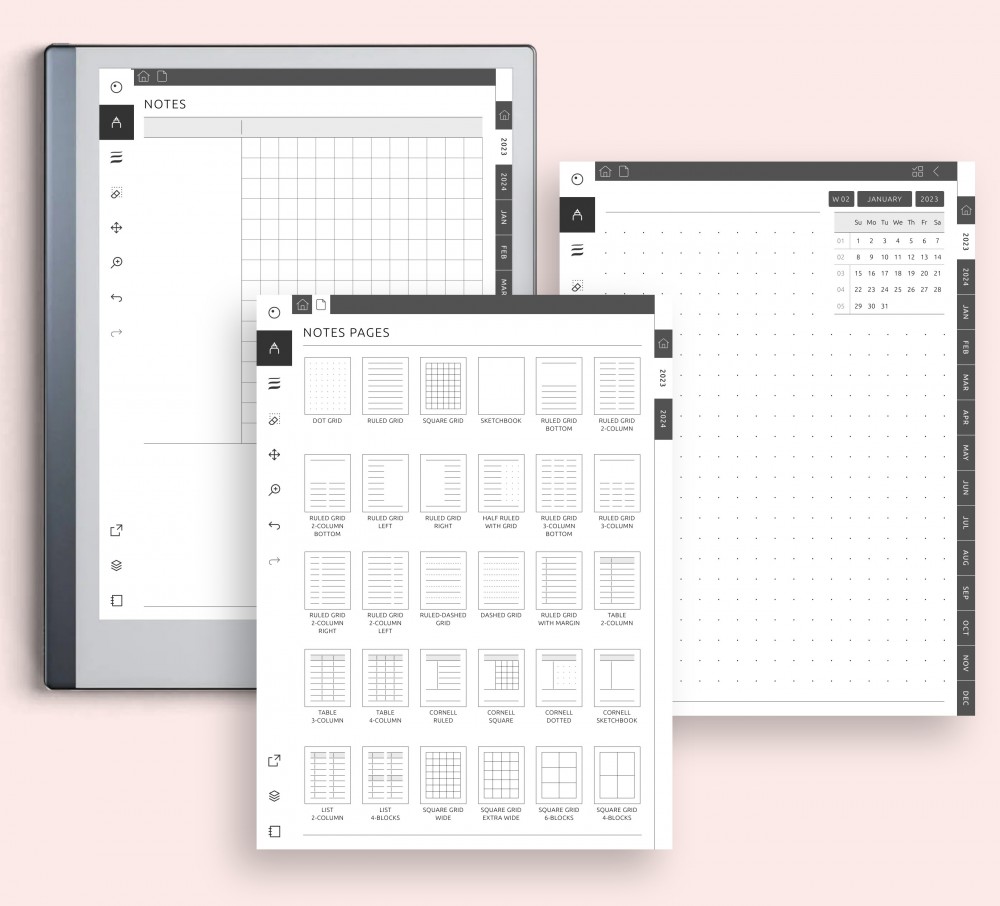 Design Your Perfect Planner: Customizable Templates for Your Unique Lifestyle
Create a planner that perfectly fits your unique lifestyle with our diverse selection of customizable templates. Tailor your planner to meet your evolving needs by downloading it and adjusting it as many times as you like. Personalize your planner with up to 4 daily (2 by default), 2 monthly, 2 quarterly, and 2 yearly pages, all customizable to your liking. Embrace the freedom to craft the ideal planner that caters to your preferences and helps you stay organized in style.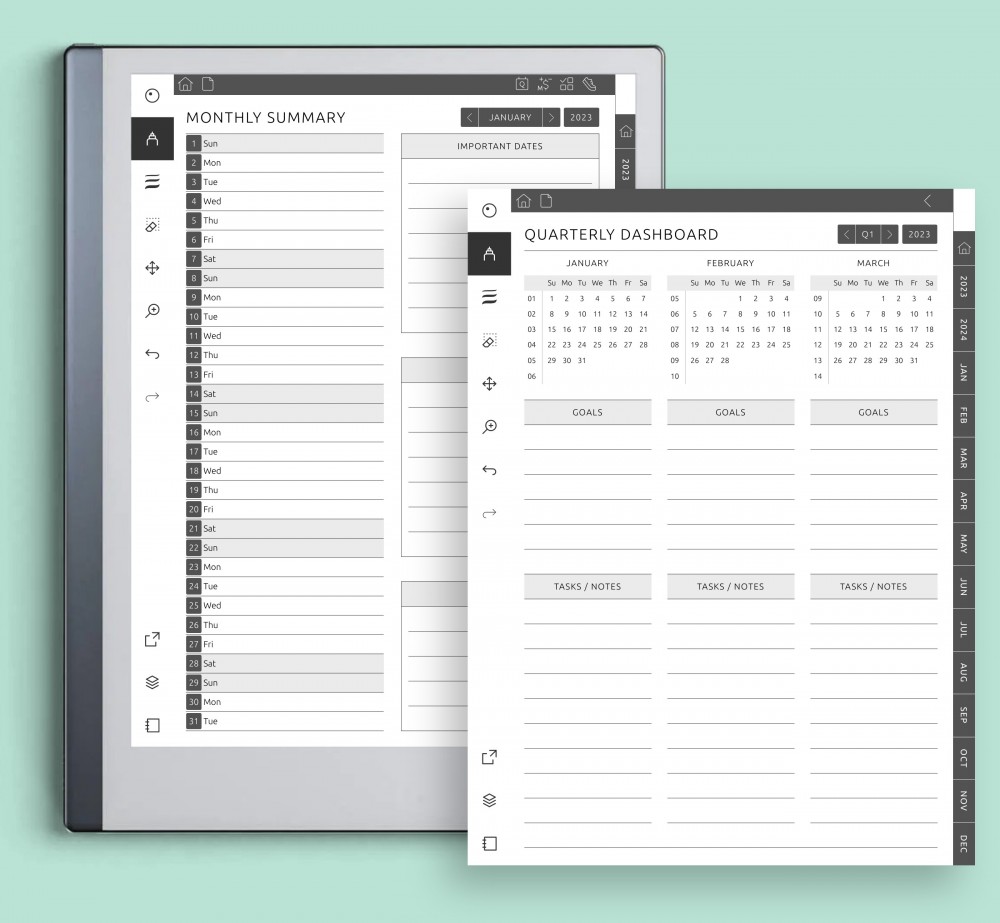 Maximize Your Reading Experience
Elevate your reading journey with our planner's hyperlinked pages, designed to enhance your book engagement. Create reading lists, write insightful book reviews, and capture your favorite quotes, all in one place. Our planner empowers you to get the most out of your reading by providing a convenient and organized platform for tracking and documenting your literary adventures.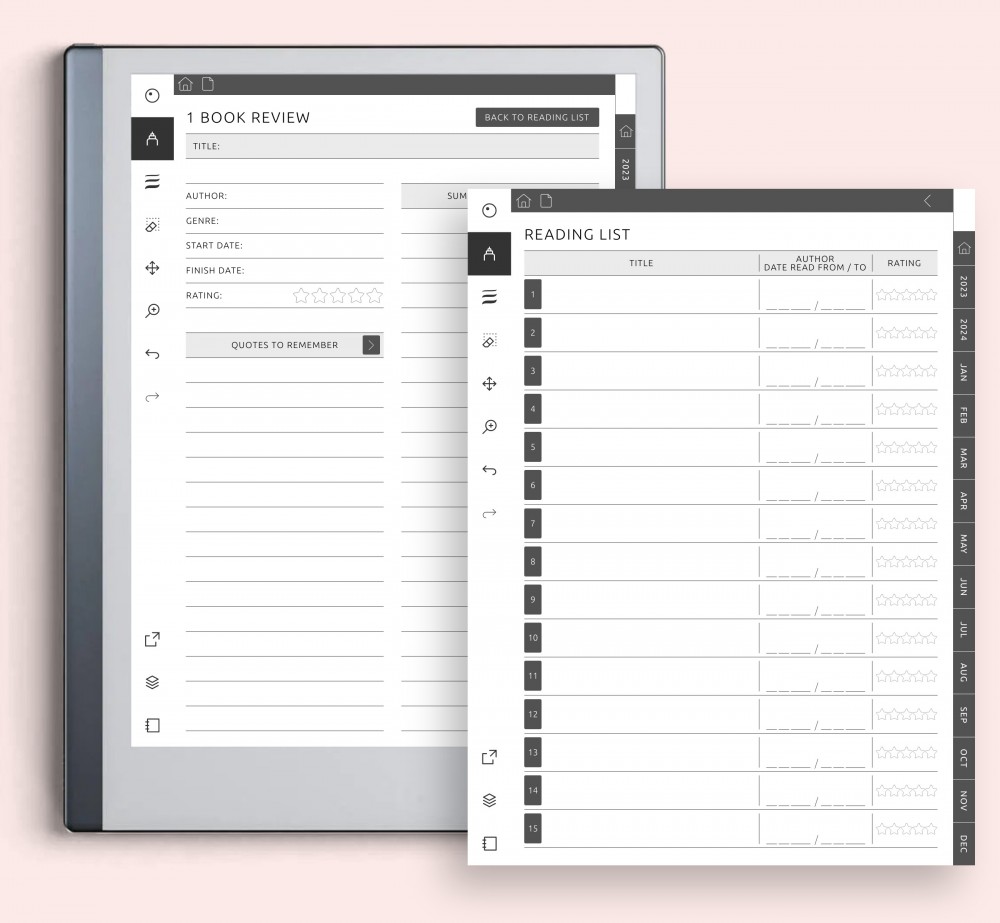 Easy Access to Essential Information
Easy Access to Essential Information With our planner, important contact details are always at your fingertips. Benefit from specialized templates dedicated to capturing vital information, ensuring that you have quick and convenient access to critical details whenever you need them. Stay organized and never miss a beat with our planner's dedicated sections for keeping key information close at hand.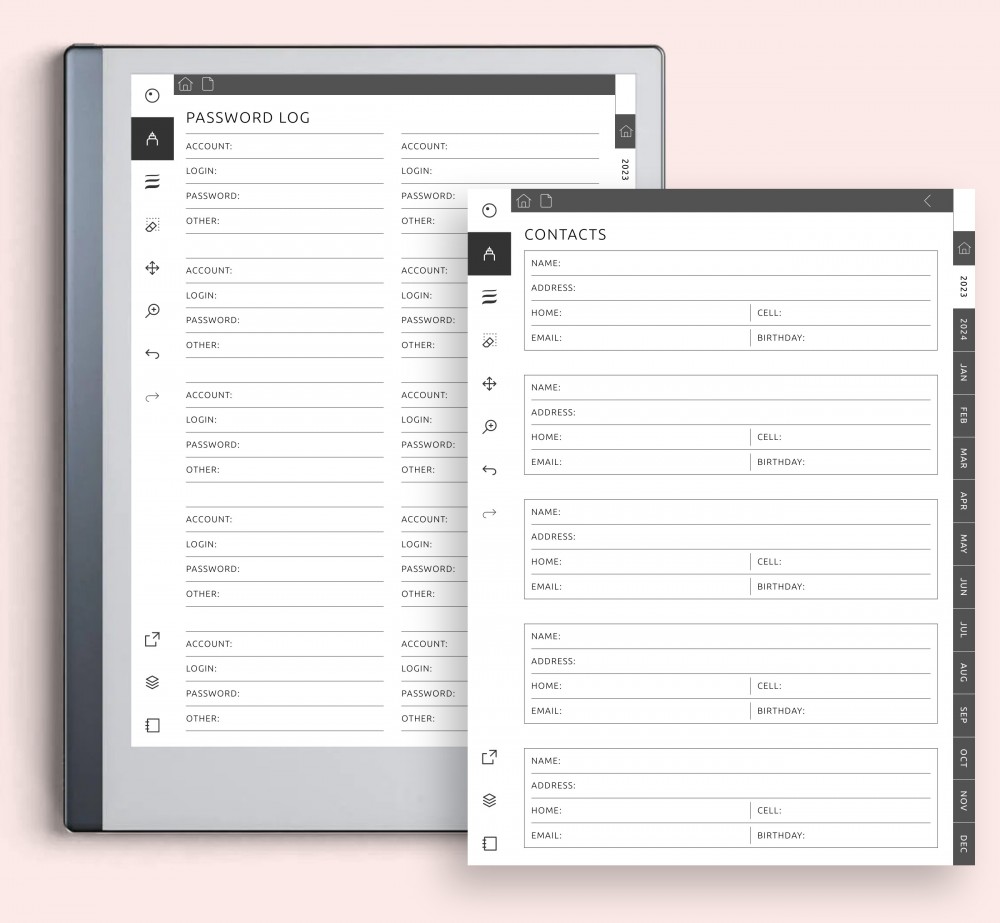 Effortless Exploration: Embrace the Hyperlinked Journey of Your Customizable Planner
Navigate your planner easily and efficiently. Our hyperlinked structure ensures seamless exploration, allowing you to find the information you seek precisely when you need it. Designed for your convenience, our customizable planner streamlines navigation enabling you to effortlessly access your daily to-do lists, project timelines, monthly goals, and more with just a few clicks. Say goodbye to cumbersome searching and embrace a smooth and intuitive planning experience that keeps you focused and on track.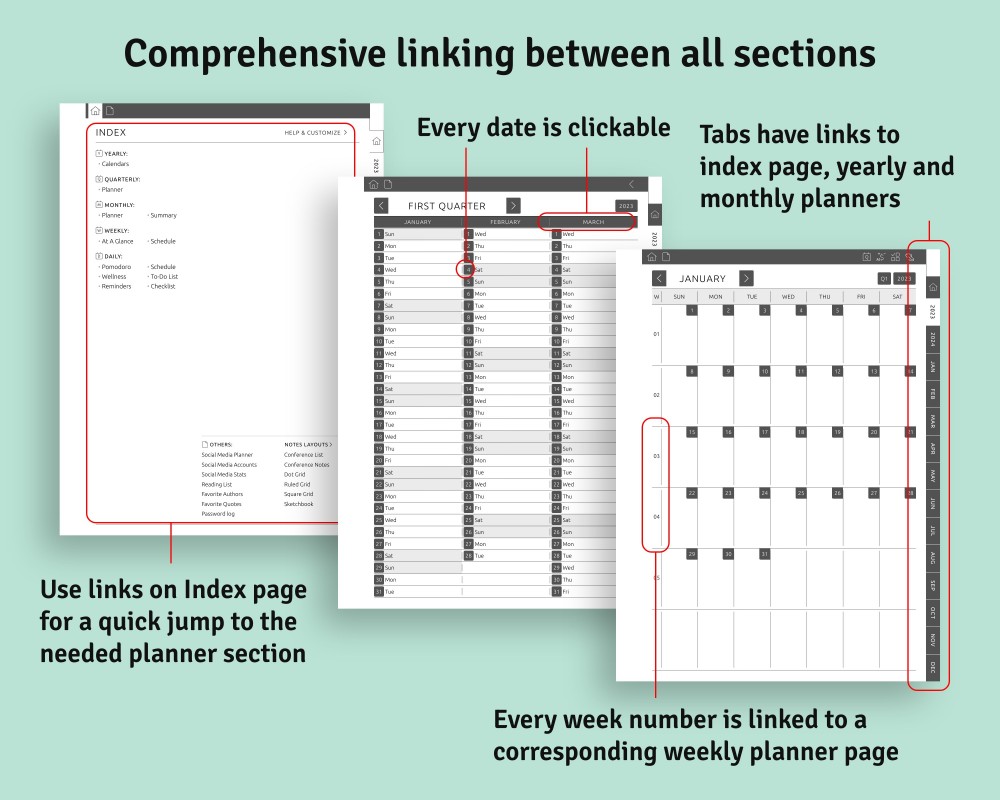 reMarkable Daily Journal
$9.69
Added to cart.


Continue to checkout
OR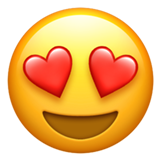 37 reMarkable Planners
+Future Releases & Updates
$19.97
Added to cart.


Continue to checkout
After purchase, enjoy unlimited customizations and downloads of your planner or bundle at no added cost