Digital Daily Journal
$9.69
Added to cart.


Continue to checkout
OR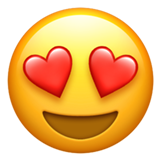 65 iPad Planners
+Future Releases & Updates
$19.97
Added to cart.


Continue to checkout
After purchase, enjoy unlimited customizations and downloads of your planner or bundle at no added cost
Introducing the Digital Daily Journal for iPad and Android, designed to elevate your creativity, increase self-awareness, alleviate stress, and supercharge productivity. With our journal, you'll discover a wealth of features to unlock your potential.
Immerse yourself in the two monthly and weekly pages, offering a structured framework for organizing your thoughts and goals. In addition, benefit from up to four customizable daily pages, each equipped with a plethora of templates. Tailor your journal to match your unique lifestyle and preferences, effortlessly.
Efficiently manage your daily tasks with the intuitive to-do and tasks list. Seamlessly integrate your schedule, ensuring you stay on top of your commitments and responsibilities. With the digital journal, you'll have all your essential information at your fingertips, taking your note-taking to extraordinary heights.
Don't miss out on the opportunity to acquire this exceptional digital journal at an incredible price. Unlock your full potential and revolutionize your daily routine.
Features
Hyperlinks
for easy navigation
Tabs
for quick access to important pages
Custom dates
that fit your needs
Customize Your Planner
adapt your planner to your life by choosing the most suitable layouts
Sunday / Monday
start day of the week that you prefer
Editing mode
draw, write and sketch on the go
Compatible with

Goodnotes

Notability

Noteshelf

Xodo
Samsung Notes
Cultivate a Journaling Habit: Unleash Your Imagination, Boost Creativity, and Prioritize Tasks for iPad / Android
Unlock the transformative power of journaling and make it an integral part of your daily routine. By embracing the habit of journaling, you open the door to a world of enhanced imagination, heightened creativity, and effective task prioritization. But that's not all – journaling offers a multitude of additional benefits that can truly enrich your life. Journaling allows you to delve deeper into your thoughts and emotions, providing a clearer perspective on what truly matters.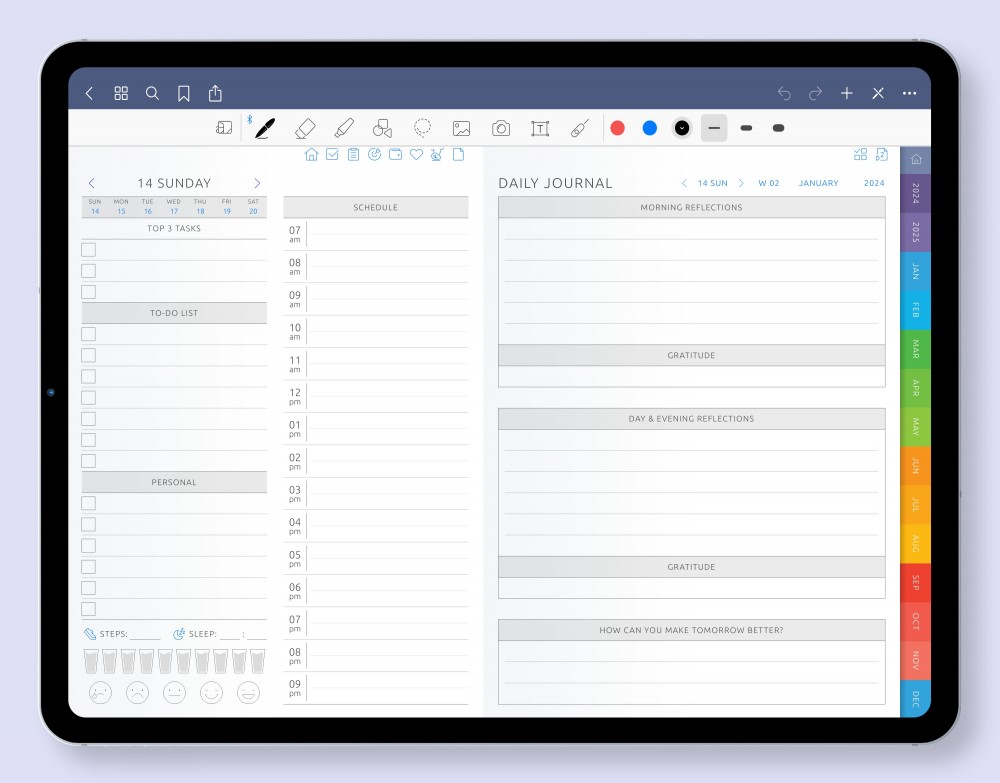 Empower Your Day: Take Command of Your Schedule
Seize Control of Your Day: Unleash Your Productivity Our planner empowers you with up to 4 daily pages. From capturing meeting notes to crafting comprehensive to-do lists and monitoring tasks, it provides the essential elements for achieving your goals. The meticulously designed pages, tailored to your needs, provide the structure and guidance required to optimize your workflow. No more wasted time or missed opportunities—embrace the power of our planner to enhance your daily productivity.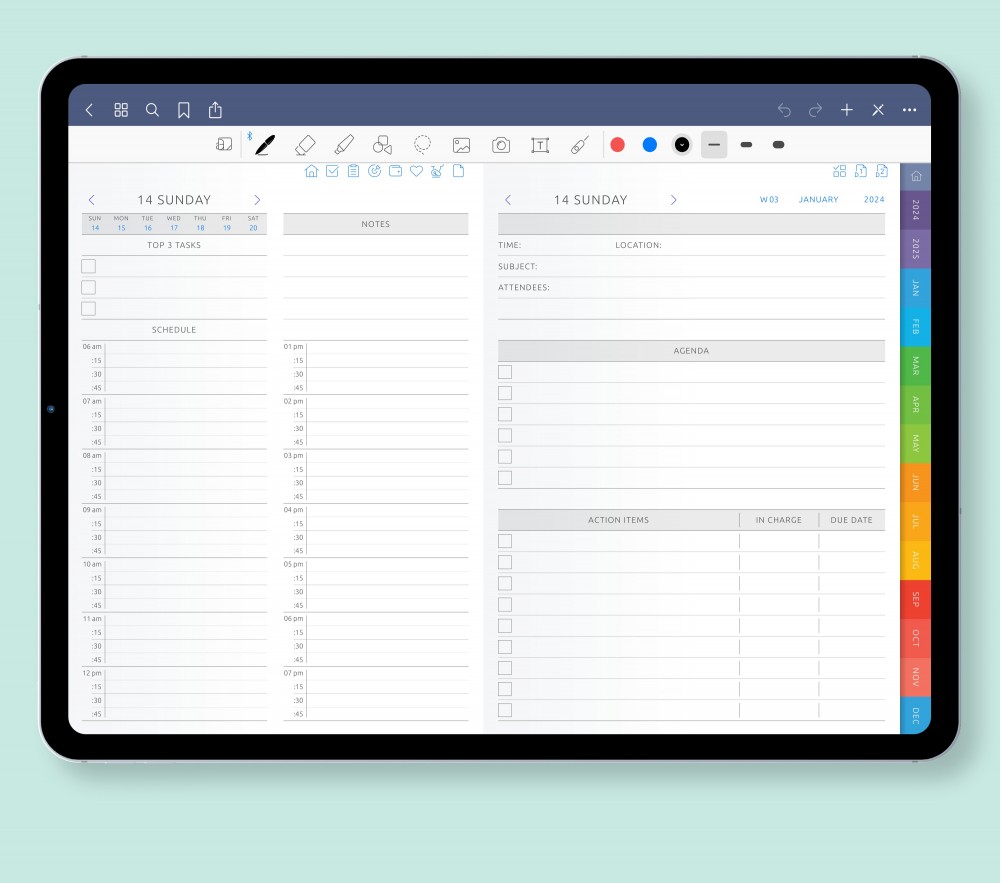 Effortlessly Schedule Your Appointments, Meetings, and Events
Revolutionize how you manage appointments, meetings, and events with our cutting-edge planner. Bid farewell to scheduling complexities as our intuitive system simplifies the process for you. With dedicated monthly, quarterly, and annual pages, effortlessly plan and organize your calendar. Maintain control and easily track your schedule, freeing you to concentrate on what truly matters. Embrace heightened efficiency and productivity with our user-friendly planner, designed to propel you towards success.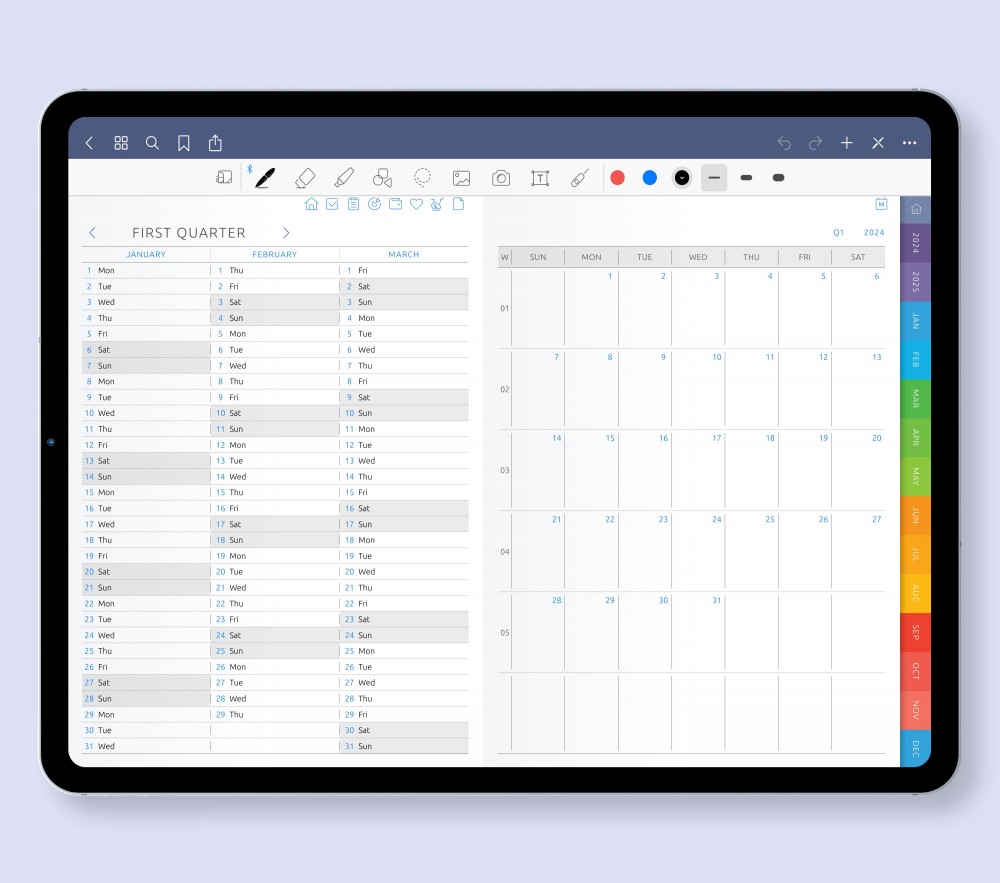 Boost Your Productivity: Master Your Tasks for iPad / Android
Elevate Your Daily Routine with Our Game-Changing Planner. Designed with convenient templates and the renowned Get Things Done methodology, our planner streamlines task management, making it effortless to capture, process, and organize your ideas. Whether you seek to prioritize your to-do list, effortlessly tackle ambitious projects, or maintain unwavering focus and productivity, our planner provides all the tools you need to seize control of your time and conquer your goals.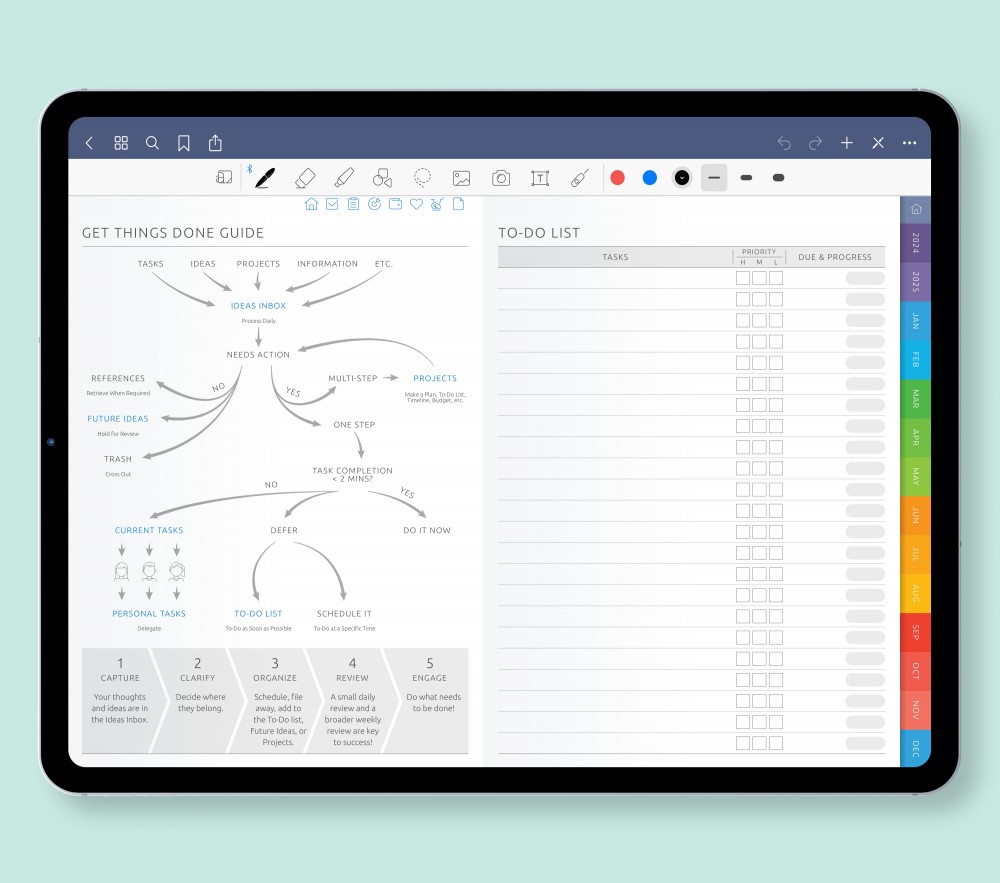 Enhance Your Productivity: Unleash the Power of Trackers, Reminders, and Prompts
Supercharge your productivity with our comprehensive planner, crafted to optimize your efficiency. Featuring an array of trackers, reminders, and prompts, our all-in-one planner equips you with the essential tools to stay ahead of your tasks and achieve your goals. Stay motivated, never miss important dates, and effortlessly track your progress. Our planner is the ultimate organizational companion, propelling you towards success with ease and precision.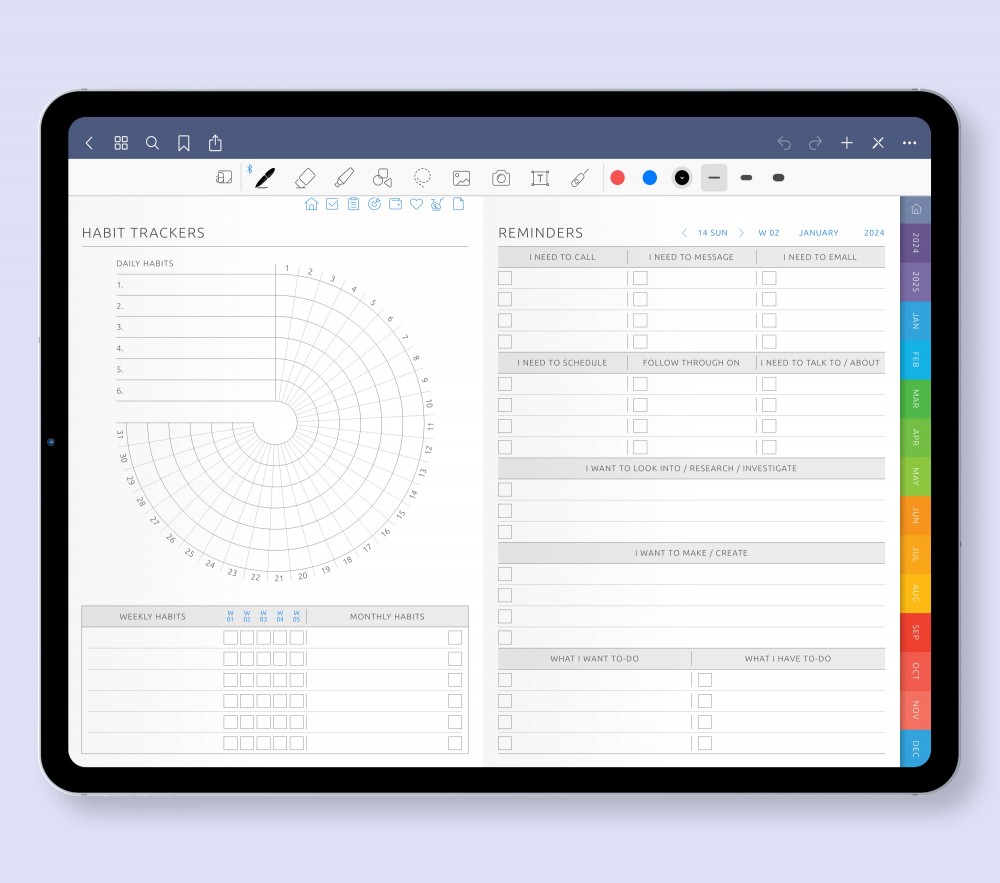 Reach Your Goals with Our Planner
Ignite your path to success with our Goals section. Harness the power of our customizable templates to break down your aspirations into actionable steps, ensuring you stay motivated and on course to accomplish what truly matters. Whether you're pursuing personal milestones or professional ambitions, our planner provides the essential tools to unlock your full potential and transform your dreams into reality.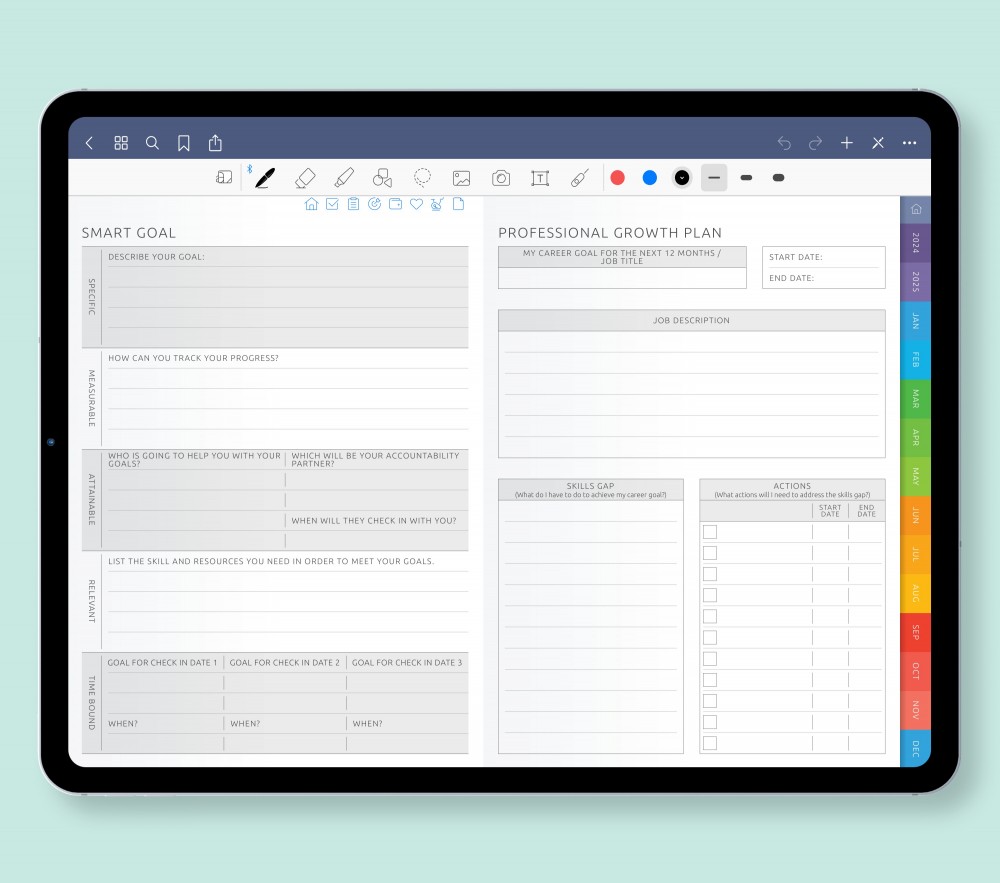 Personalize Your Note-Taking: Unleash Creativity with our Customizable Templates
Personalize Your NotTake your note-taking to new heights with our planner's array of versatile and customizable templates. With over 30 options at your disposal, you can capture your ideas and thoughts in a manner that perfectly aligns with your unique style and requirements.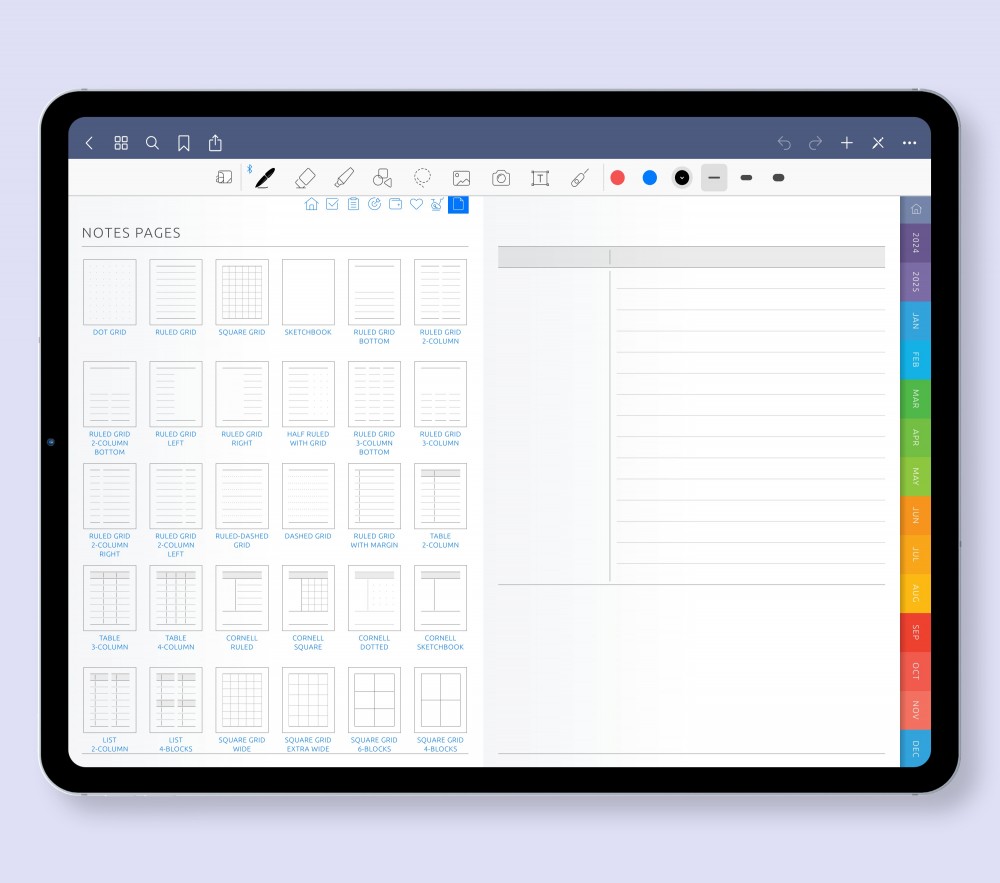 Empower Your Finances with 10 Easy-to-Use Templates
Take charge of your financial journey with our comprehensive planner. Designed to simplify your financial management, we provide 10 customizable templates that enable you to create a budget plan, track expenses, and set savings goals seamlessly. With all these tools in one place, our planner empowers you to take control of your money and unlock the path to the financial freedom you've always envisioned.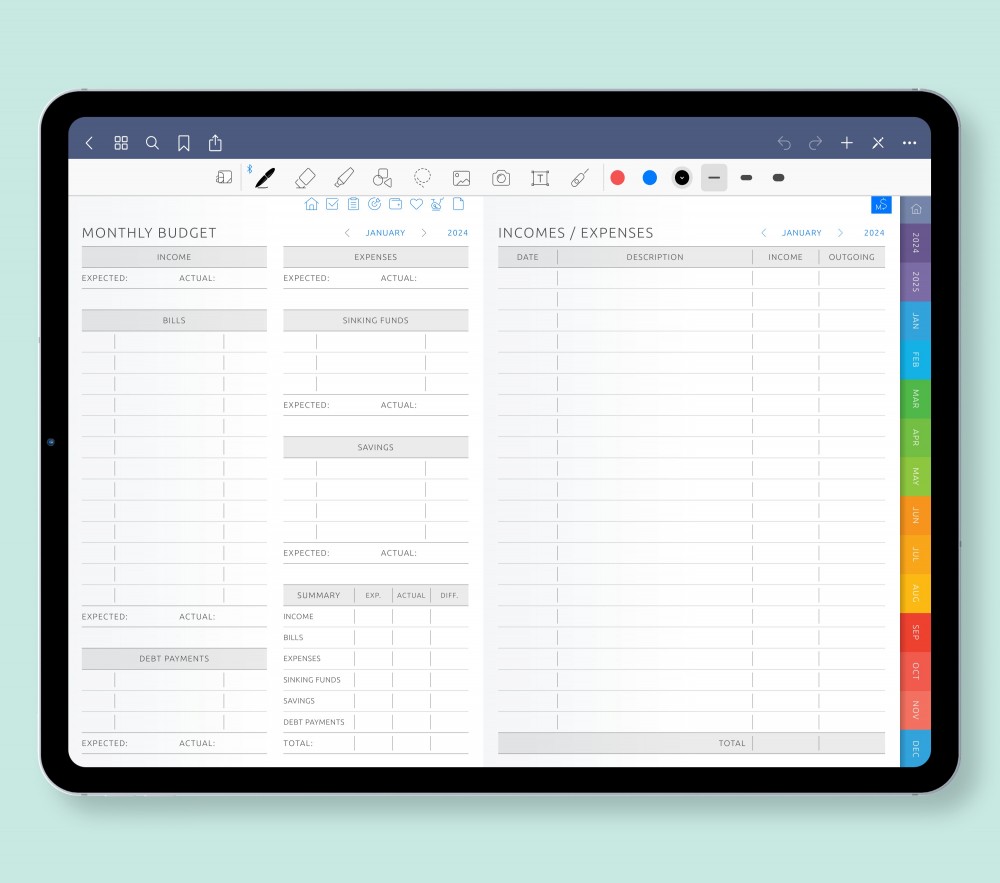 Streamline Project Management with Our Planner
Streamline Project Management with Our Planner Effortlessly oversee your projects using our innovative planner. With customizable to-do lists and dynamic Kanban boards, you can set milestones, calculate budgets, and visually track progress like never before. Stay organized and in control, ensuring successful project execution from start to finish.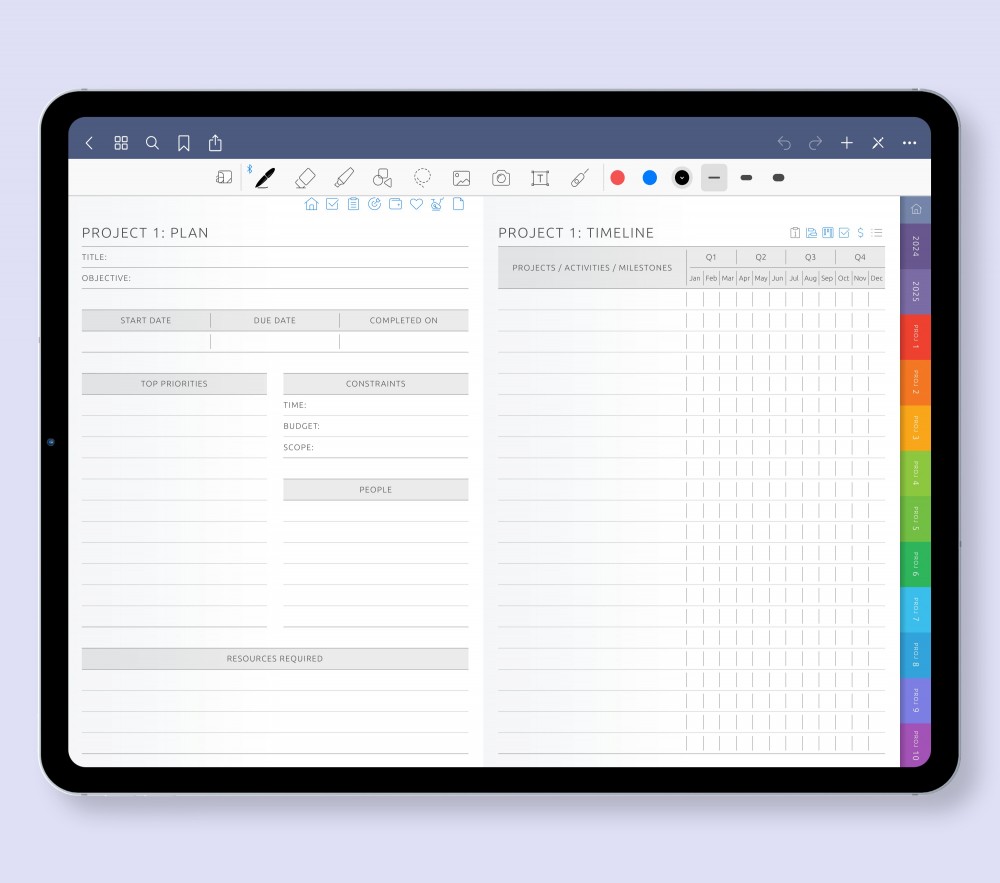 Create Your Perfect Planner: Customize Templates for Your Lifestyle
Craft a planner that perfectly aligns with your unique lifestyle using our customizable templates. Download and modify your planner as many times as necessary to adapt to your evolving needs. With options for up to 4 daily, 4 weekly, 4 monthly, 4 quarterly, and 4 yearly pages, you have the flexibility to tailor your planner to your schedule. Explore our extensive collection of customizable templates, allowing you to infuse your planner with your personal touch and make it truly yours.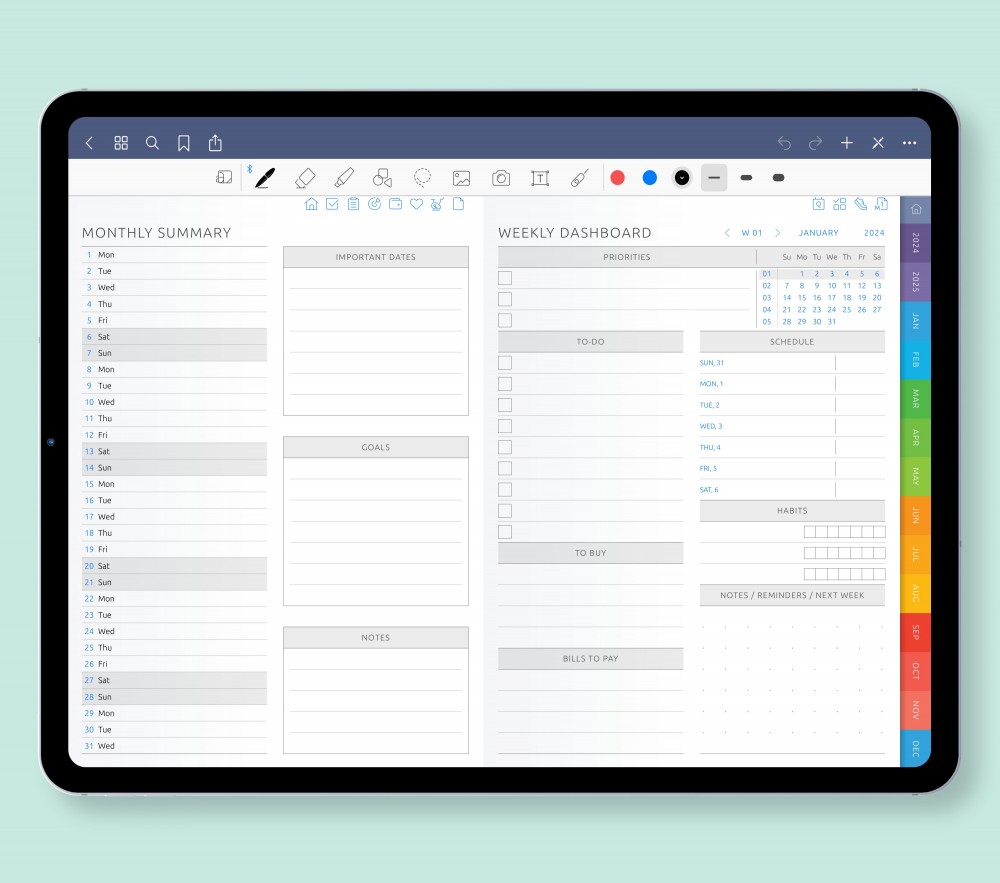 Enhance Your Well-being: Empower Your Fitness, Nutrition, and Self-Care
Elevate your wellness journey with our dedicated Health and Wellness pages. Our planner provides a range of templates to boost your motivation, track your fitness progress, prioritize nutrition and self-care habits, and effectively manage stress levels. From maintaining a wellness diary to nurturing mental health and energy levels, our planner empowers you to achieve optimal well-being and embrace a life of vitality.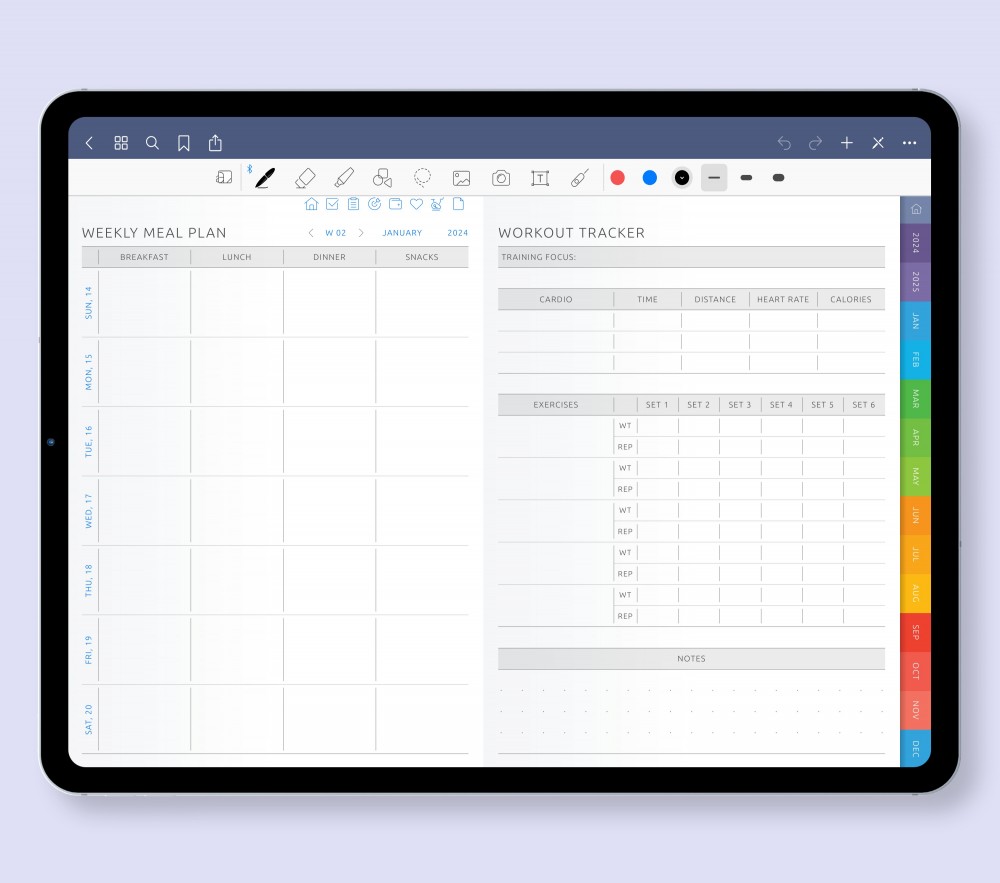 Digital Daily Journal
$9.69
Added to cart.


Continue to checkout
OR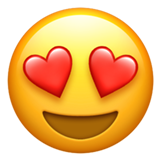 65 iPad Planners
+Future Releases & Updates
$19.97
Added to cart.


Continue to checkout
After purchase, enjoy unlimited customizations and downloads of your planner or bundle at no added cost