Quarterly links are inactive
This reMakable Daily Gratitude planner will let you incorporate gratitude into an essential part of your life. You will be organized and equipped with a handy tool on your way to success. Well-thought-through customization makes it easy to tailor the planner to your needs, and tons of helpful templates will please you. Keep an eye on the main goals and priorities on the agenda, and be grateful for the accomplishments you make.
Download the planner to your reMarkable tablet. Enjoy all the benefits of a hyperlinked page structure with clickable tabs and buttons, manage your affairs efficiently and experience sincere happiness from successfully completed tasks.
Features

Hyperlinks
for easy navigation

Tabs
for quick access to important pages

Custom dates
that fit your needs

Customize Your Planner
adapt your planner to your life by choosing the most suitable layouts

Sunday / Monday
start day of the week that you prefer

Editing mode
draw, write and sketch on the go
Scheduling Your Appointments, Meetings, and Events has never been easier
Managing appointments, events, and meetings has become incredibly convenient thanks to our planner. You can easily plan and schedule events quarterly and monthly using two monthly, quarterly, and annual pages. This ensures that staying organized and maintaining control over your schedule is effortless and hassle-free.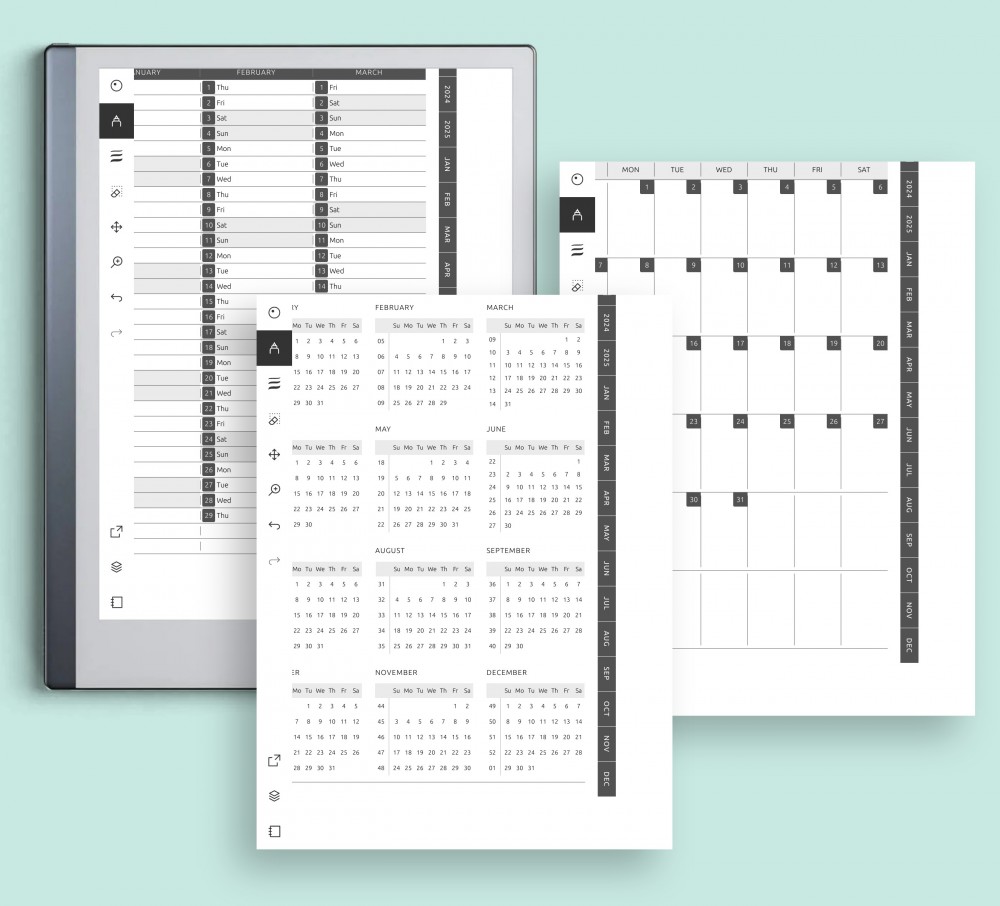 Unleash Your Creativity and Personalize Your Note-Taking Experience with Our Customizable Templates
Discover a wide selection of customizable note-taking templates in our planner, designed to suit your individual preferences and unleash your creative potential. With a collection of 30 unique templates, you have the freedom to tailor your notes according to your personal style and needs.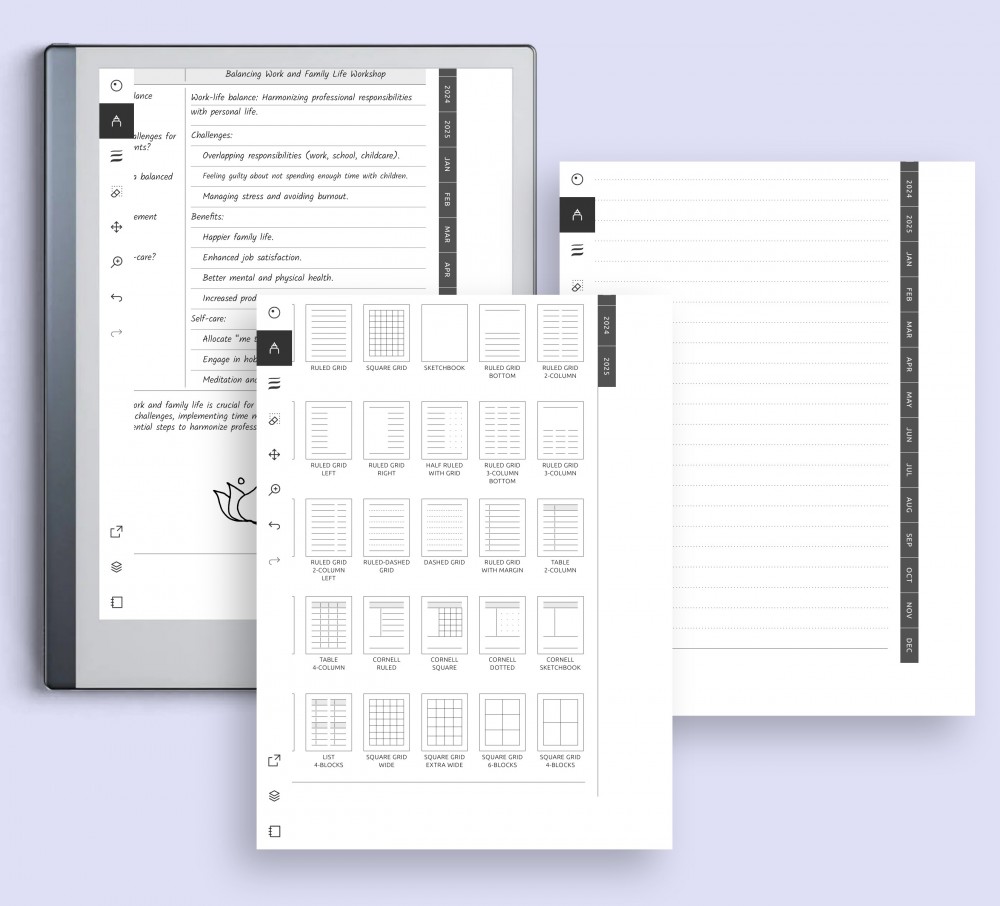 Craft Your Ideal Planner: Tailor-Made Templates for Your One-of-a-Kind Lifestyle
Experience a planner that effortlessly aligns with your unique lifestyle, thanks to our wide range of customizable templates. Adapt your planner to suit your ever-evolving needs by downloading it as many times as necessary. Enjoy personalizing your planner with 2 daily, 2 monthly, 2 quarterly, and 2 yearly pages. These pages can be tailored to your preferences.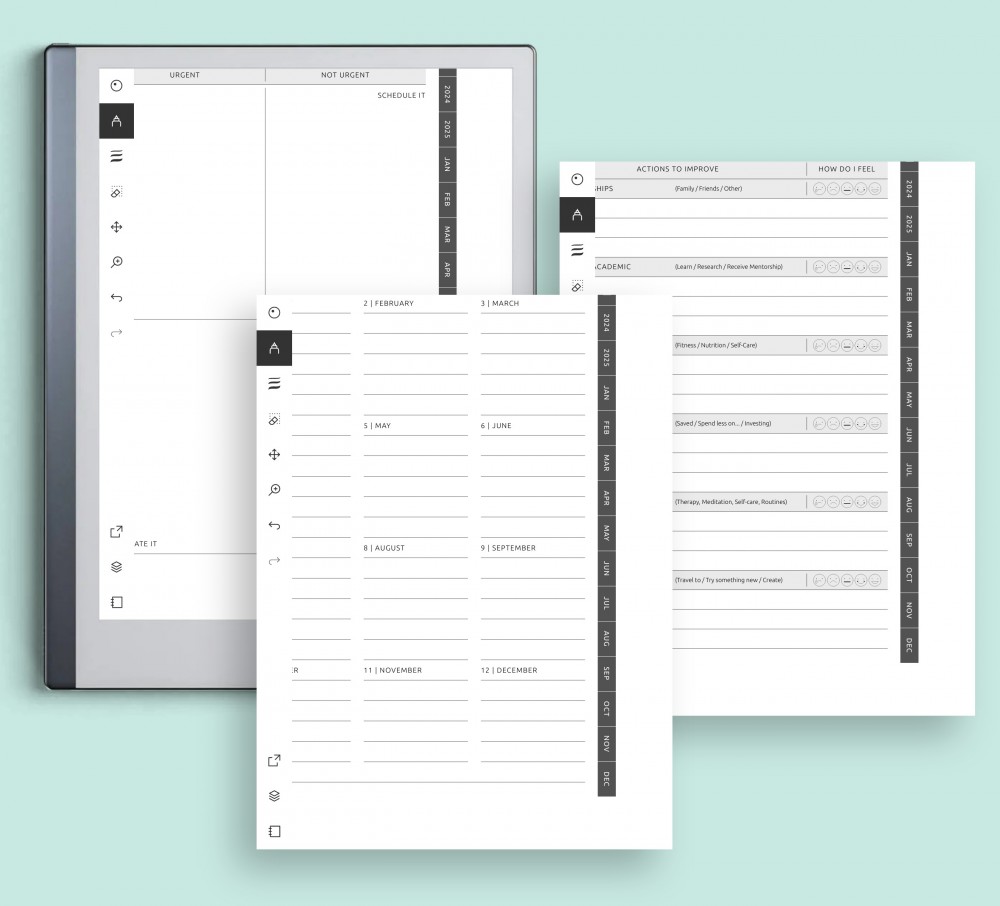 Seamless Navigation: Embrace the Hyperlinked Structure of Your Customizable Planner
Experience effortless navigation within your planner. Our hyperlinked structure ensures that you can swiftly locate the information you need, precisely when you need it. Designed with your convenience in mind, our customizable planner streamlines navigation, allowing you to effortlessly access your daily to-do lists, project timelines, monthly goals, and more with just a few clicks. Say goodbye to unnecessary searching and enjoy a smooth and intuitive planning experience.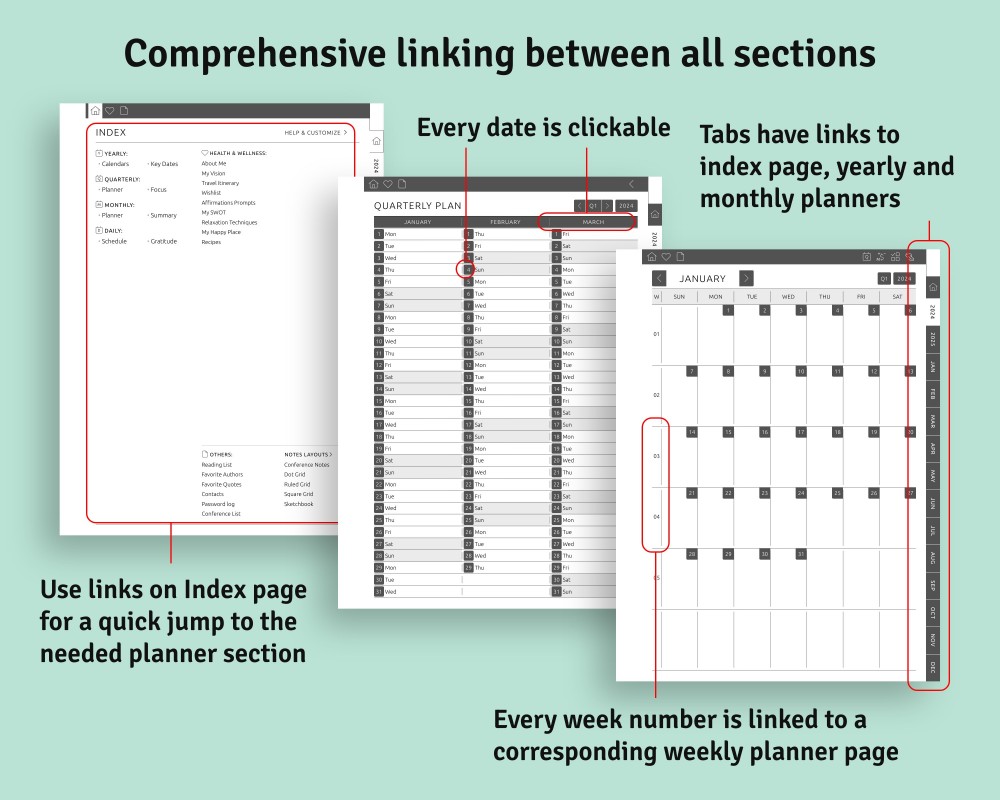 Quarterly links are inactive