Quarterly links are inactive
Weekly links are inactive
Discover an unparalleled organization with our Supernote Daily Planner. Whether you seek to master your agenda, enhance task management, or maintain a well-balanced schedule, our planner is the ideal tool for you. With customizable schedules, time management templates, and helpful reminders and prompts, you can effortlessly schedule appointments, meetings, and events with confidence. Embrace a more organized and productive life by taking the first step with our Supernote Daily Planner.
Features

Hyperlinks
for easy navigation

Tabs
for quick access to important pages

Custom dates
that fit your needs

Customize Your Planner
adapt your planner to your life by choosing the most suitable layouts

Sunday / Monday
start day of the week that you prefer

Editing mode
draw, write and sketch on the go
Supercharge Your Productivity: Take Command of Your Tasks
With user-friendly templates and the acclaimed Get Things Done methodology, our planner revolutionizes task management, allowing you to effortlessly capture, process, and organize your ideas. Whether you strive to prioritize your to-do list, conquer ambitious projects, or maintain laser focus and productivity, our planner equips you with the tools to seize control of your time and accomplish your objectives.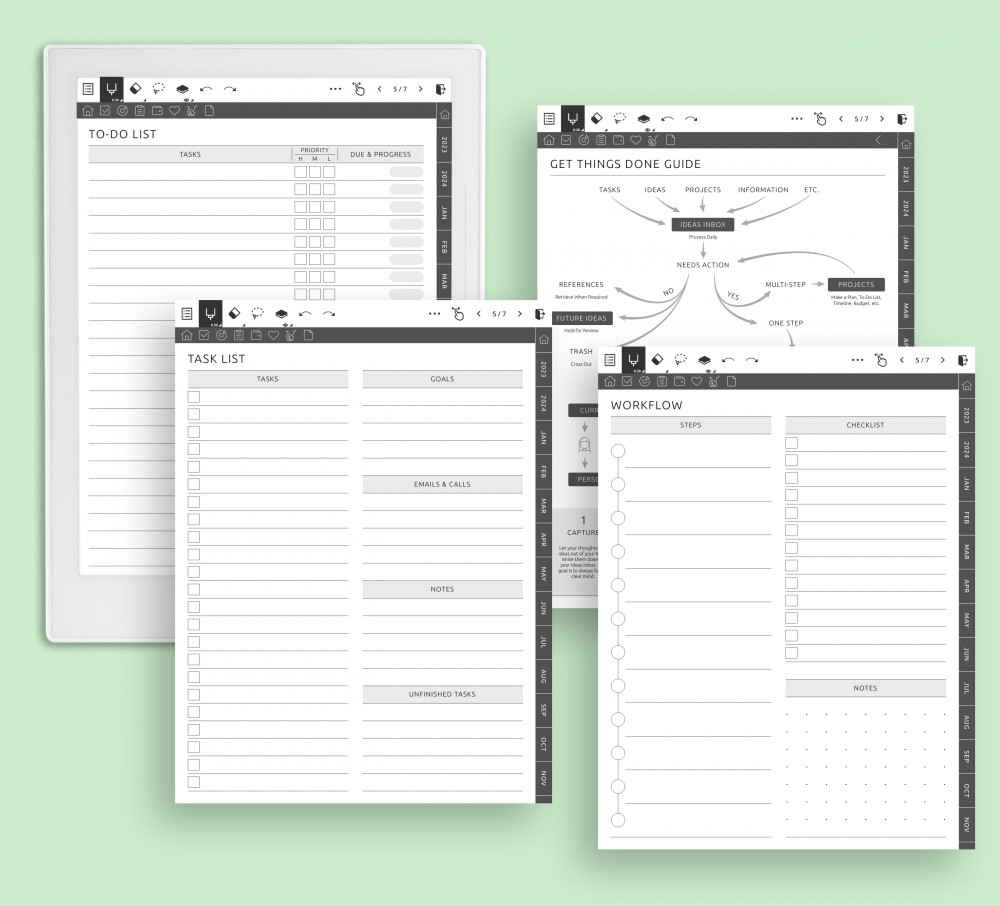 Maximize Your Calendar Control: Streamline Appointment Management
Take charge of your schedule with our planner. Tailor the customizable templates for weekly, monthly, quarterly, and annual pages to suit your lifestyle. This will enable seamless appointment, event, and meeting organization. Experience ease of scheduling like never before with our user-friendly planner.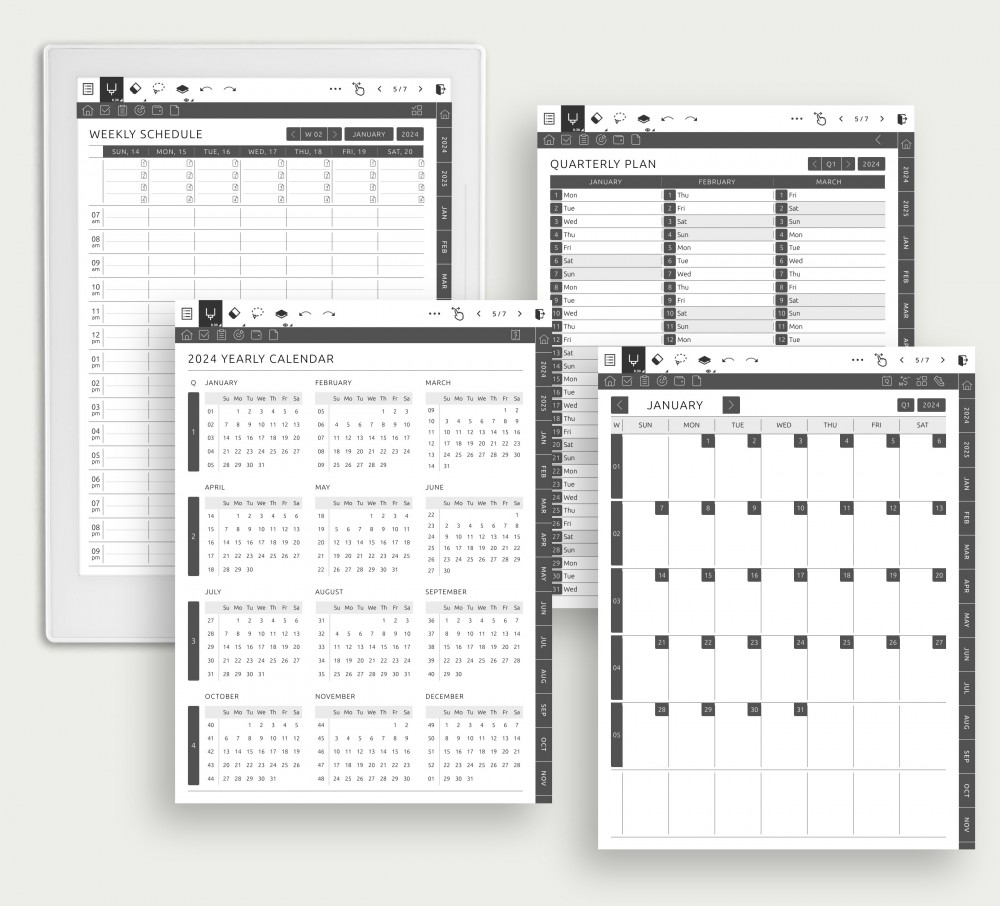 Unleash Your Daily Productivity: Harness the Power of Our Customizable Daily Planner
Experience an unprecedented level of productivity with our feature-rich daily planner. Designed for high-achievers like you, our planner offers customizable templates for note-taking, task tracking, and to-do lists, allowing you to stay focused and organized throughout your day. With the flexibility to have up to four daily pages, you'll have ample space to capture your ideas, track your progress, and maximize your productivity.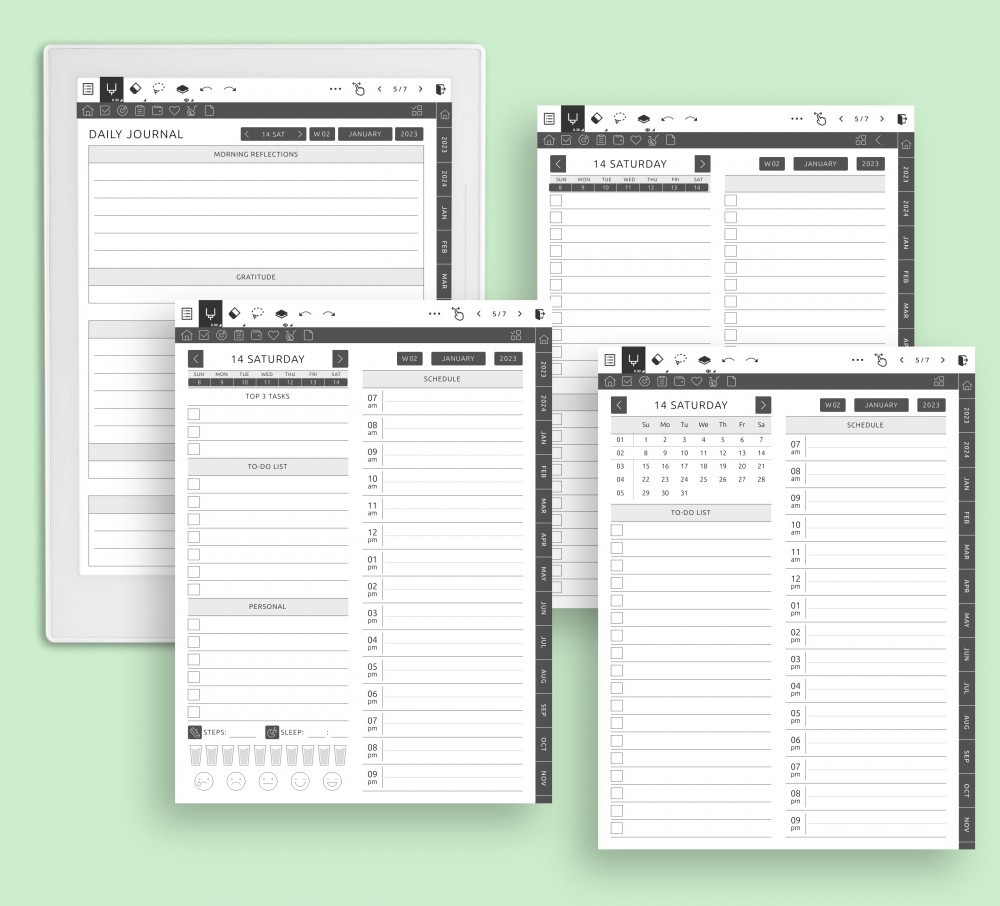 Boost Your Productivity with Our Versatile Collection of Trackers, Reminders, and Prompts
Supercharge your productivity with our comprehensive planner that includes a wide range of tools to keep you on track. From customizable reminders and goal trackers to helpful prompts, our planner provides all the resources you need to stay focused and achieve your objectives. Never miss a deadline, stay motivated, and track your progress effortlessly. Take control of your productivity and reach new heights of success with our all-in-one planner.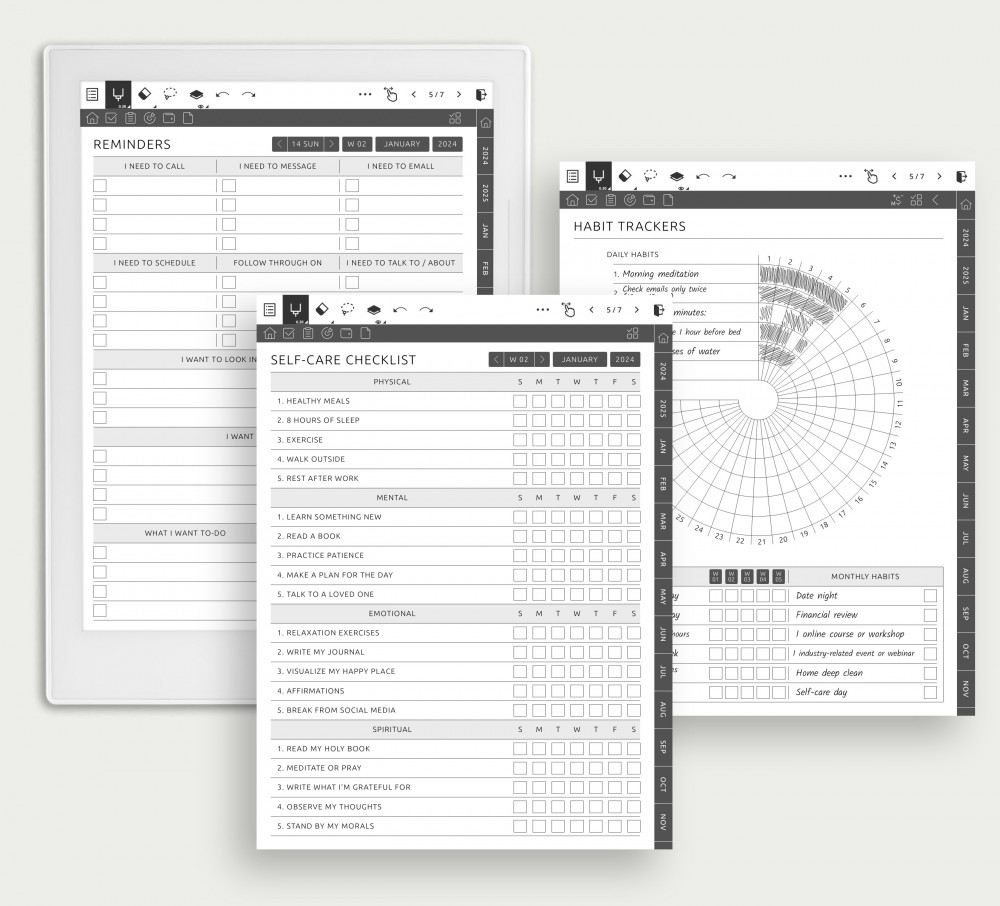 Ignite Your Potential: Unleash Your Ambitions with Our Goal-Oriented Planner
Use our Goals section to propel you toward success. Our planner offers customizable templates that break down your goals into actionable steps, empowering you to stay focused and motivated on your journey. Whether you're pursuing personal aspirations or professional milestones, our planner provides the tools you need to unlock your full potential. It also turns your dreams into reality. Reimagine what's possible and conquer your goals with our transformative planner.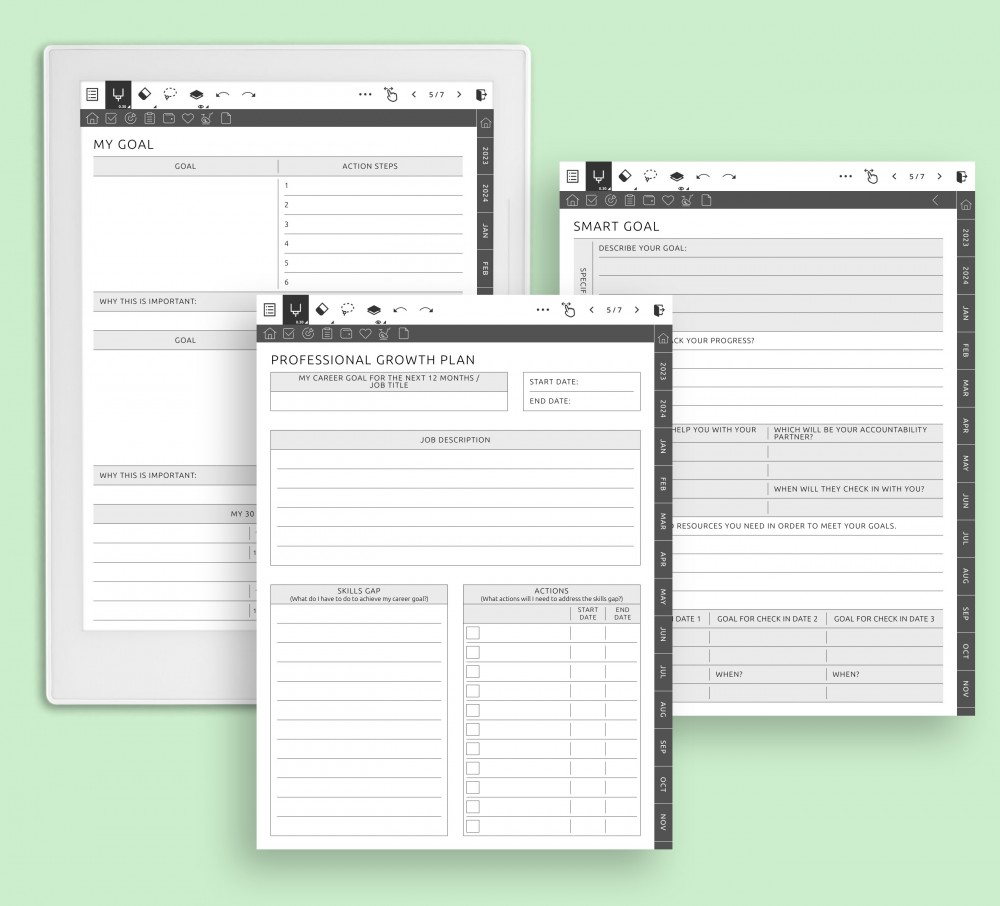 Personalize Your Note-Taking Experience with Our Diverse Templates
Discover the power of customization with our planner's extensive range of versatile templates. With over 30 options to choose from, you can tailor your note-taking experience to your unique style and preferences. From organizing your thoughts to capturing critical information, our templates offer endless possibilities. Additionally, our planner provides dedicated sections for recording crucial contact details, ensuring you have everything you need at your fingertips.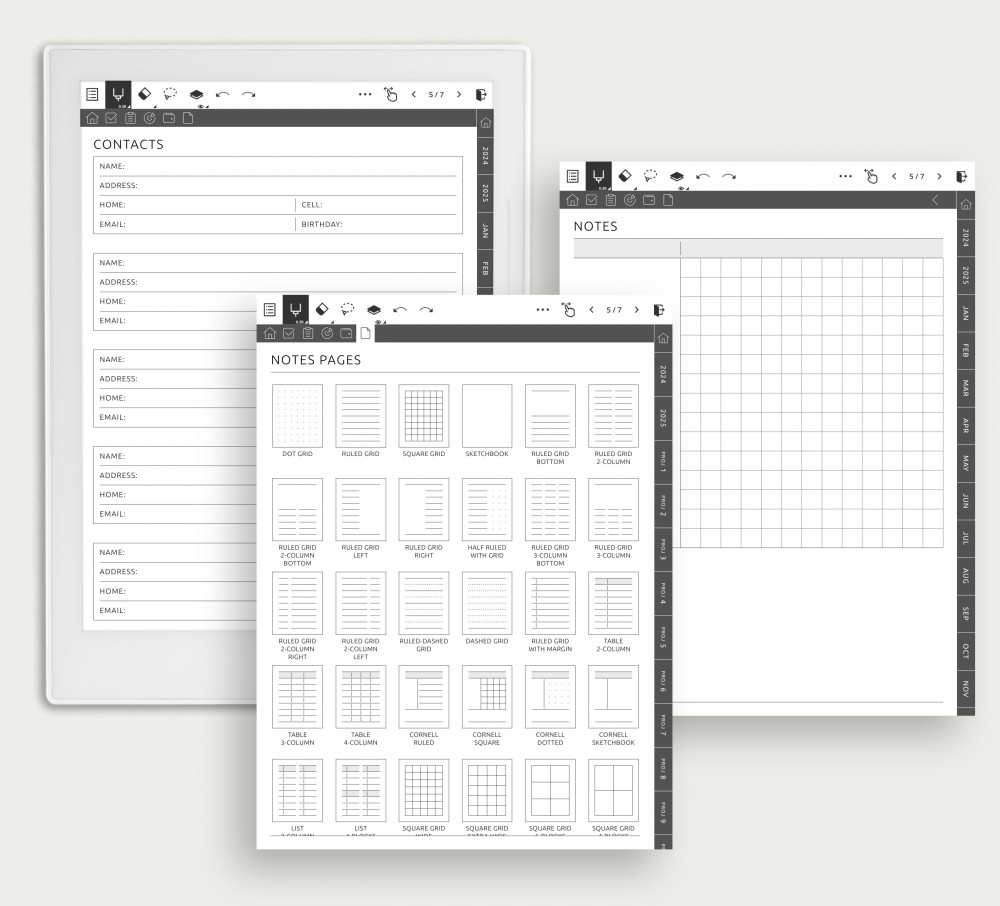 Take Control of Your Finances: Unlock Financial Freedom with 10 Powerful Templates
Our planner empowers you to master your finances and embark on a journey toward financial freedom. With our 10 customizable templates, you can effortlessly create a budget plan, track expenses, and set meaningful savings goals. Whether you're aiming to save for a dream vacation, pay off debts, or build an emergency fund, our planner provides the tools and structure you need to achieve your financial aspirations. Take charge of your financial future and unlock freedom with our comprehensive templates.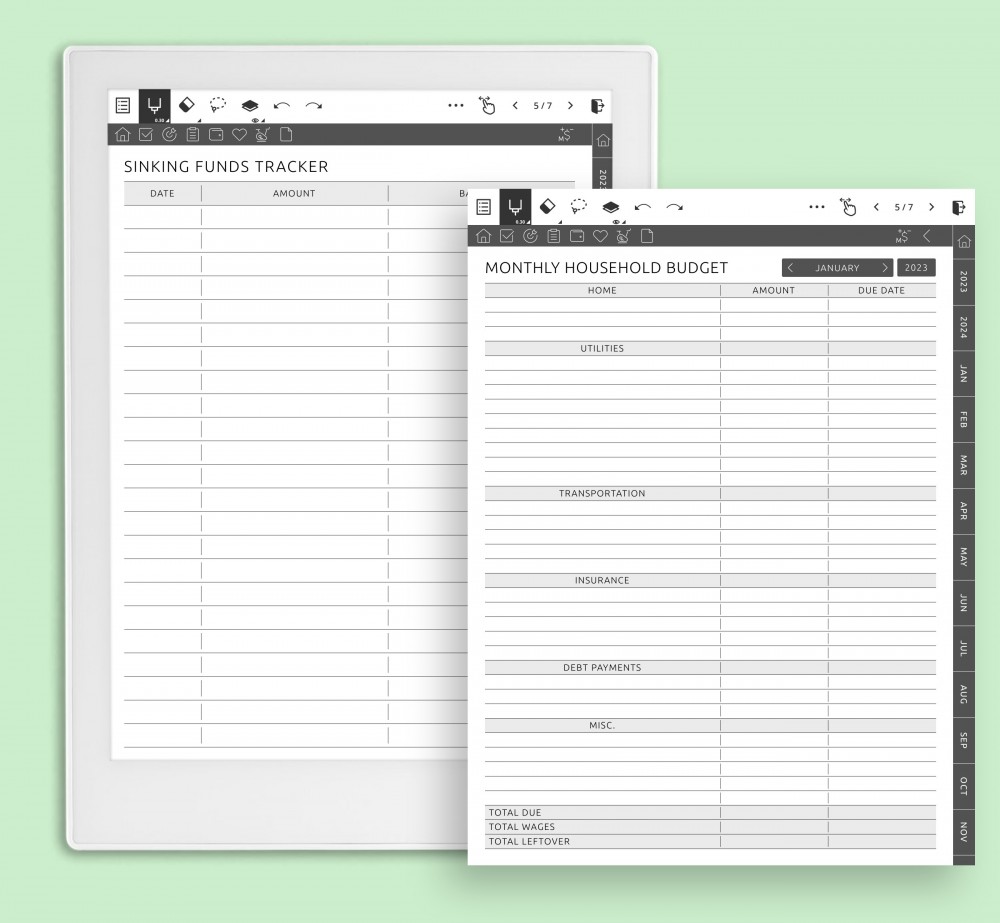 Effortless Project Management: Take Control of Your Tasks with Our Planner
Our planner is your ultimate tool for seamless project management. With project to-do lists and Kanban boards, you can set milestones, track progress, and stay organized throughout your projects. Whether you're working on personal or professional endeavors, our planner provides the structure and flexibility you need to stay on top of your tasks. This will enable you to achieve your project goals easily. Streamline your project management and unlock your productivity potential with our powerful planner.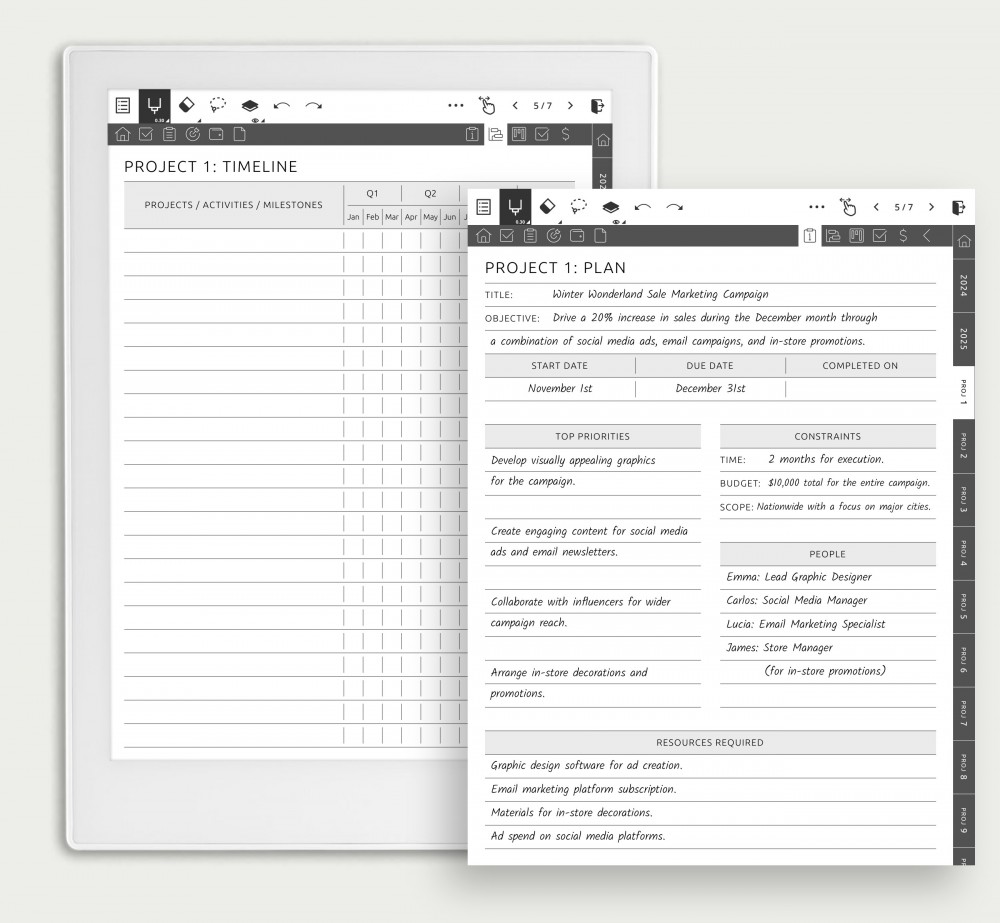 Create Your Perfect Planner: Customizable Templates for Your Lifestyle
Make your planner reflect your unique lifestyle with our personalized templates. With the ability to download and customize your planner to match your changing needs, you can design the ideal planner for your schedule. Choose from 2 daily, 4 weekly, 4 monthly, 4 quarterly, and 4 yearly pages that can be personalized to fit your preferences. With a diverse range of customizable templates, you can create a uniquely yours planner.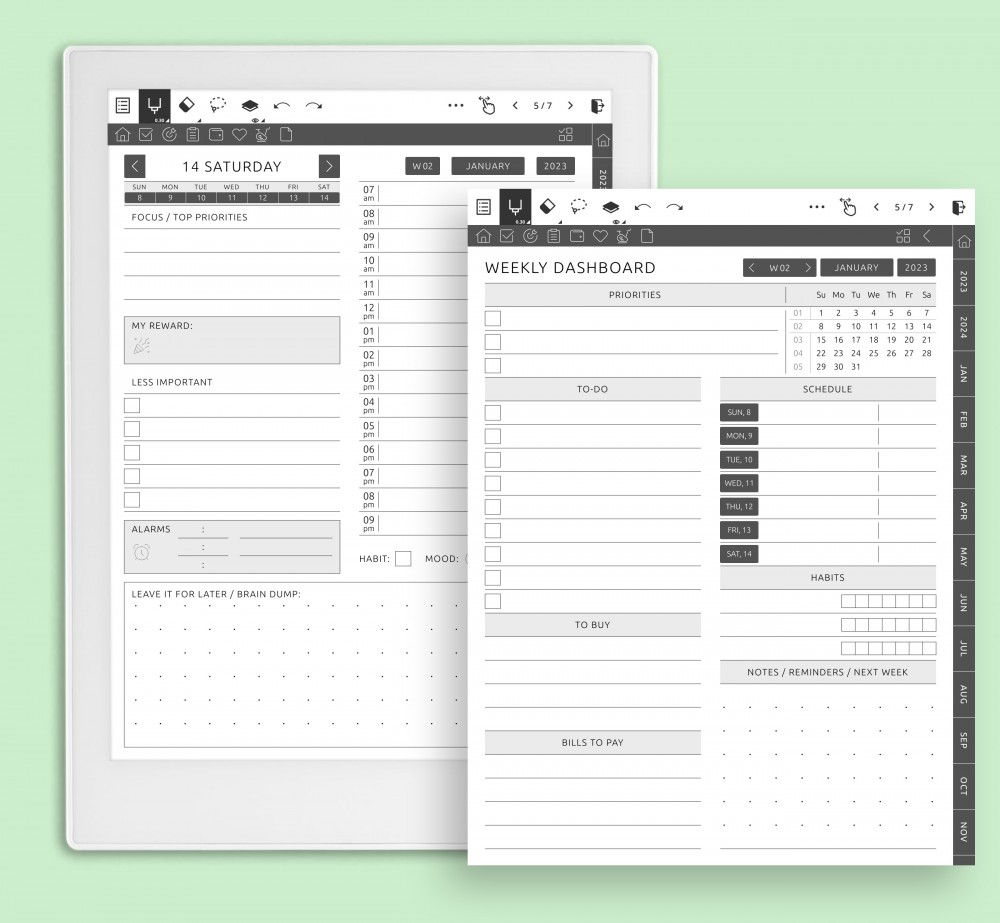 Unleash Your Wellness Potential: Enhance Your Fitness, Nutrition, and Self-Care Habits with Our Health and Wellness Pages
Take charge of your well-being with our comprehensive health and wellness pages. Boost your motivation, track your fitness journey, prioritize nutrition and self-care, and manage stress effectively. From keeping a personal diary to improving mental health and energy levels, our planner provides the tools you need to achieve optimal wellness. It also helps you live your best life.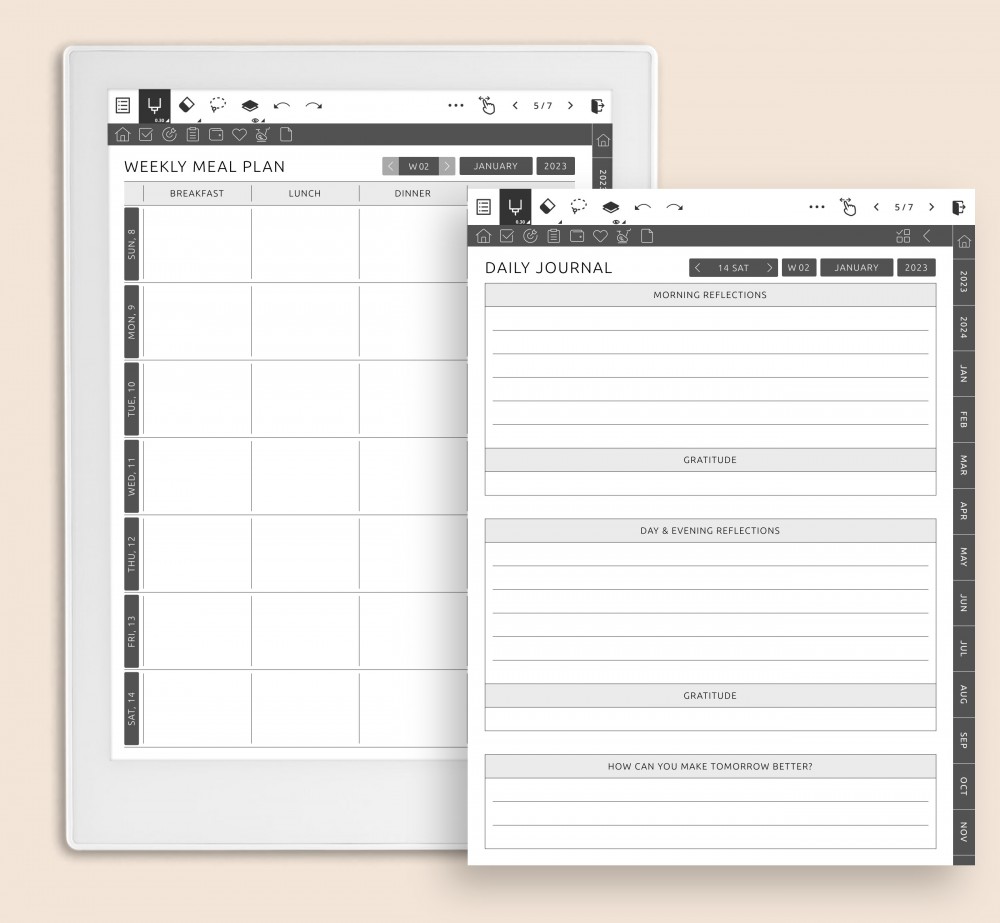 Effortless Planning at Your Fingertips: Seamlessly Navigate with a Hyperlinked Structure
Experience an enhanced level of convenience and efficiency with our hyperlinked planner. Easily access your customized pages without having to search for information. Whether you're looking for your daily to-do list, project timeline, or monthly goals, our planner ensures smooth and stress-free navigation. Simplify your planning process and stay organized easily.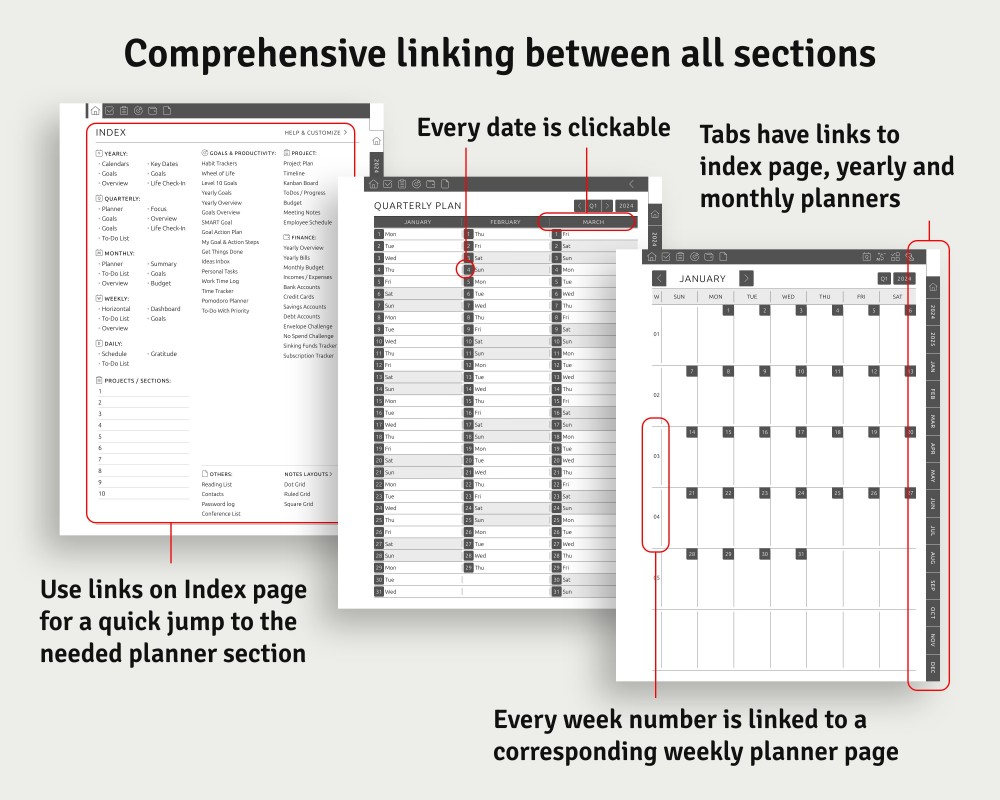 Quarterly links are inactive
Weekly links are inactive