reMarkable Ultimate Planner
$11.11
Added to cart.


Continue to checkout
OR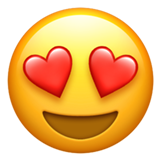 37 reMarkable Planners
+Future Releases & Updates
$19.97
Added to cart.


Continue to checkout
After purchase, enjoy unlimited customizations and downloads of your planner or bundle at no added cost
📖 Craft Your Year:
Dive into an immersive planning experience with the reMarkable Ultimate Planner. Covering every aspect of life and work, it's designed to elevate your organization, creativity, and productivity. Let's plan with purpose and precision.
🚀 Ultimate Goals & Productivity:
Unveil the power of meticulously planned goals and enhanced productivity. Harness tools like the Wheel of Life, Level 10 Goals, Habit Trackers, and the groundbreaking Get Things Done (GTD) system. Every ambition becomes attainable.
💼 Project Perfection:
Manage projects with a suite of tools, including Project Plans, Kanban Boards, and Task Trackers. With 10 custom project sections, each linked to 20 subjects, every endeavor gets the detailed attention it deserves.
💰 Master Your Finances:
Navigate your financial journey with ease. From Yearly Overviews to detailed Debt Snowball Trackers, every monetary aspect is mapped out. Stay on top of budgets, expenses, and savings to ensure financial freedom.
💡 Yearly and Quarterly Clarity:
Four customized yearly pages, including Yearly Goals and Yearly Reading, merge with quarterly tools like the Life Check-In to offer a birds-eye view of your progress and aspirations.
🗓 Month-to-Week Magic:
From Monthly Goals to 7-day schedules, each month and week unravels with precision. Detailed trackers, reviews, and planners shape time into productive segments.
🧘 Health, Wellness & Fitness Hub:
Celebrate a healthier you with Meal Plans, Sleep Trackers, Workout Regimes, and Relaxation Techniques. Cherish self-growth with SWOT analyses, Vision Boards, and Affirmation Prompts.
🌐 Stay Connected:
The Others section encompasses everything from Social Media planning to maintaining vital contacts. Track your online journey, curate reading lists, and never miss a conference highlight.
🖋 Infinite Ideas Space:
With 30 tailored note templates, the Notes section awaits your ideas, doodles, and reflections. Let no thought go unnoticed.
Plan smartly, live fully with the reMarkable Ultimate Planner. Your life, redefined. 🌟
Features
Hyperlinks
for easy navigation
Tabs
for quick access to important pages
Custom dates
that fit your needs
Customize Your Planner
adapt your planner to your life by choosing the most suitable layouts
Sunday / Monday
start day of the week that you prefer
Editing mode
draw, write and sketch on the go
Stay on top of your tasks!
Revolutionize your task management with our Ultimate Planner. Our convenient templates and use of the acclaimed Get Things Done methodology allow you to capture, process, and organize your ideas with ease, helping you to stay focused and achieve your goals. Whether you need to prioritize your to-do list or break down larger projects into actionable steps, our planner has the tools you need to take control of your time and get things done.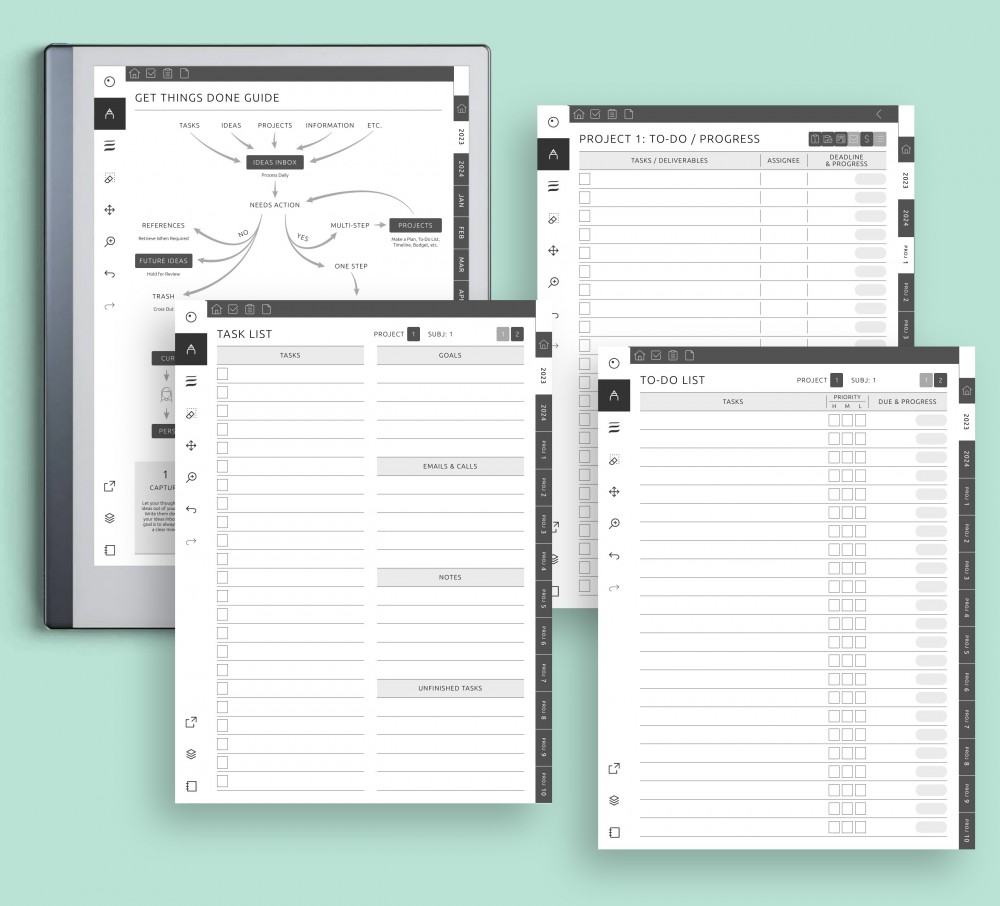 Easily Schedule Your Appointments, Meetings, and Events
Scheduling appointments, events, and meetings has never been easier with our planner. Tailor the four weekly, quarterly, and annual pages to your unique lifestyle with dozens of customizable templates, making it effortless to stay organized and on top of your schedule.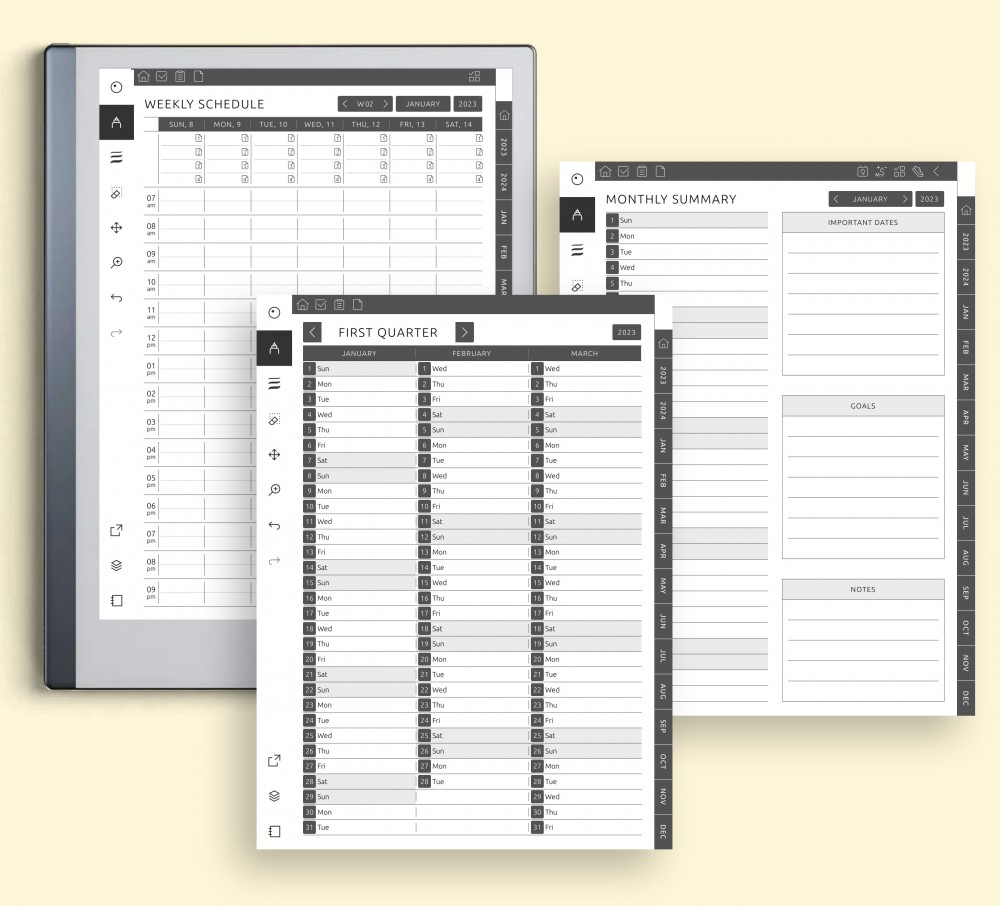 Master Your Day
At our core, we understand that achievers require the best tools to succeed. Our planner offers dozens of daily templates to keep you on track, including note-taking at meetings, creating to-do lists, and tracking tasks. With our planner, you'll have everything you need to achieve your goals and be productive every day.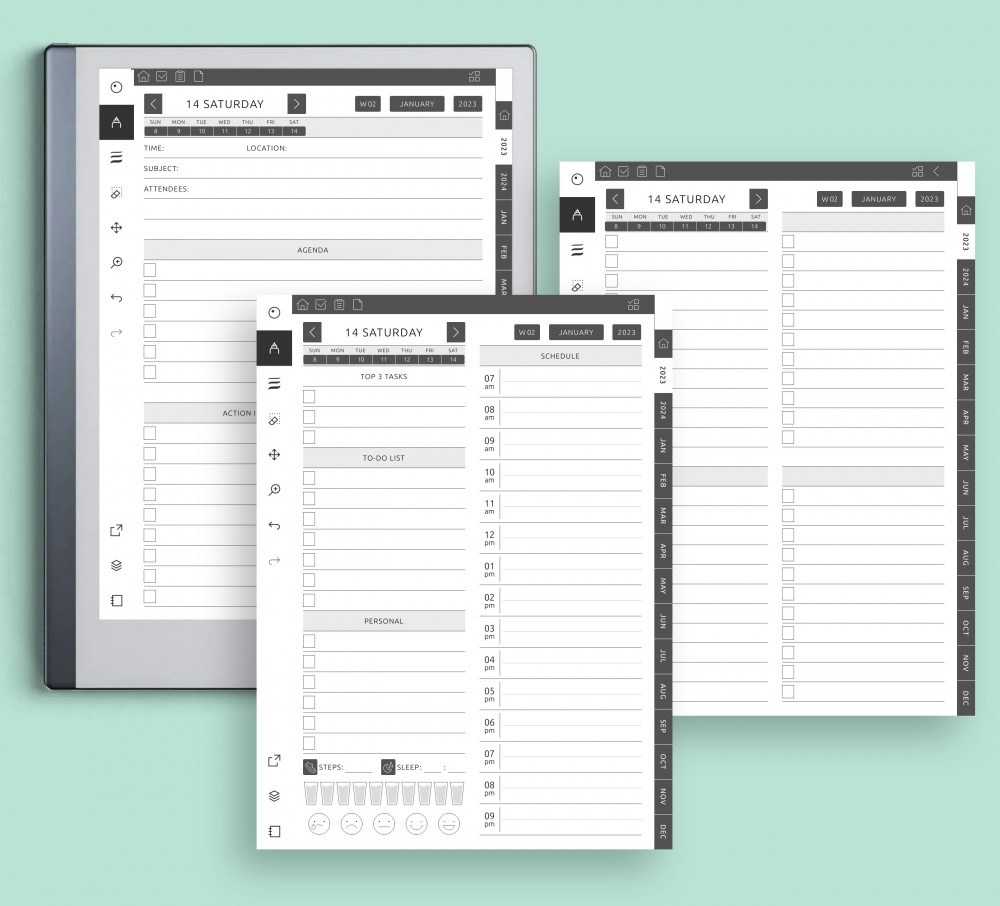 Streamline Your Productivity with Various Trackers, Reminders, and Prompts
Take your productivity to the next level with our planner. From reminders to goal trackers and prompts, our planner is packed with features to help you stay on top of your to-do list and accomplish more each day. Whether you need help staying motivated, remembering important dates, or tracking progress on your goals, our planner has the tools you need to stay organized and achieve your objectives.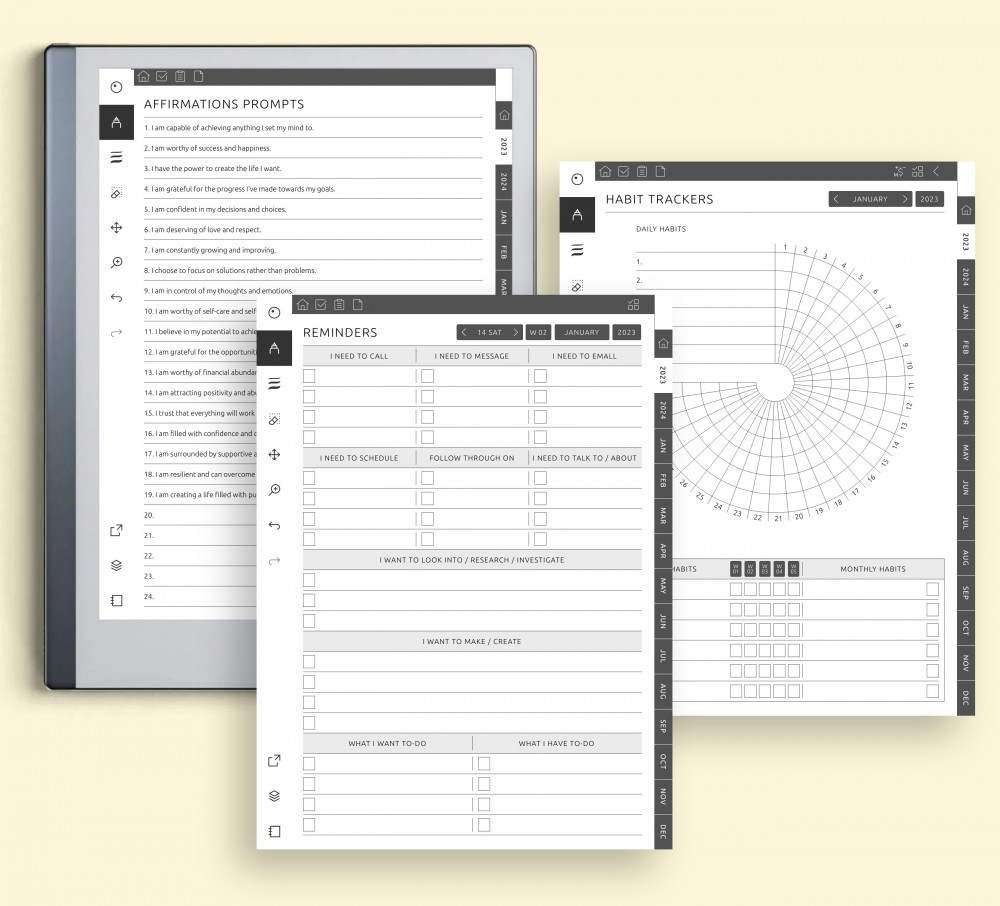 Unlock Your Potential: Crush Your Goals with Our Planner
Take control of your journey to success with our Goals section. Our templates break down your goals into manageable steps, allowing you to track your progress and stay focused on what matters most. Whether you're pursuing professional or personal aspirations, our planner gives you the tools you need to achieve your dreams and unlock your full potential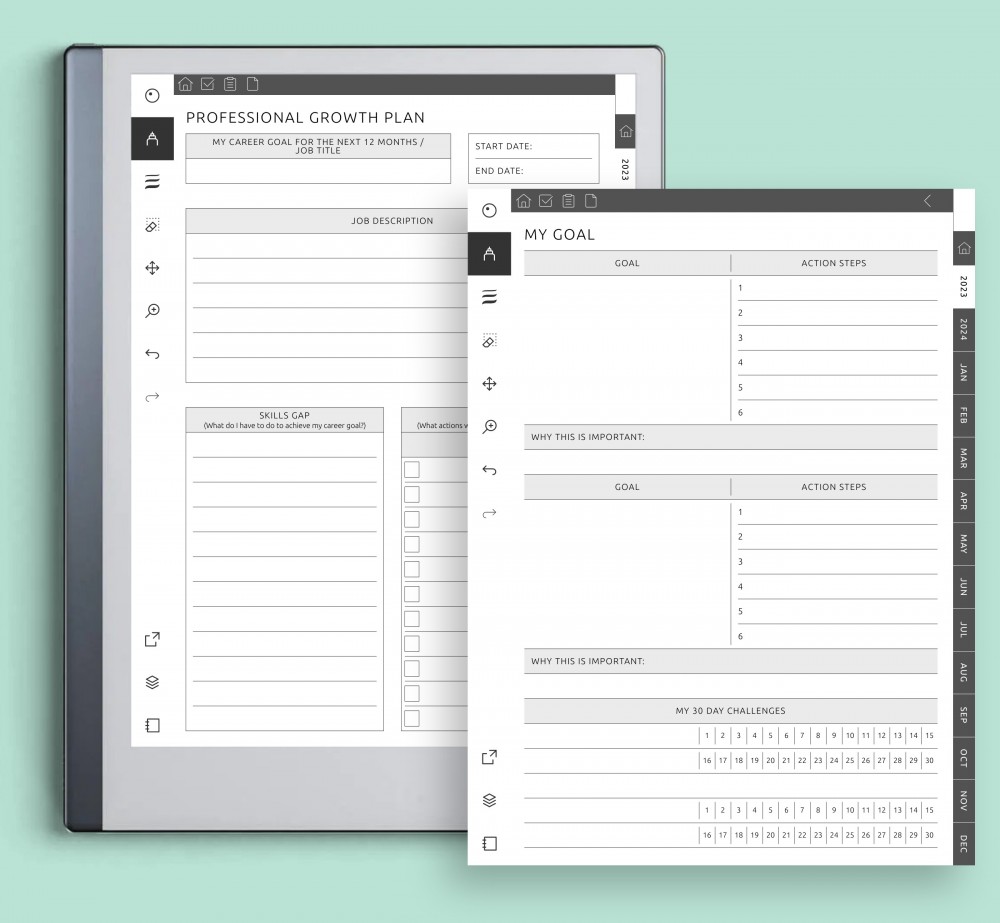 Personalize Your Note-Taking Experience with Our Customizable Templates
Our planner offers a vast array of customizable note-taking templates, allowing you to take notes the way you want and unleash your creativity. With 30 templates to choose from, you can tailor your notes to your unique style and preferences. Additionally, our planner includes special templates for recording crucial contact information, ensuring that you always have important details at your fingertips.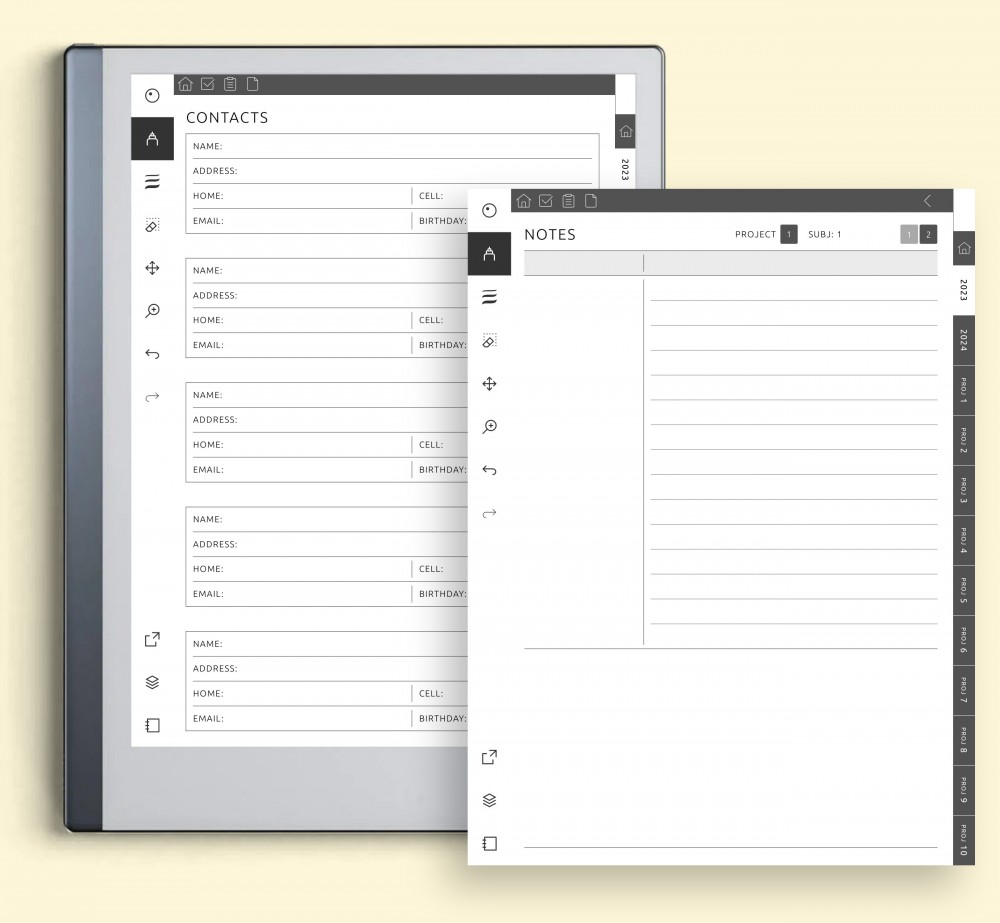 Financial Freedom Made Simple: 10 Templates to Take Control of Your Money
Our planner makes it easy to take control of your finances with 10 customizable templates designed to help you create a budget plan, track expenses, and set savings goals. Whether you're saving for a rainy day, planning for retirement, or looking to reduce debt, our planner gives you the tools you need to stay on top of your finances and achieve financial freedom.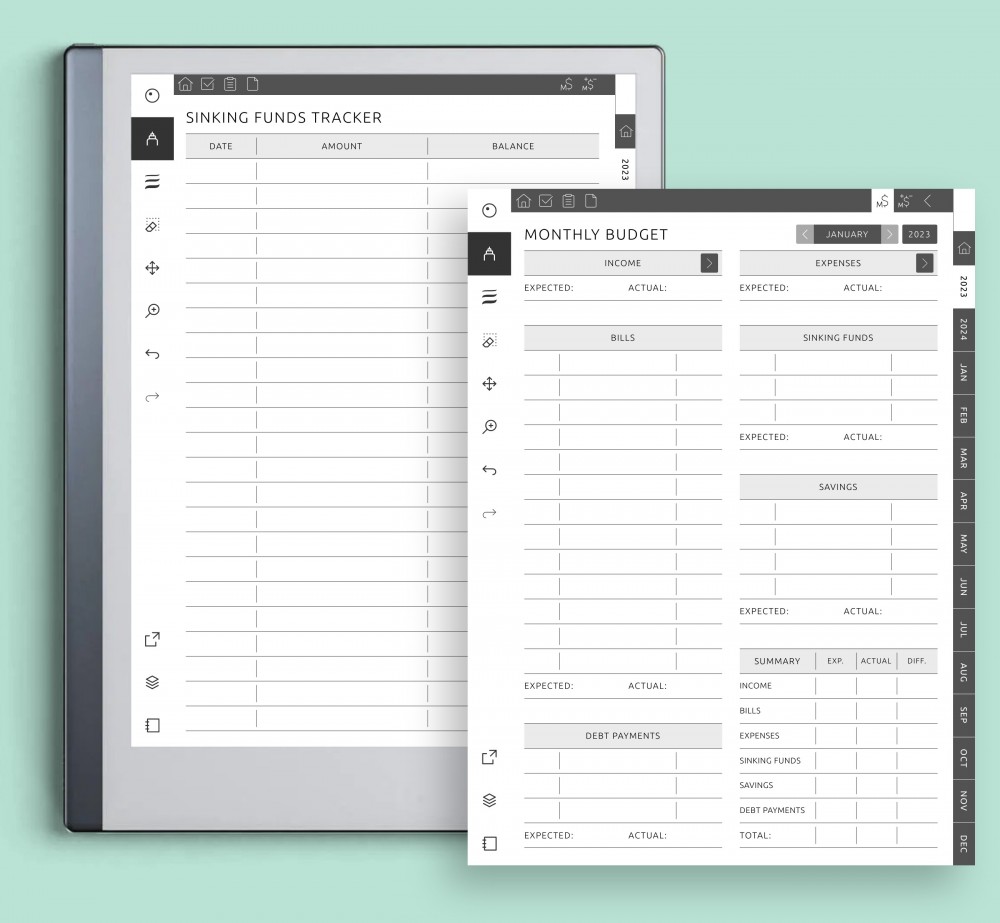 Unleash Your Productivity: Manage 10 Projects with 40 Customizable Pages
Our planner is the ultimate productivity tool for managing projects. With customizable time frames, resource allocation, and constraint analysis features, you can create a comprehensive project plan in no time. Set milestones, calculate budgets, and track progress visually using our customizable to-do lists and Kanban boards, and stay on top of your projects like never before. With 20 separate subjects/titles and two customizable pages per subject, you'll have ample space to dedicate to each project.
Create Your Perfect Planner: Customizable Templates to Suit Your Unique Lifestyle
Our planner is designed to fit seamlessly into your lifestyle with customizable templates that can be tailored to your specific needs. With the ability to download your planner as many times as you want, you can adjust your planner as your needs change. Customize your planner with 2 daily, 4 weekly, 4 monthly, 4 quarterly, and 4 yearly pages, all of which can be personalized to your liking. With dozens of customizable templates to choose from, you'll be able to create the perfect planner to suit your agenda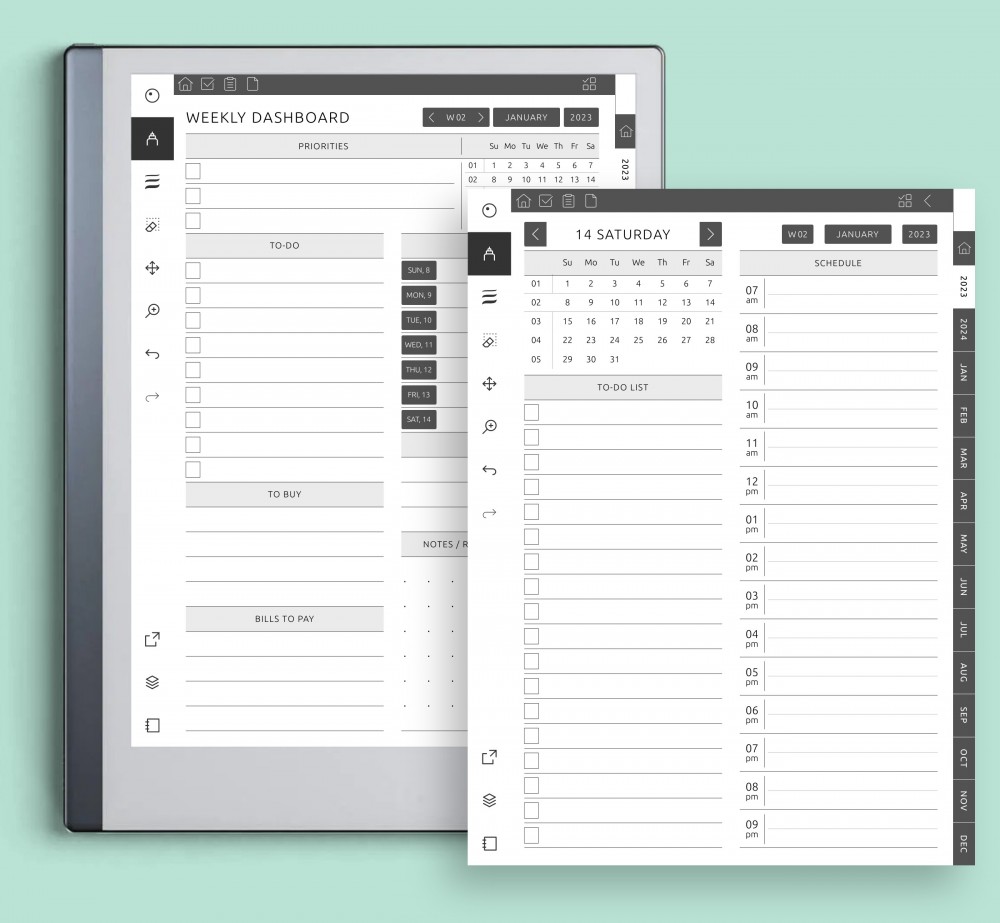 Achieve Optimal Wellness: Enhance Your Fitness, Nutrition, and Self-Care Habits with Our Health and Wellness Pages
Our planner is your ultimate tool for achieving optimal wellness. With customizable health and wellness pages, you can enhance your motivation, track your fitness progress, and stay on top of your nutrition and self-care habits. Our planner helps you keep stress levels at bay by providing a comprehensive approach to wellness that empowers you to prioritize your well-being. It allows you to keep a diary, enhance your mental health, boost your energy levels, or achieve overall wellness.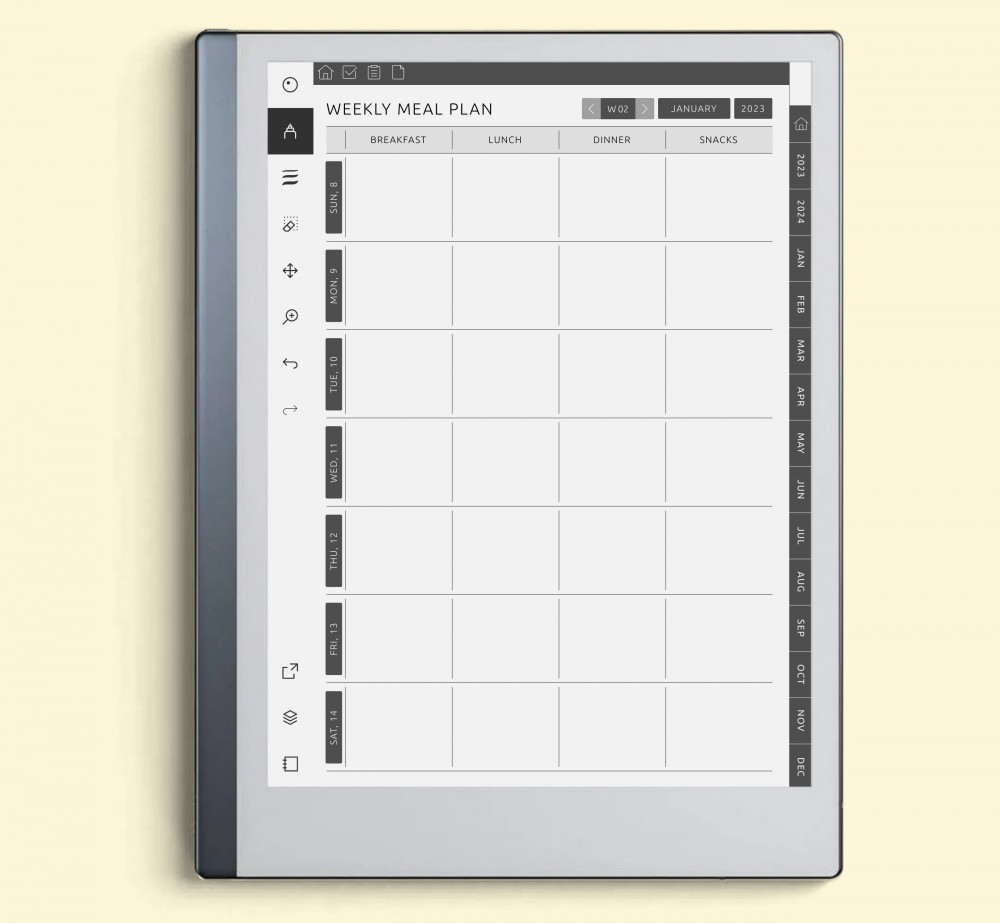 Effortless Navigation: Enjoy the Hyperlinked Structure of Your Customizable Planner
Navigating through your planner has never been easier. With our hyperlinked structure, you can effortlessly find what you need when you need it. Our customizable planner is designed with your convenience in mind, making navigation smooth and easy. Whether you're looking for your daily to-do list, your project timeline, or your monthly goals, you'll be able to access it all with just a few clicks.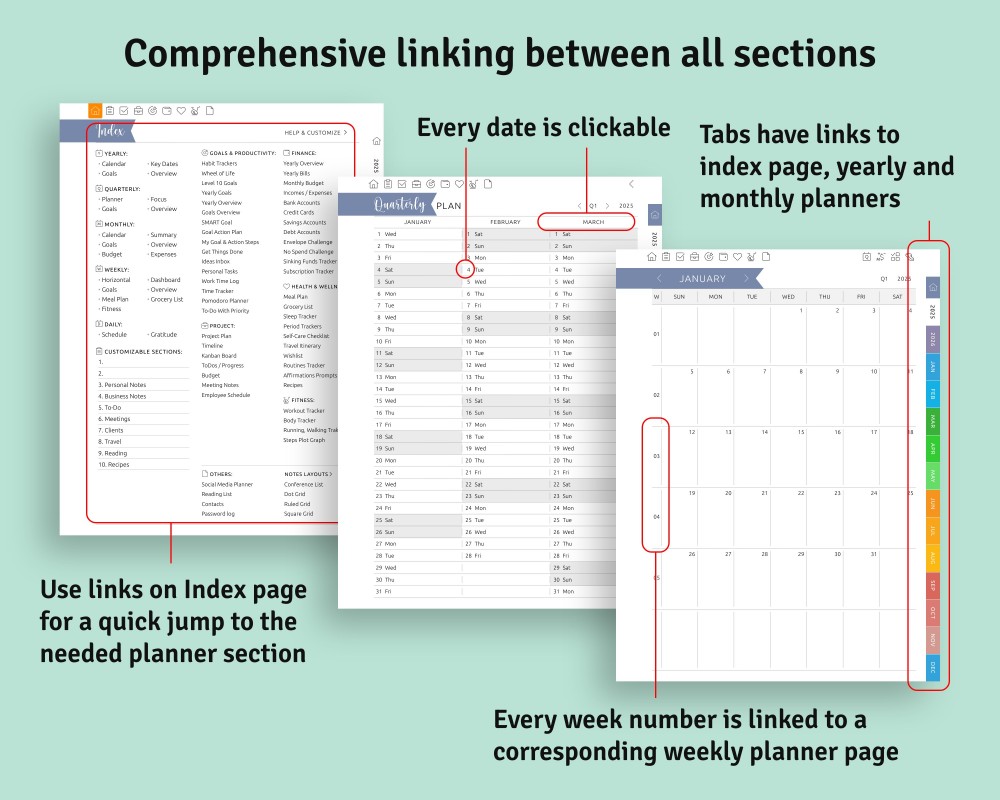 reMarkable Ultimate Planner
$11.11
Added to cart.


Continue to checkout
OR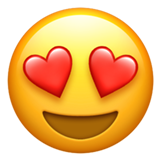 37 reMarkable Planners
+Future Releases & Updates
$19.97
Added to cart.


Continue to checkout
After purchase, enjoy unlimited customizations and downloads of your planner or bundle at no added cost