Supernote Ultimate Planner
$11.95
Added to cart.


Continue to checkout
OR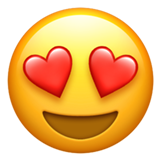 29 Supernote Planners
+Future Releases & Updates
$19.97
Added to cart.


Continue to checkout
After purchase, enjoy unlimited customizations and downloads of your planner or bundle at no added cost
Immerse yourself in unparalleled organization with our Supernote Ultimate Planner. Carefully crafted to fulfill all your task management requirements, it serves as the ultimate companion for scheduling appointments, meetings, and events seamlessly. Experience the power of reminders, prompts, and customizable schedules that optimize your time, ensuring each task and activity receives the attention it deserves. Stay on track and prioritize what truly matters with our comprehensive and efficient planner.
Display orientation settings are available. You can choose right-handed or left-handed modes. Set the parameters you want, download the planner to your device, and enjoy it.
Features
Hyperlinks
for easy navigation
Tabs
for quick access to important pages
Custom dates
that fit your needs
Customize Your Planner
adapt your planner to your life by choosing the most suitable layouts
Sunday / Monday
start day of the week that you prefer
Editing mode
draw, write and sketch on the go
Master Your Productivity: Stay in Control of Your Tasks for Supernote
Designed with convenience and efficiency in mind, our Ultimate Planner offers a range of customizable templates and follows the renowned Get Things Done methodology. Capture, process, and organize your tasks effortlessly, keeping you focused and on track to achieve your goals. Prioritize your to-do list, break down projects into manageable steps, and make the most of your time with our comprehensive task management system. Experience an unprecedented level of productivity and accomplish more!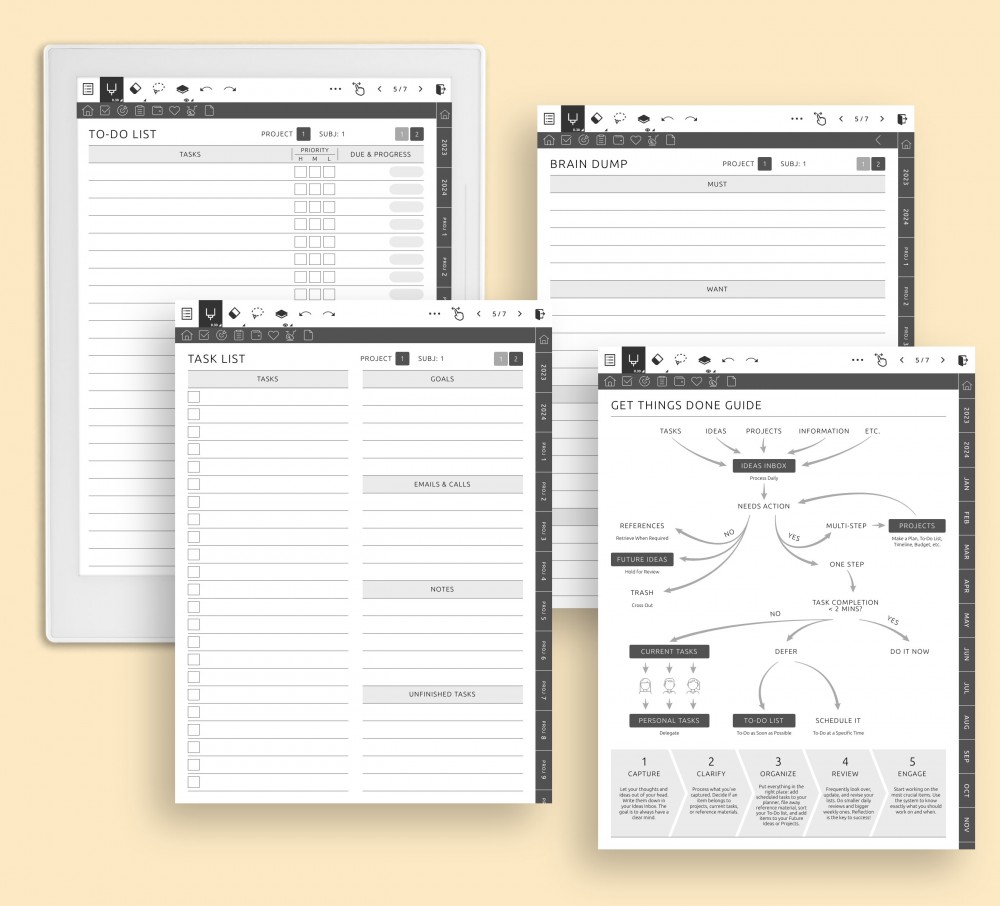 Effortless Appointment and Event Management
Streamline your scheduling process with our planner. Customize the four weekly, quarterly, and annual pages to perfectly align with your lifestyle using our wide selection of templates. Stay effortlessly organized and in control of your schedule, never missing an appointment or event again. With our planner, managing your time has never been easier.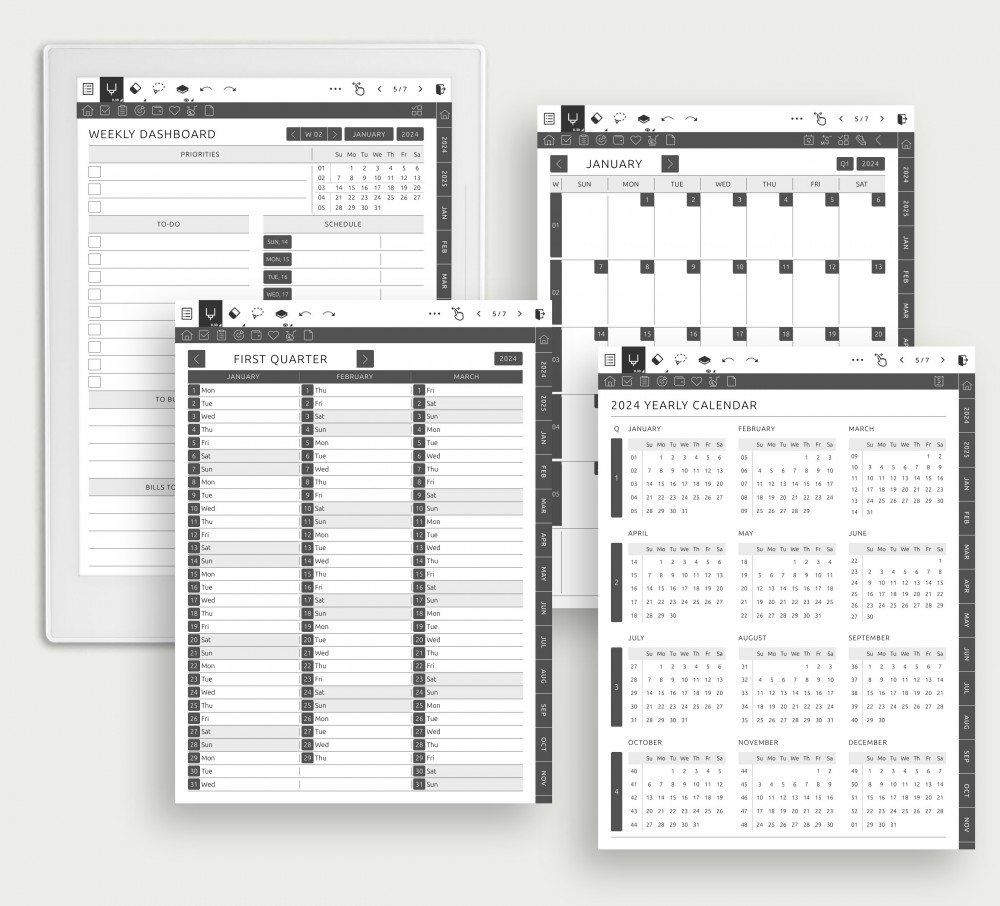 Maximize Your Daily Productivity
Unlock your full potential with our comprehensive planner. Designed to empower achievers like you, it provides a wide range of daily templates to streamline your tasks, boost your organization, and enhance productivity. From capturing meeting notes to prioritizing to-do lists, our planner equips you with the tools to conquer your goals and make every day a success. Take control of your day and unlock your true potential with our planner.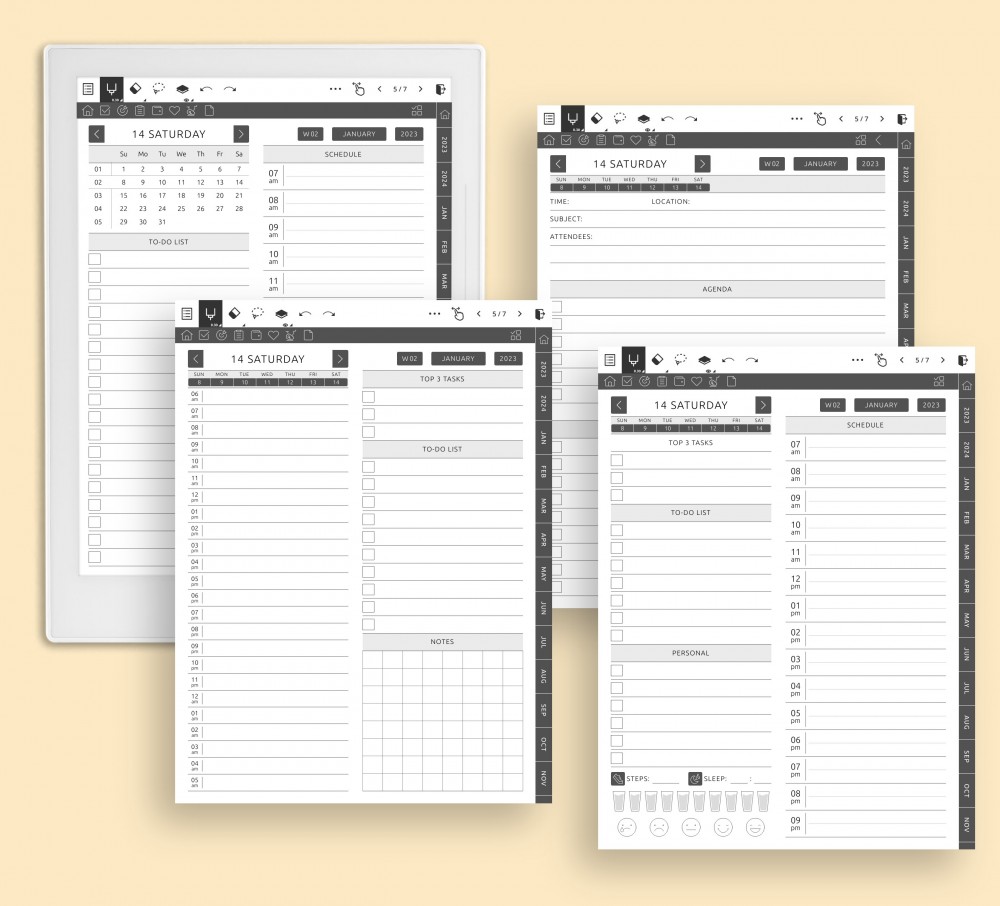 Supercharge Your Productivity with Smart Trackers and Reminders
Elevate your productivity with our cutting-edge planner. With a wide range of built-in trackers, reminders, and prompts, our planner empowers you to effortlessly manage your tasks and stay on track. From setting goals and tracking progress to staying motivated and meeting deadlines, our planner is designed to optimize your productivity and keep you organized. Take control of your day, achieve your objectives, and unlock your full potential with our feature-packed planner.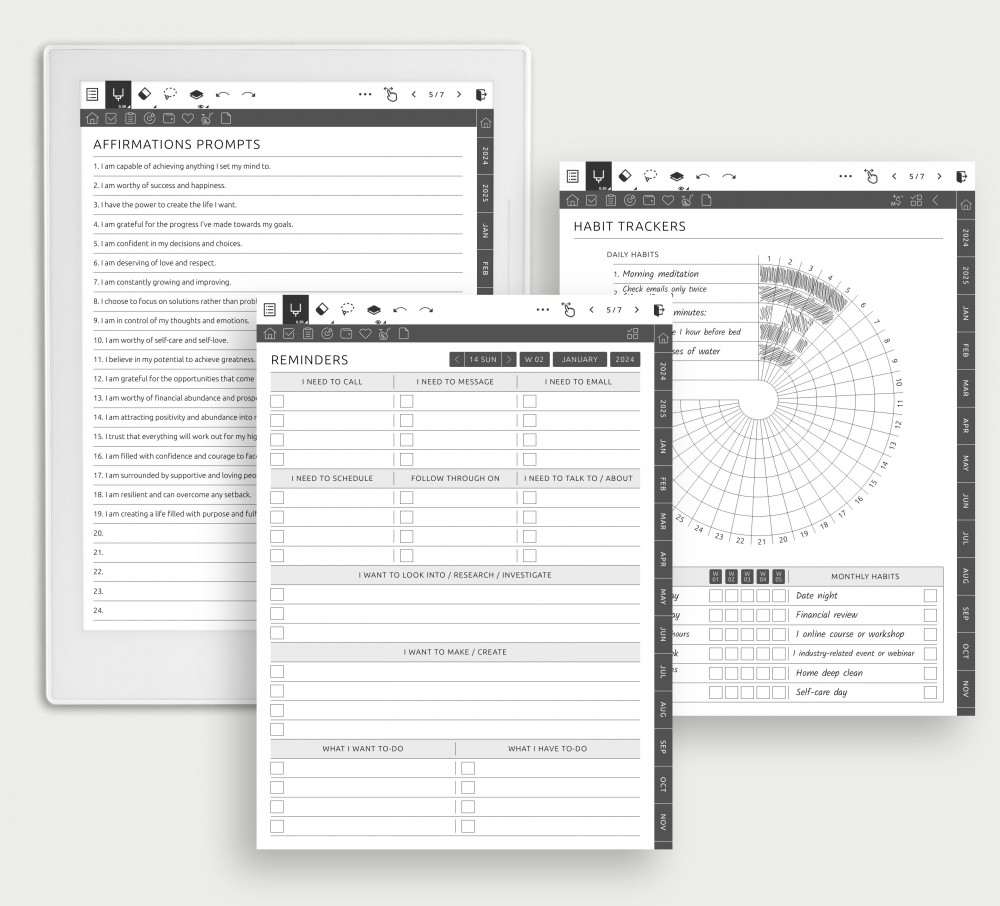 Unleash Your Potential: Conquer Your Goals with Our Empowering Planner
Create your success path with our Goals section. Our meticulously crafted templates empower you to break down your goals into actionable steps. This provides a roadmap to track your progress and maintain unwavering focus. Whether you're striving for career milestones or personal achievements, our planner equips you with the essential tools to turn your aspirations into reality. This will unlock your limitless potential.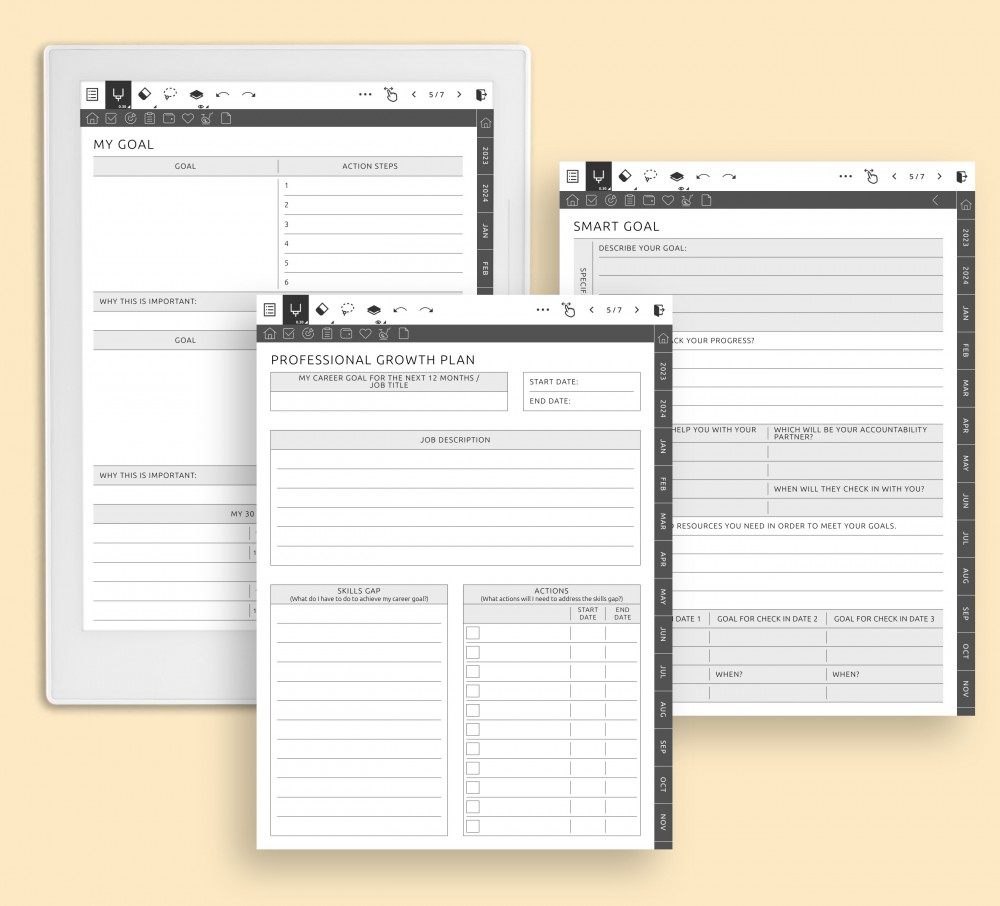 Unleash Your Creativity: Customize Your Note-Taking Experience with Our Versatile Templates
Immerse yourself in personalized note-taking with our wide selection of customizable templates. With 30 distinct options at your disposal, you can express your style and preferences in your notes. Whether you prefer structured layouts or free-flowing designs, our planner empowers you to unleash your creativity. Additionally, we provide specialized templates for effortlessly organizing contact information, ensuring essential details are readily available whenever you need them.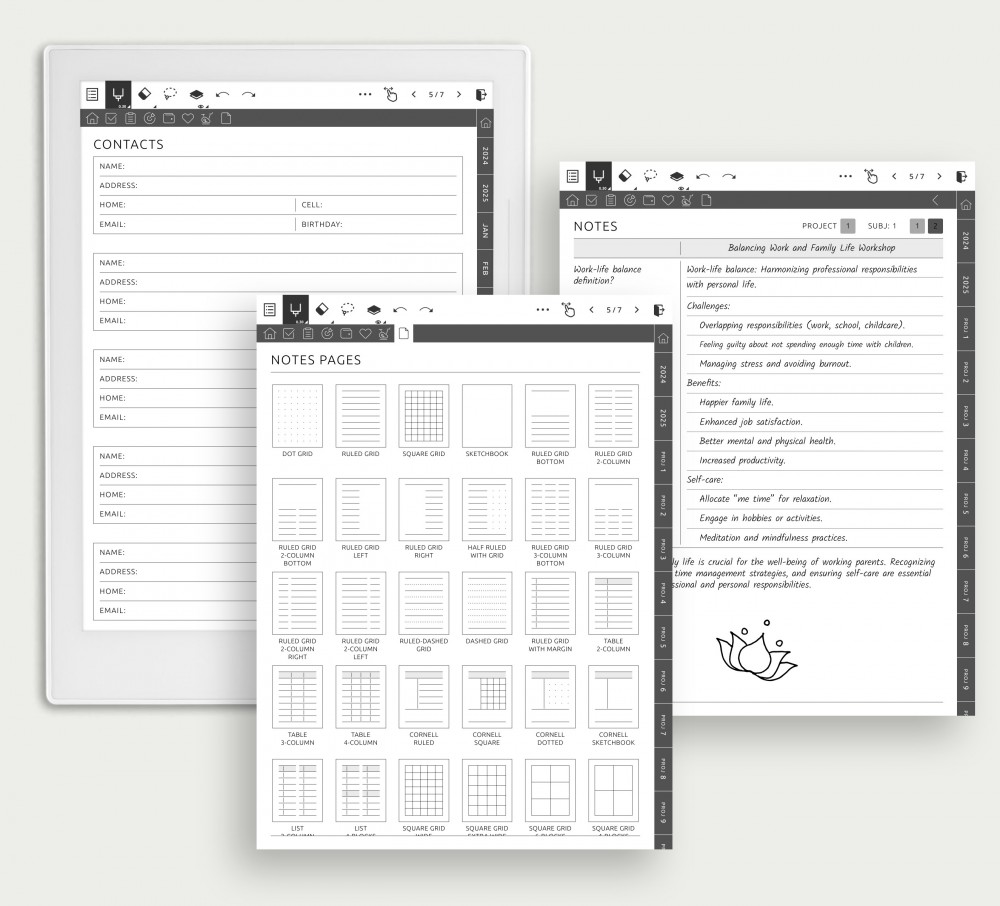 Achieve Financial Mastery: Empower Your Money Management with 10 Customizable Templates
Embark on a journey towards financial freedom with our planner's comprehensive 10 customizable templates. Seamlessly create budget plans, track expenses, and set ambitious savings goals easily. Whether you're aiming to build an emergency fund, plan for retirement, or tackle debt, our planner equips you with the essential tools to stay in control of your finances. This will pave the way for a prosperous future.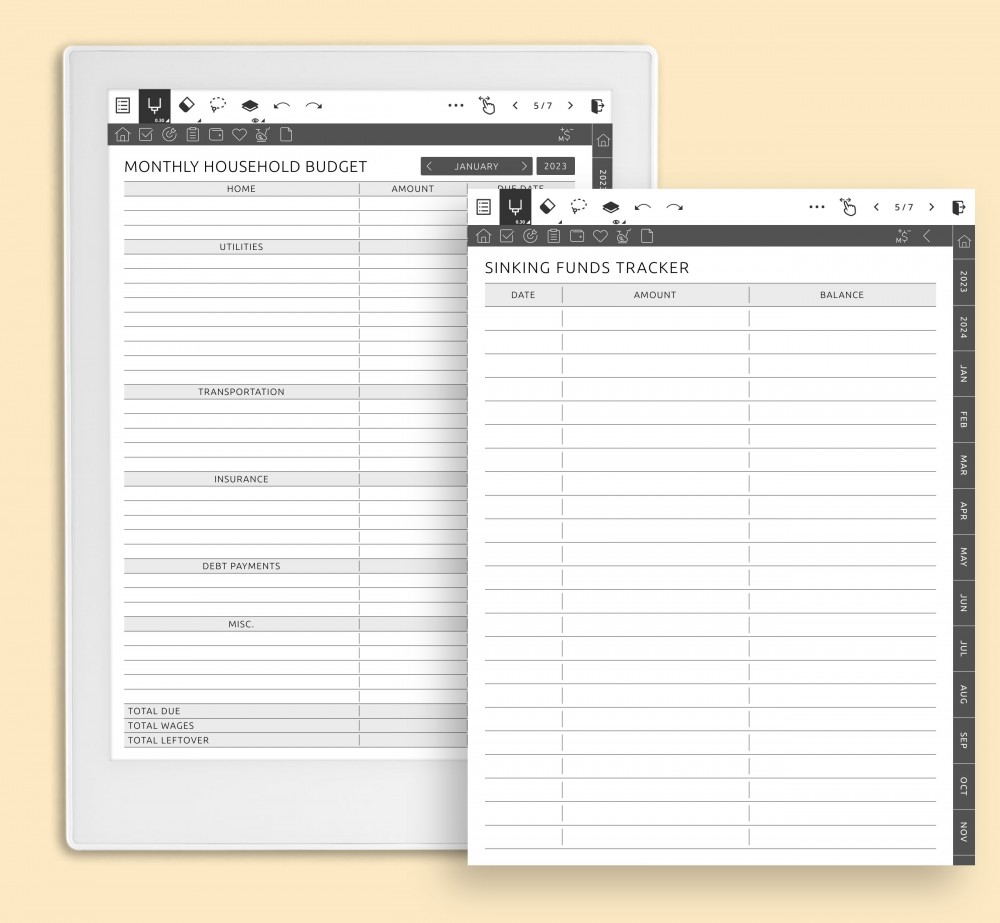 Maximize Your Productivity: Seamlessly Manage 10 Projects with 40 Personalized Pages
Unleash your potential with our all-in-one planner designed to streamline project management. Take advantage of flexible timeframes, resource allocation, and constraint analysis tools to create a comprehensive project plan effortlessly. Stay on track by setting milestones, managing budgets, and visually tracking progress with customizable to-do lists and Kanban boards. With 20 distinct subjects and two customizable pages per subject, you will have plenty of space to dedicate to each project.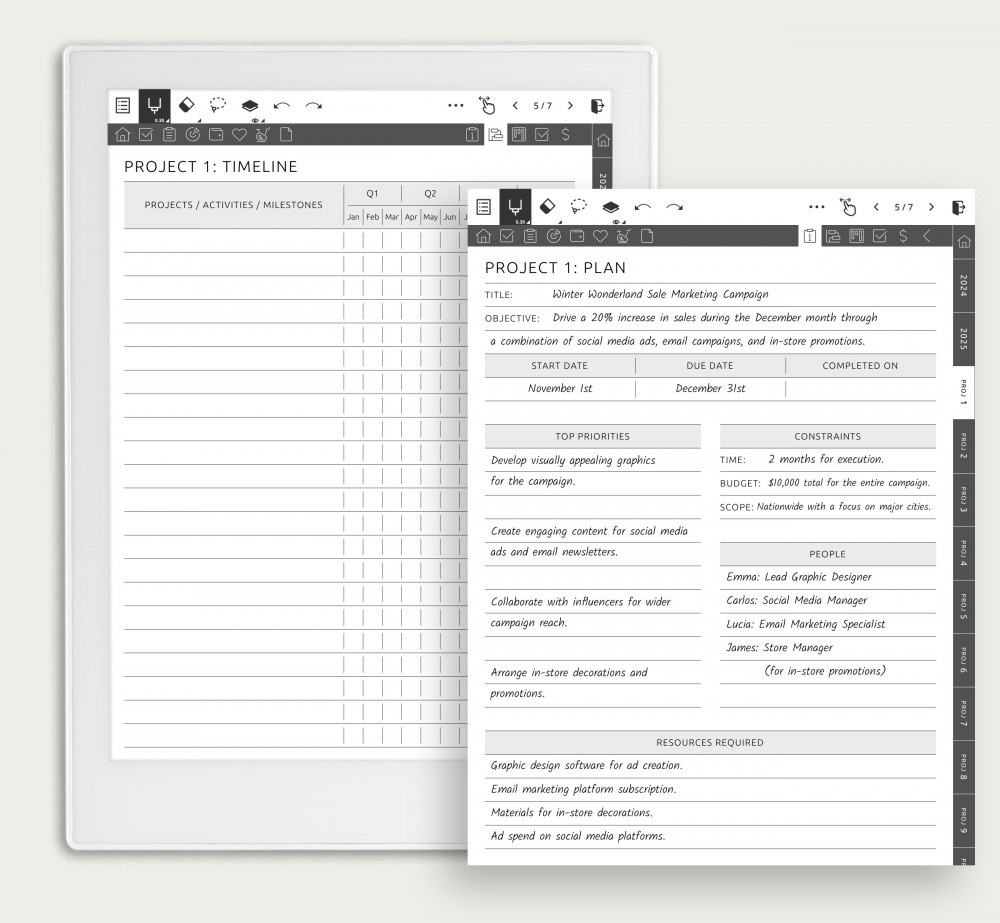 Design Your Ideal Planner: Personalized Templates for Your Unique Lifestyle
Discover the ultimate planner that effortlessly adapts to your needs and preferences. With the flexibility to download and customize your planner as often as desired, you can seamlessly tailor it to match your evolving requirements. Choose from a wide range of customizable templates, including 2 daily, 4 weekly, 4 monthly, 4 quarterly, and 4 yearly pages. This will enable you to craft a planner that perfectly aligns with your agenda.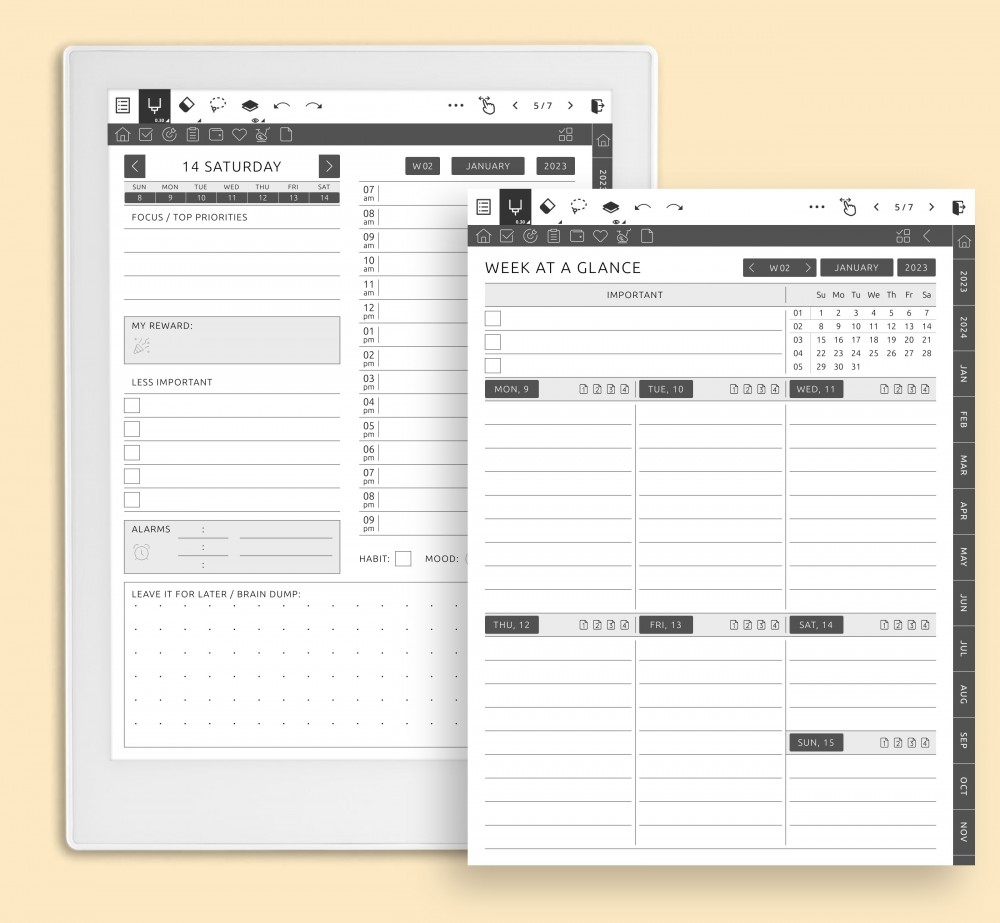 Elevate Your Wellbeing: Empower Your Fitness, Nutrition, and Self-Care Journey with Our Health and Wellness Pages
Embark on a transformative wellness journey with our planner, designed to support your pursuit of optimal well-being. Customize your health and wellness pages to enhance your motivation, track fitness milestones, and prioritize your nutrition and self-care habits. Our comprehensive approach to wellness helps you manage stress, cultivate mental health, increase energy levels, and achieve holistic wellness.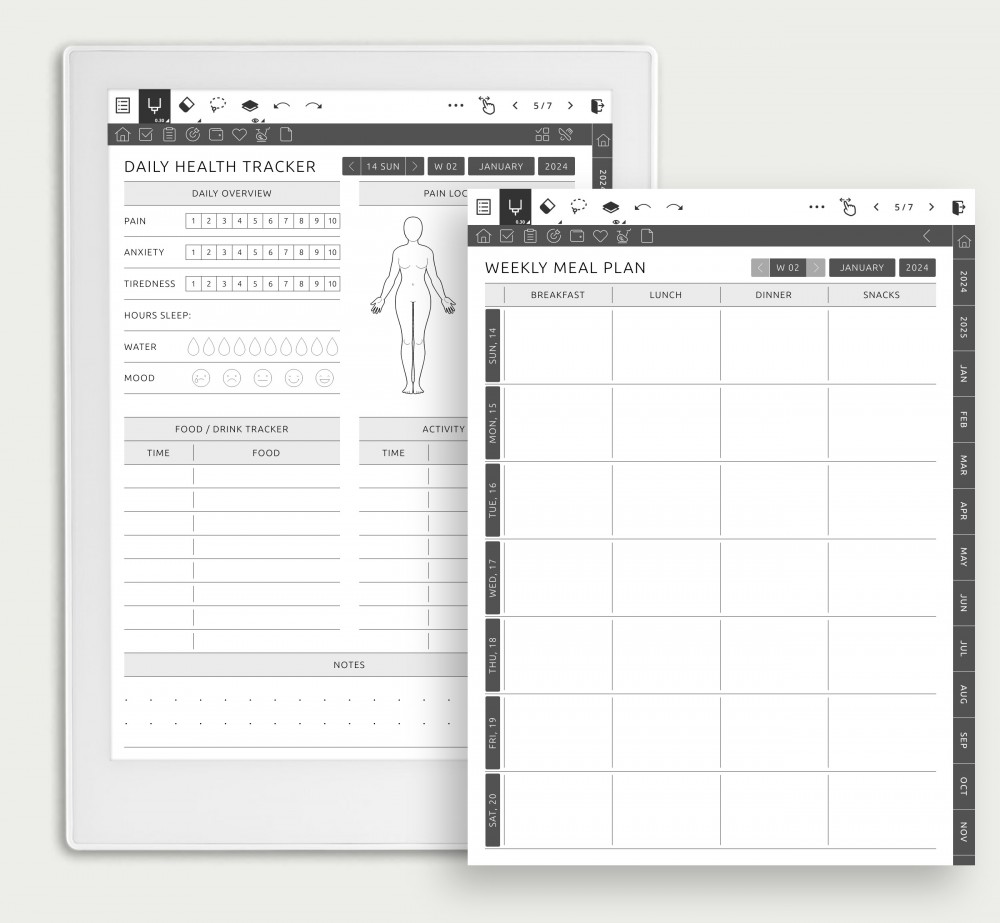 Seamless Navigation: Experience Hyperlinked Organization in Your Customizable Planner
Discover an unprecedented level of convenience with our hyperlinked structure that simplifies planner navigation. Access daily to-do lists, project timelines, and monthly goals with just a few clicks. Our customizable planner is designed to enhance your user experience, making it easy to find what you need when you need it. Enjoy a smooth and intuitive journey through your planner, ensuring efficient organization and effortless productivity.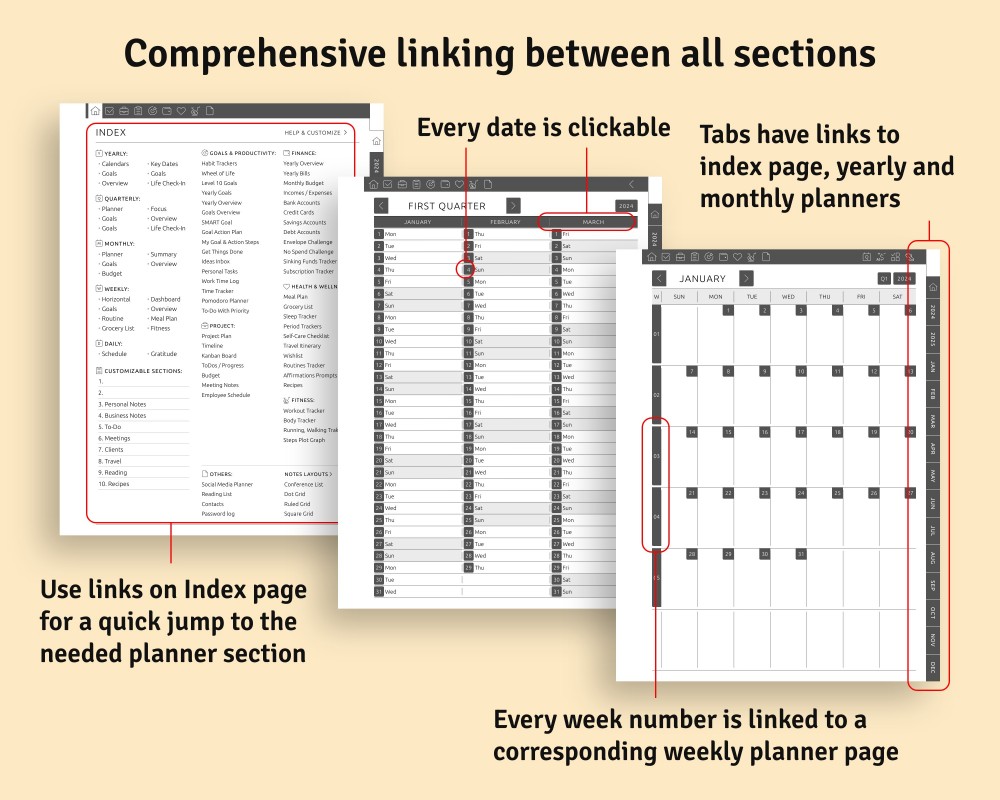 Supernote Ultimate Planner
$11.95
Added to cart.


Continue to checkout
OR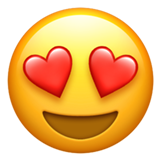 29 Supernote Planners
+Future Releases & Updates
$19.97
Added to cart.


Continue to checkout
After purchase, enjoy unlimited customizations and downloads of your planner or bundle at no added cost