Ultimate Digital Planner
$11.95
Added to cart.


Continue to checkout
OR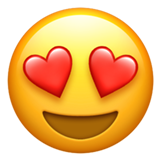 65 iPad Planners
+Future Releases & Updates
$19.97
Added to cart.


Continue to checkout
After purchase, enjoy unlimited customizations and downloads of your planner or bundle at no added cost
The Ultimate Digital Planner is a powerful digital tool available on both Apple iPad and Android tablets, designed to assist you in planning and tracking any task. It is the ideal solution for efficient time management, creating personalized schedules, tracking to-do lists, managing finances and budgets, meal planning, workout tracking, and more. With its extensive range of features, the Personalized Mega Planner has everything you need to stay organized and on top of your tasks.
Download the PDF planner and upload it to your handwriting app (Goodnotes, Notability, Xodo, Noteshelf, Samsung Notes). Enjoy smooth and intuitive navigation.
Features
Hyperlinks
for easy navigation
Tabs
for quick access to important pages
Custom dates
that fit your needs
Customize Your Planner
adapt your planner to your life by choosing the most suitable layouts
Sunday / Monday
start day of the week that you prefer
Editing mode
draw, write and sketch on the go
Compatible with

Goodnotes

Notability

Noteshelf

Xodo
Samsung Notes
Take Control of Your Tasks and Achieve Your Goals
Designed with the acclaimed Get Things Done methodology and convenient templates, our planner makes it easy to capture, process, and organize your ideas. Prioritize your to-do list, break down larger projects into manageable steps, and stay focused on what matters most. With our planner, you have the tools you need to take control of your time and get things done efficiently and effectively.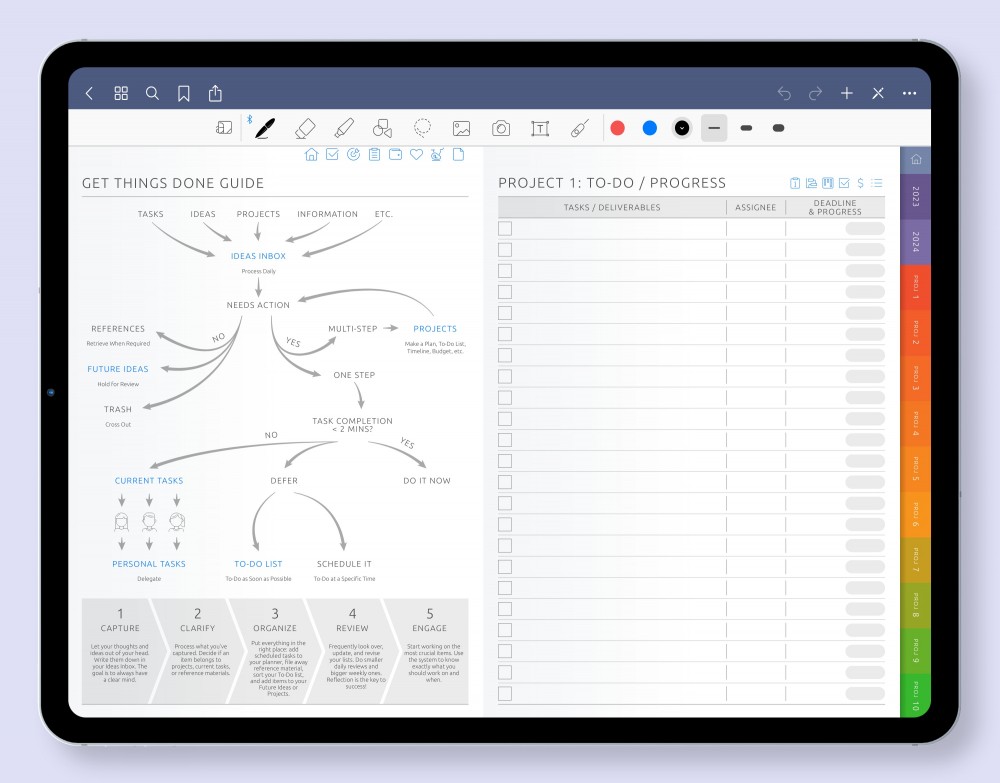 Revamp the Way You Schedule Appointments, Meetings, and Events
Our user-friendly customizable templates make it easier for you to tailor the four weekly, quarterly, and annual pages to your unique lifestyle. With dozens of templates to choose from, staying organized and on top of your schedule has never been this effortless.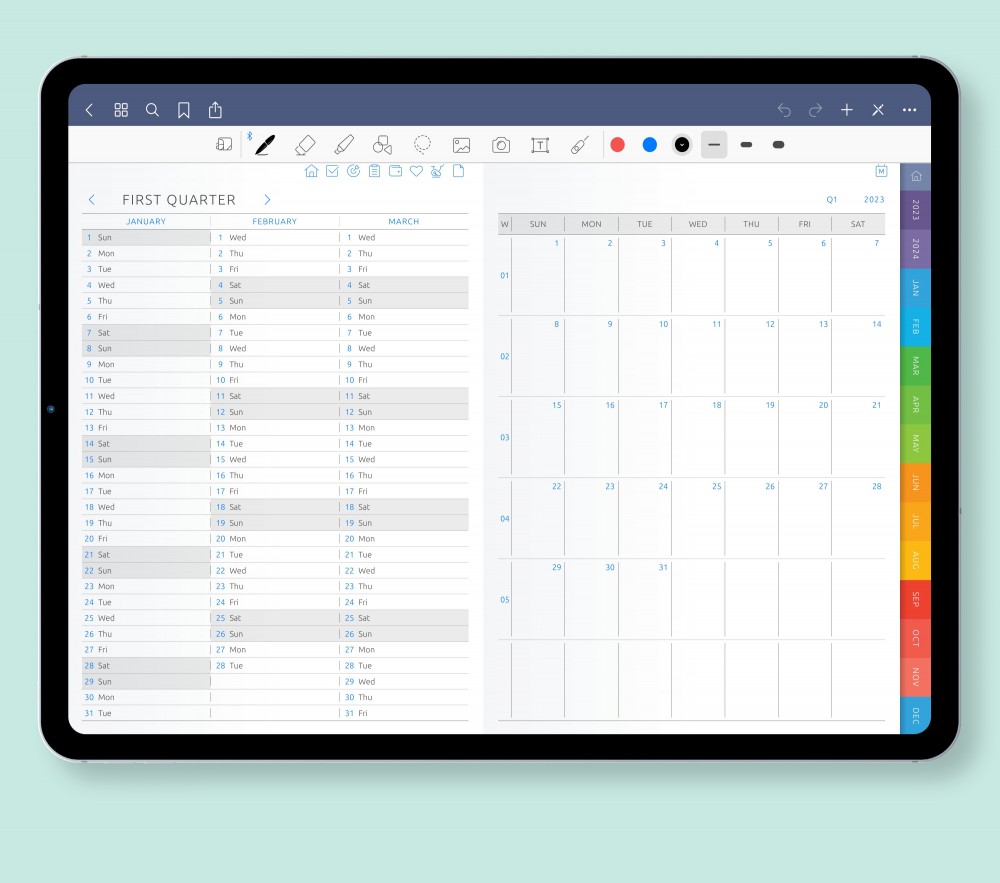 Master Your Day
We understand that achievers need the best tools to succeed, which is why our planner offers a multitude of daily templates to keep you on track. From taking meeting notes to creating to-do lists and tracking tasks, our planner has everything you need to stay organized and achieve your goals every day.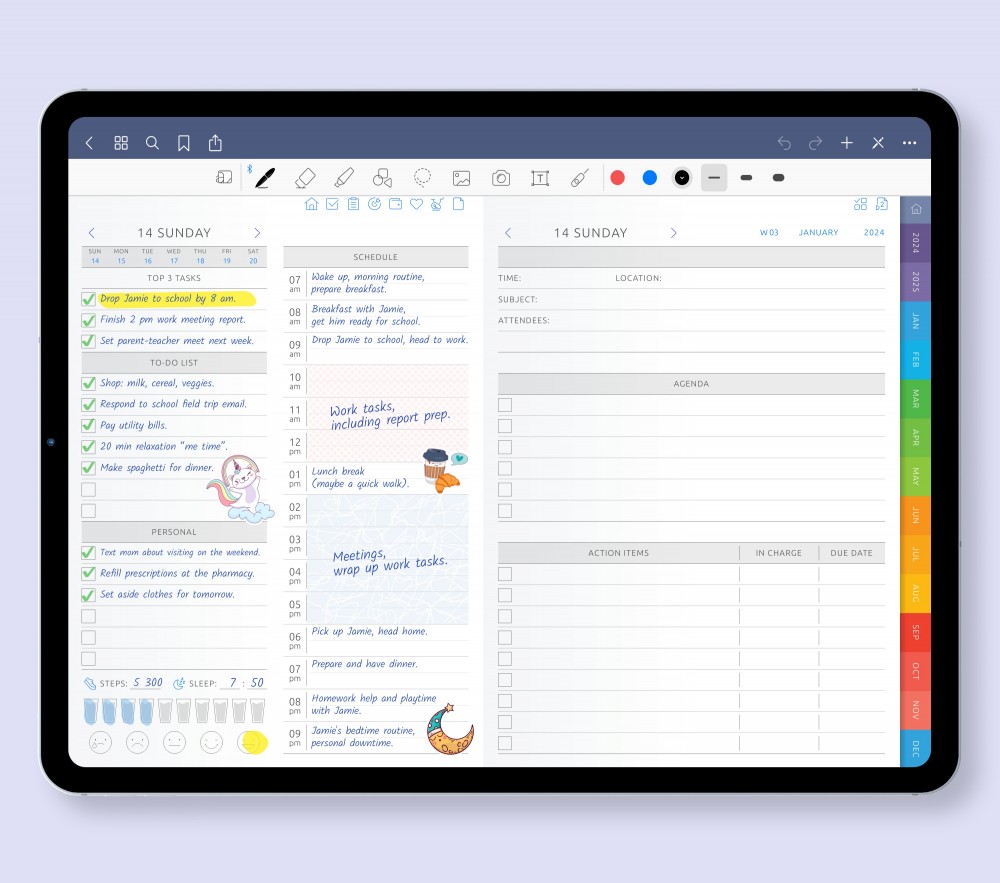 Customize Your Note-Taking with Our Wide Range of Templates
Our planner provides a wide range of templates for note-taking, enabling you to take notes in a way that suits your preferences and lets you express your creativity. With 30 templates available, you can personalize your notes to reflect your unique style. Furthermore, our planner features templates specially designed for recording essential contact information, ensuring that you always have access to important details when you need them.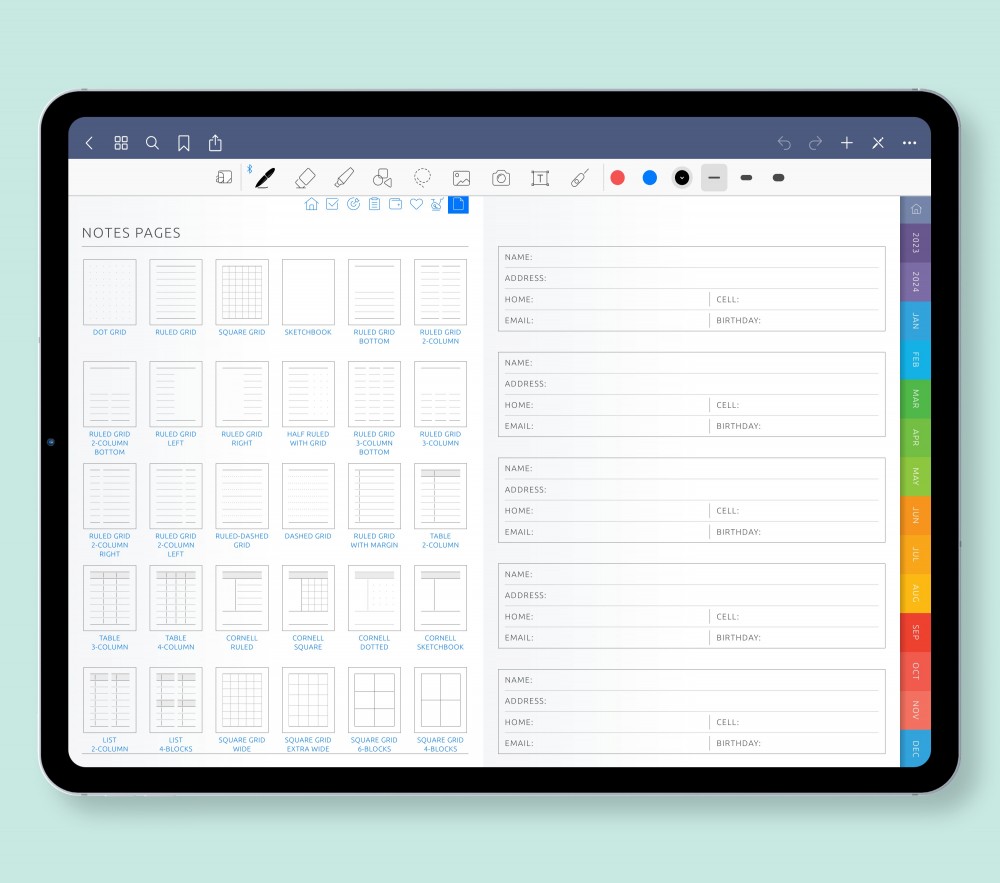 Achieve Your Goals and Unlock Your Potential with Our Planner
Achieve your dreams and unlock your full potential with our Goals section. Our customizable templates help break down your goals into manageable steps, allowing you to track your progress and stay focused on what matters most. Whether you're working towards professional or personal aspirations, our planner provides you with the tools you need to succeed.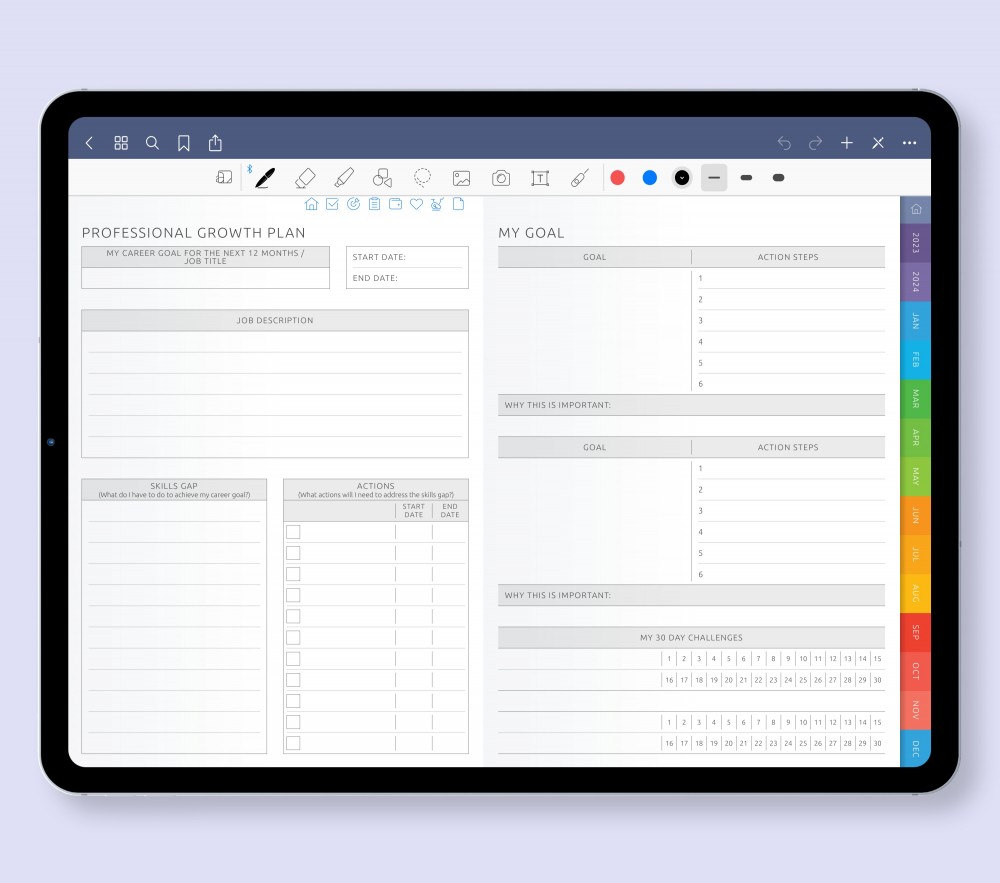 Maximize Your Productivity: Stay on Top of 10 Projects with 40 Customizable Pages
Our planner is designed to be the ultimate productivity tool for managing your projects. Set milestones, calculate budgets, and track progress visually using our project to-do lists and Kanban boards, and stay on top of your projects like never before. With 20 separate subjects/titles and two customizable pages per subject, you'll have ample space to dedicate to each project. You can manage up to 10 projects simultaneously.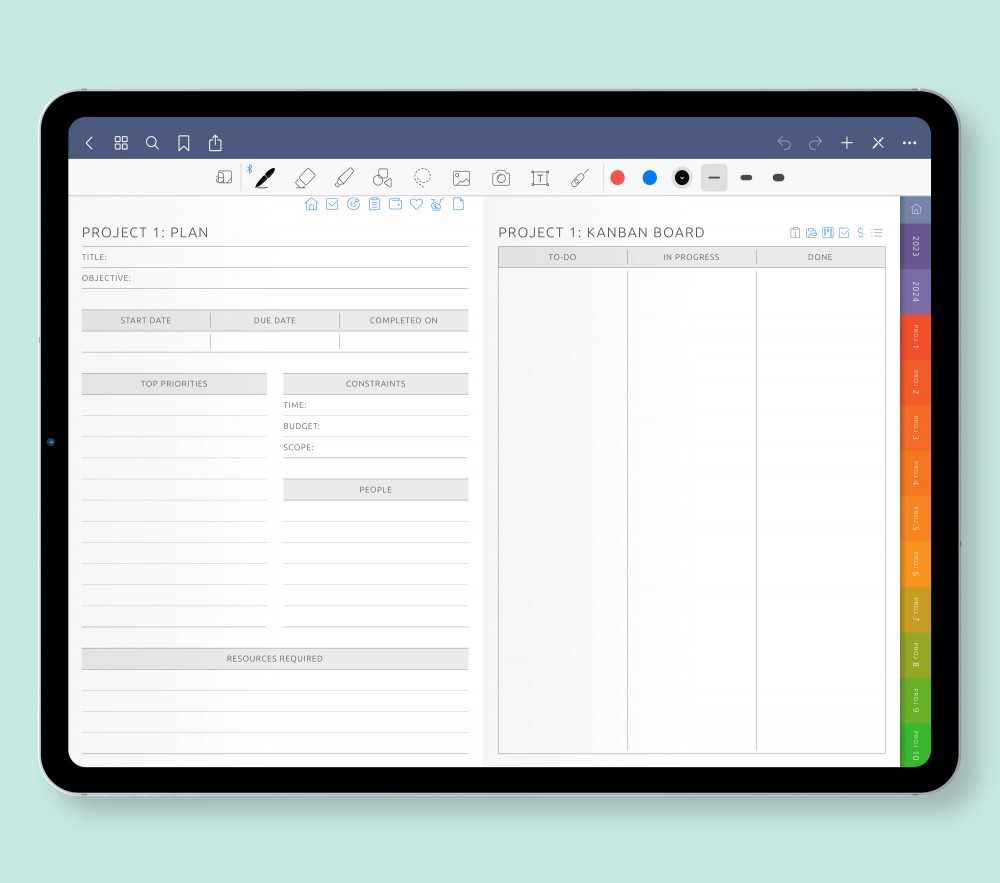 10 Financial Templates to Take Control of Your Money and Achieve Financial Freedom
With our budget planning template, you can track your income and expenses to get a clear picture of your financial situation. The expense tracker template allows you to monitor your spending and identify areas where you can cut back. And with the savings goal template, you can set and track your progress towards your savings targets. Our planner also includes templates for debt reduction, retirement planning, and more. Take control of your money and achieve financial freedom with our planner.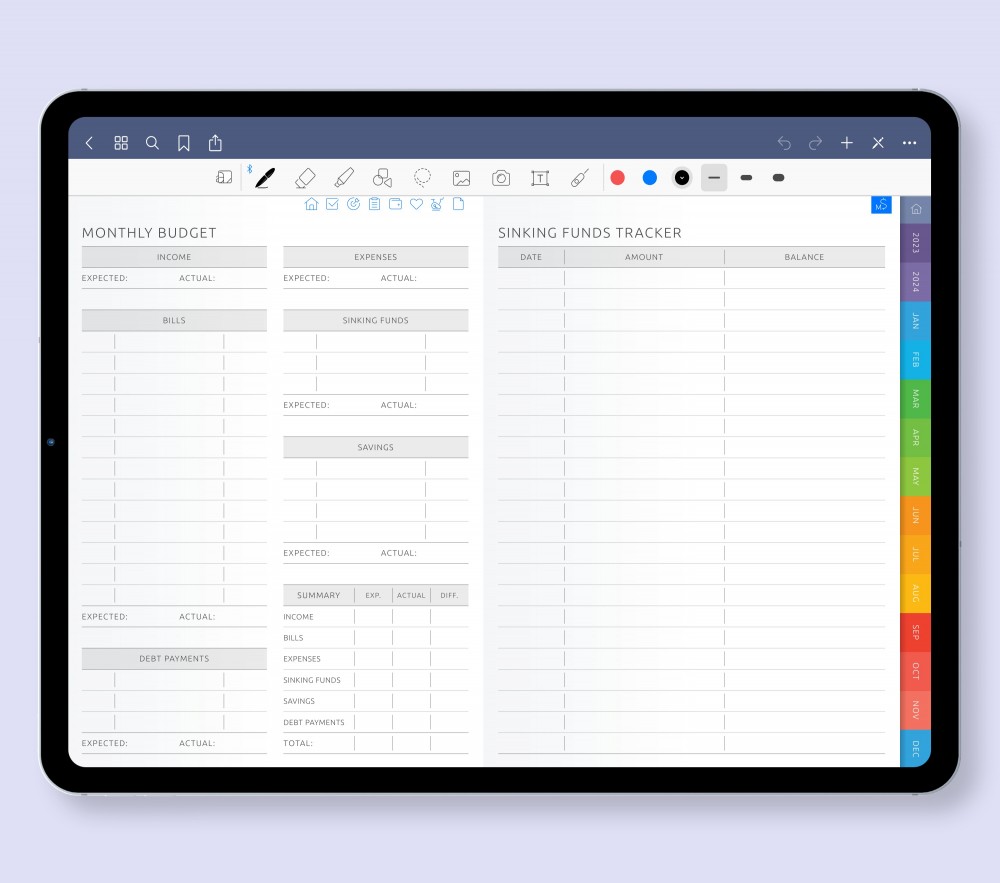 Boost Your Productivity with Customizable Trackers, Reminders, and Prompts
With a range of features including reminders, goal trackers, and prompts, our planner is packed with the tools you need to stay on top of your to-do list and accomplish more each day. Whether you struggle with motivation, remembering important dates, or tracking progress on your goals, our planner has you covered. Stay organized and achieve your objectives with ease, all in one convenient place.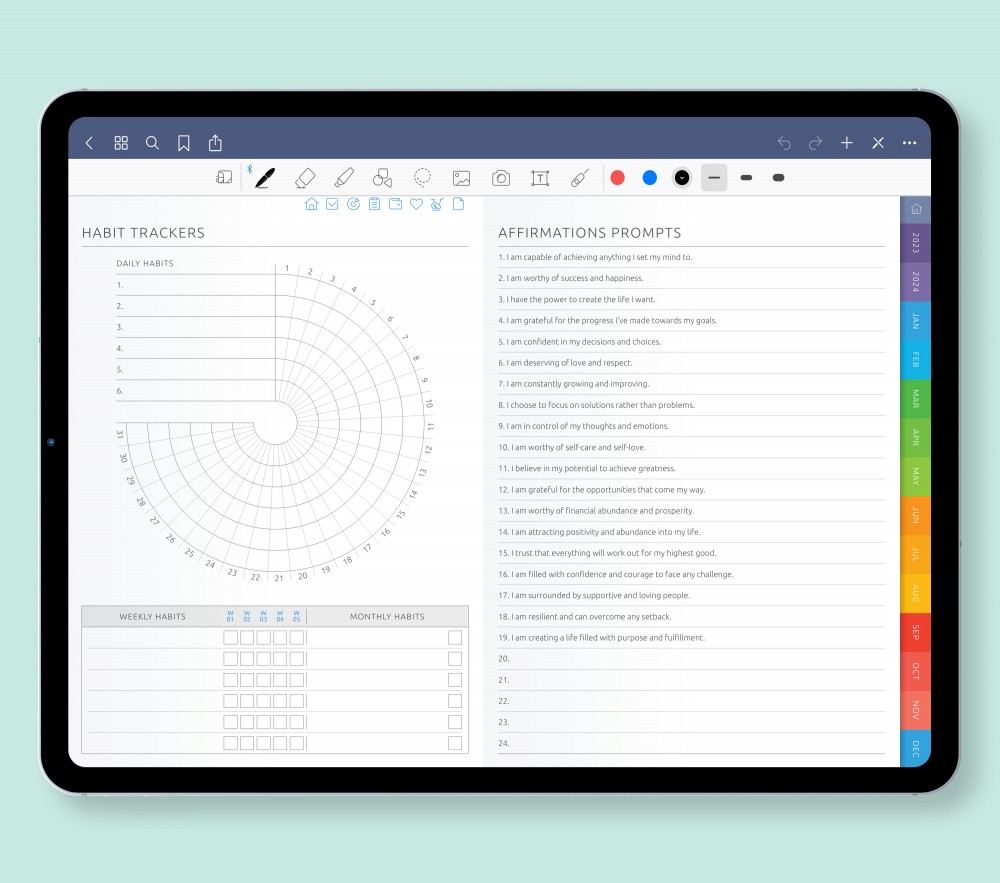 Take Charge of Your Well-being: Elevate Your Fitness, Nutrition, and Self-Care Regimen with Our Health and Wellness Pages
Our planner is the perfect tool to achieve optimal wellness. With customizable health and wellness pages, you can enhance your motivation, track your fitness progress, and stay on top of your nutrition and self-care habits. Whether you want to keep a diary, enhance your mental health, boost your energy levels, or achieve overall wellness, our planner provides a comprehensive approach to wellness that empowers you to prioritize your well-being and keep stress levels at bay.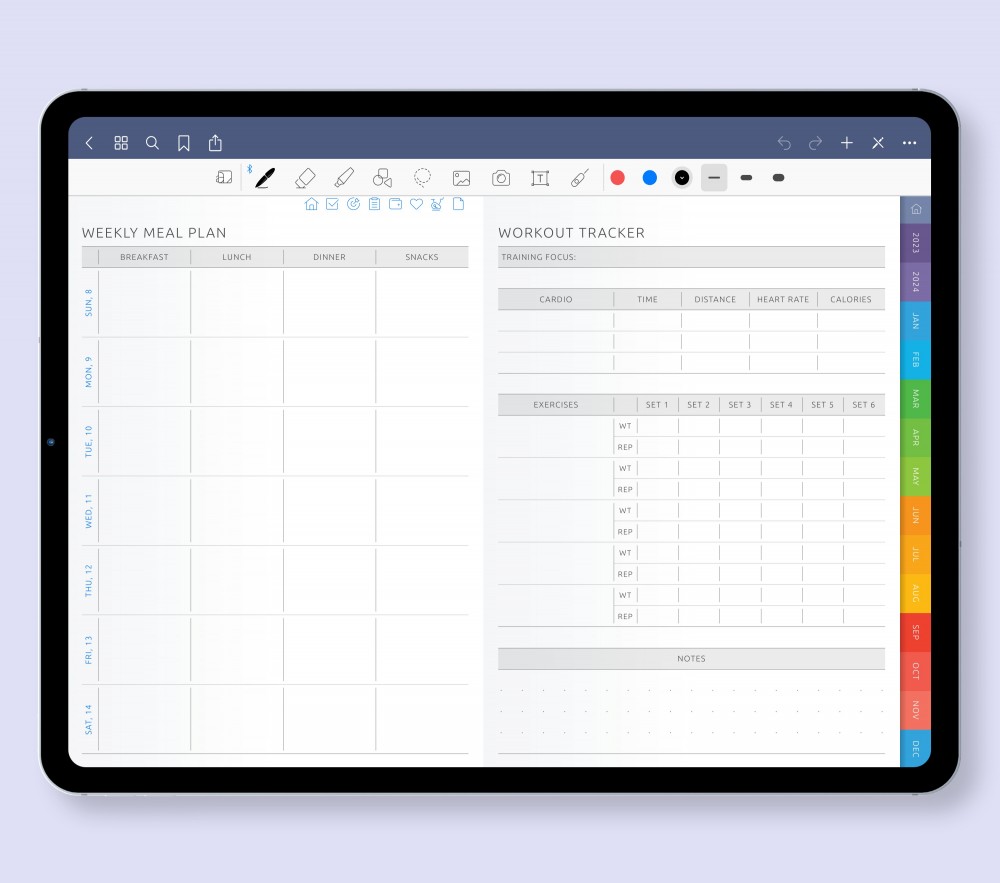 Customize Your Planner: Tailor-made Templates for Your Lifestyle
Our agenda-focused planner is designed to seamlessly fit into your lifestyle with customizable templates tailored to your specific needs. You can download your planner as many times as you want, and adjust it according to your changing requirements. Customize your planner with 2 daily, 4 weekly, 4 monthly, 4 quarterly, and 4 yearly pages, all personalized to your liking. With dozens of customizable templates to choose from, you can create the perfect planner to suit your agenda.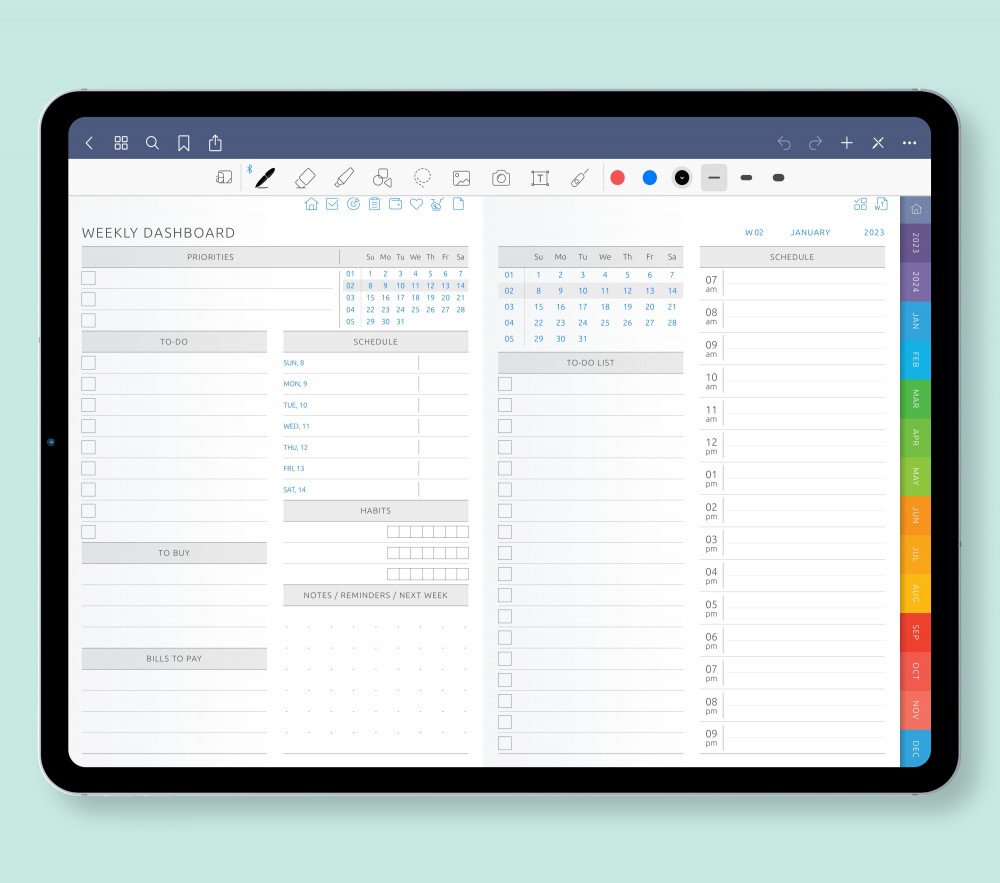 Ultimate Digital Planner
$11.95
Added to cart.


Continue to checkout
OR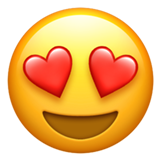 65 iPad Planners
+Future Releases & Updates
$19.97
Added to cart.


Continue to checkout
After purchase, enjoy unlimited customizations and downloads of your planner or bundle at no added cost