Kindle Scribe Teacher Planner
$9.69
Added to cart.


Continue to checkout
OR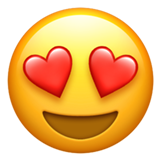 27 Kindle Scribe Planners
+Future Releases & Updates
$19.97
Added to cart.


Continue to checkout
After purchase, enjoy unlimited customizations and downloads of your planner or bundle at no added cost
Introducing the 2023 + 2024 Kindle Scribe Teacher Planner: Your Essential Companion for Educational Excellence
Unveiling the ultimate tool for educators aiming for superior organization and achievement. With the Kindle Scribe Teacher Planner, teachers can customize their planning experience to meet their unique needs. Benefit from 2 daily pages boasting 18+ templates such as lesson plans, schedules, and task lists, along with 2 weekly pages, providing comprehensive control over your schedule.
Navigate effortlessly through daily and weekly variations like Daily 15min Schedule, Task Lists, and Weekly Dashboard. Discover specialized features crafted for student management, including Student Lists, Grade Tracker, and Homework Tracker. Coordinate your year smoothly with hyperlinked tabs, a yearly calendar, monthly goals & overview, and custom lesson page variations like Workflow & Checklist. Thoughtful integrations like the Behavior Log, Conference Schedule, and Exams Tracker ensure your planning, teaching, and tracking are unified in one efficient system. Empower yourself and enrich your students' lives with this indispensable tool today!
Select the planner options you are interested in and download the PDF file. Available for Amazon Kindle Scribe tablets. Leave notes, plan tasks, track progress, use the calendar for 2023 - 2024, etc.
Features
Hyperlinks
for easy navigation
Tabs
for quick access to important pages
Custom dates
that fit your needs
Customize Your Planner
adapt your planner to your life by choosing the most suitable layouts
Sunday / Monday
start day of the week that you prefer
Editing mode
draw, write and sketch on the go
A Comprehensive Toolkit for Classroom Management
Seamlessly orchestrate your classroom with specialized features such as daily and custom Lesson Plans, finely crafted to structure each educational day to perfection. Monitor your students' growth and maintain accountability with intuitive tools like Class Attendance, Grade Tracker, and Homework Tracker. Never overlook vital dates, thanks to the handy Event Tracker, and support your students' success by diligently planning and overseeing their projects with the Project Planner.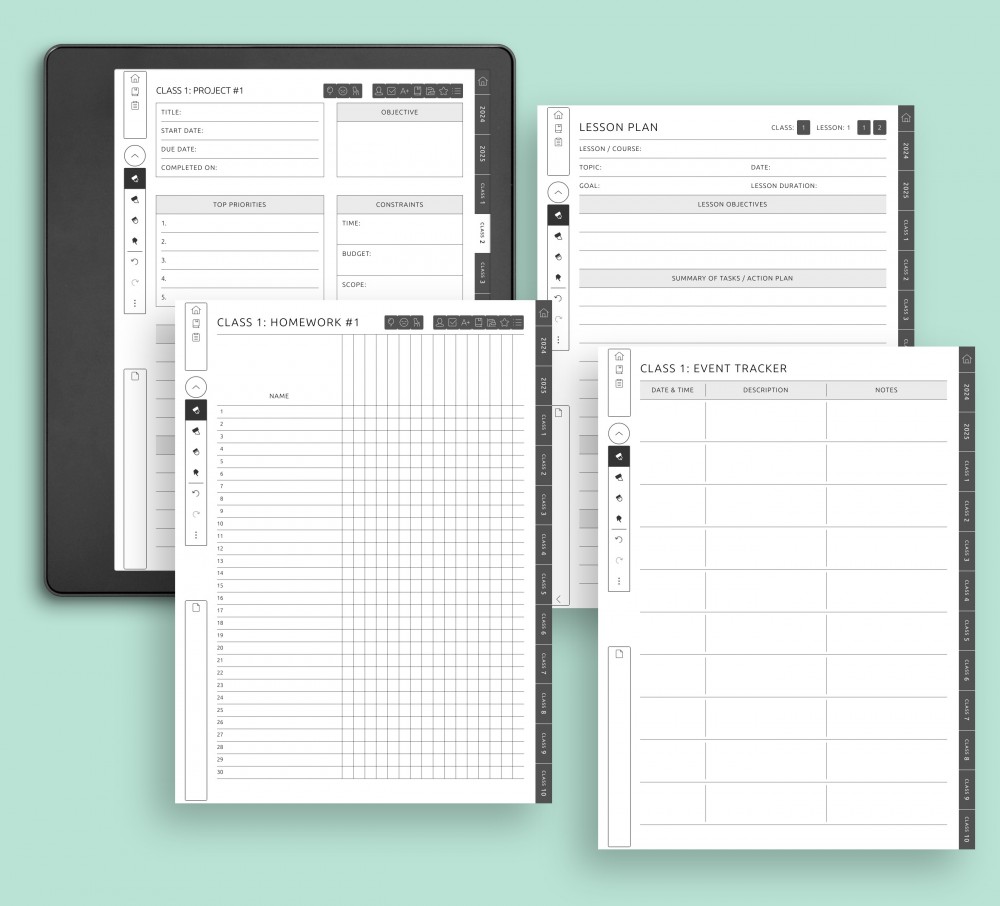 Easy Student Management
With the reMarkable Teacher Planner's Student & Education pages, you can consolidate all essential Student Info in one accessible place and always be ahead with our Important Dates tool. The user-friendly Seating Chart facilitates effortless adjustments and optimal classroom arrangement, while the Behavior Log provides an effective way to monitor and guide your students' conduct. Plus, the extensive Student List feature makes maintaining an orderly record of your class effortless.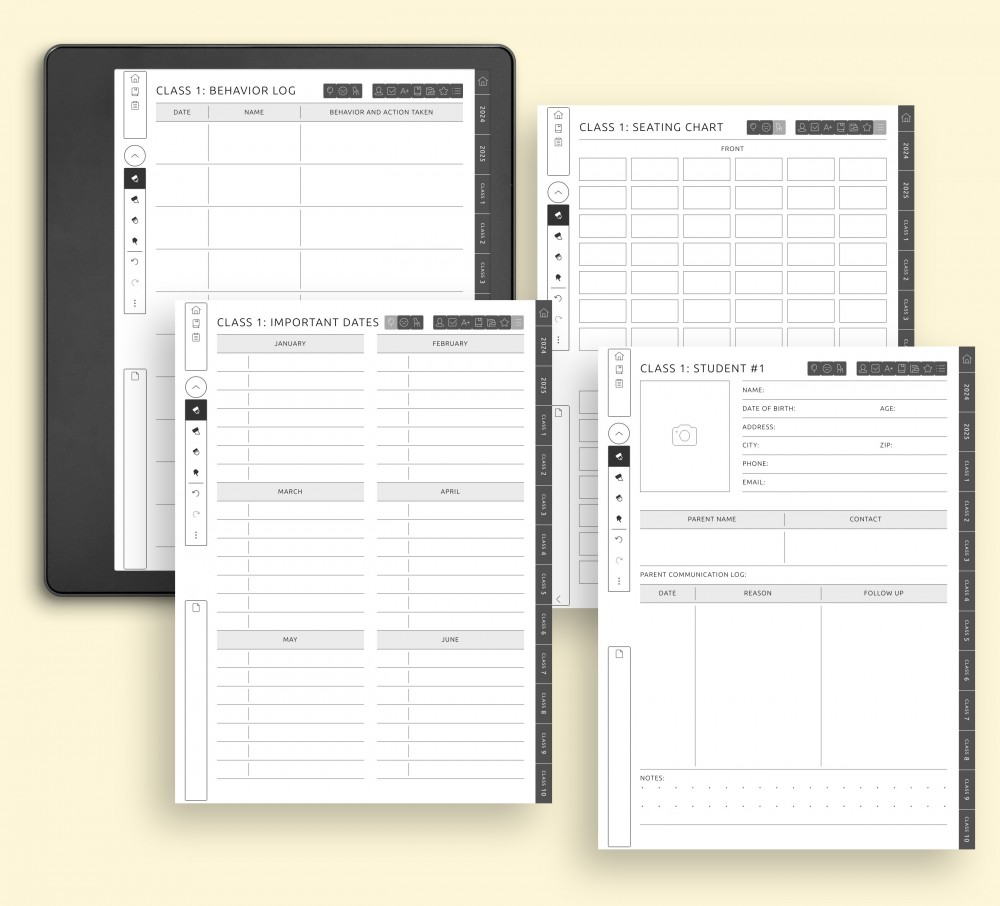 Transform Your Approach to Appointments, Meetings, and Events
Navigate your schedule with ease using our user-friendly customizable templates, designed to adapt the two weekly, four monthly, quarterly, and annual pages to align with your unique lifestyle. With an array of templates at your disposal, orchestrating and keeping command over your schedule is utterly effortless.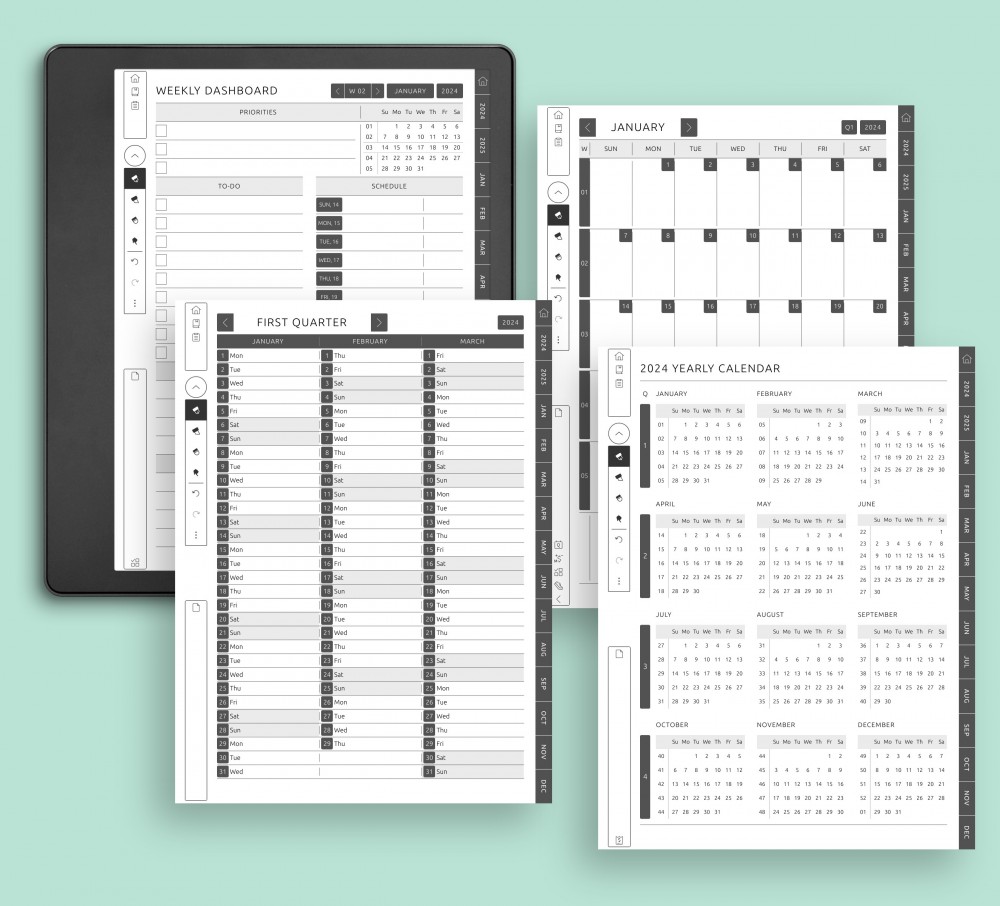 Digital Note-Taking: Enhance Your Experience
Embrace the convenience and versatility of our planner, equipped with 30 diverse templates tailored to fit your unique style and requirements. Whether you're capturing creative thoughts or logging vital contact information, these templates are intentionally crafted to ensure that crucial details are effortlessly accessible and always at your fingertips. Transform your note-taking process with a system that's ready to adapt to your individual needs.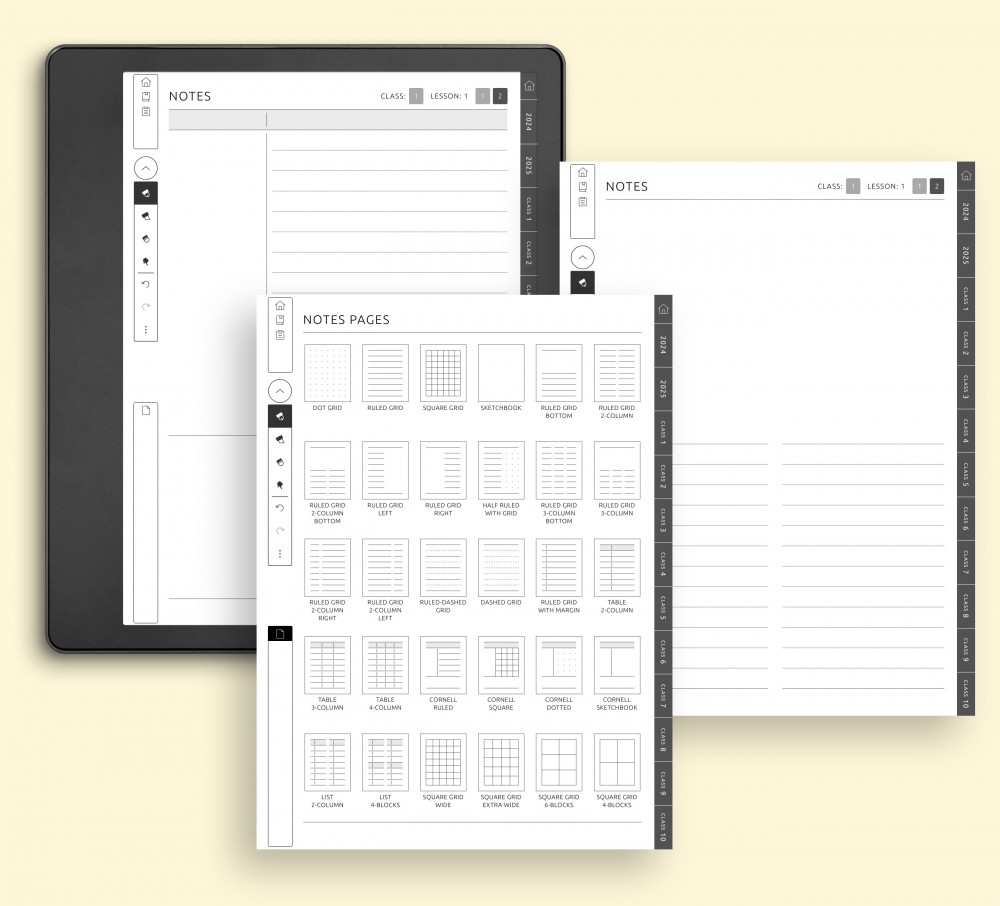 Customize Your Two Daily Pages
Whether you thrive on meticulous planning or prefer a more spontaneous approach, our two customizable daily pages have you covered. Choose from three daily schedule templates to structure your day just right. Engage effortlessly with your daily tasks using our intuitive to-do's and checklists, all designed to simplify your routine. Plus, our thoughtful daily gratitude template encourages a moment of mindfulness, helping you pause and cherish life's everyday joys.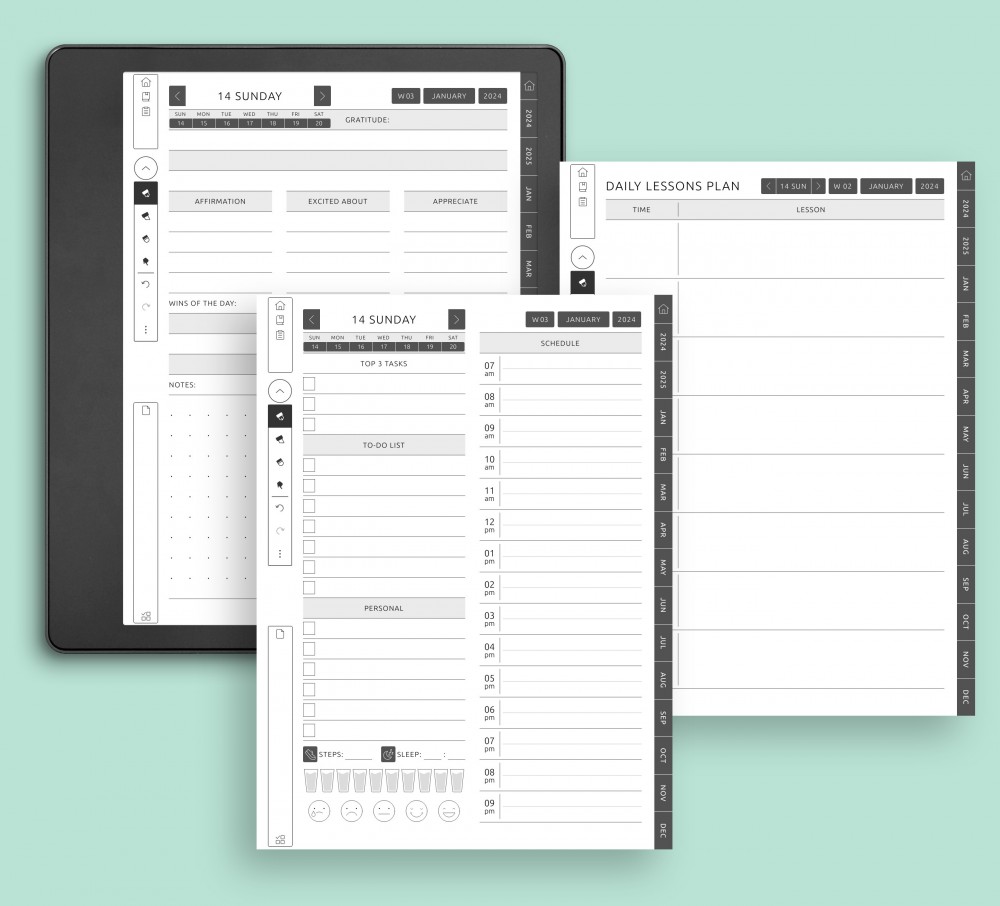 Transform Your Weekly Planning with Your Two Weekly Pages
Optimize your week with our thoughtfully designed 5-day or 7-day schedules, each featuring direct links to daily pages for an effortlessly cohesive planning experience. Explore three additional adaptable weekly planning templates to find the perfect fit for your distinct needs. Enhance your productivity with our specialized templates, and utilize our diverse note templates for capturing ideas, reflections, or essential reminders.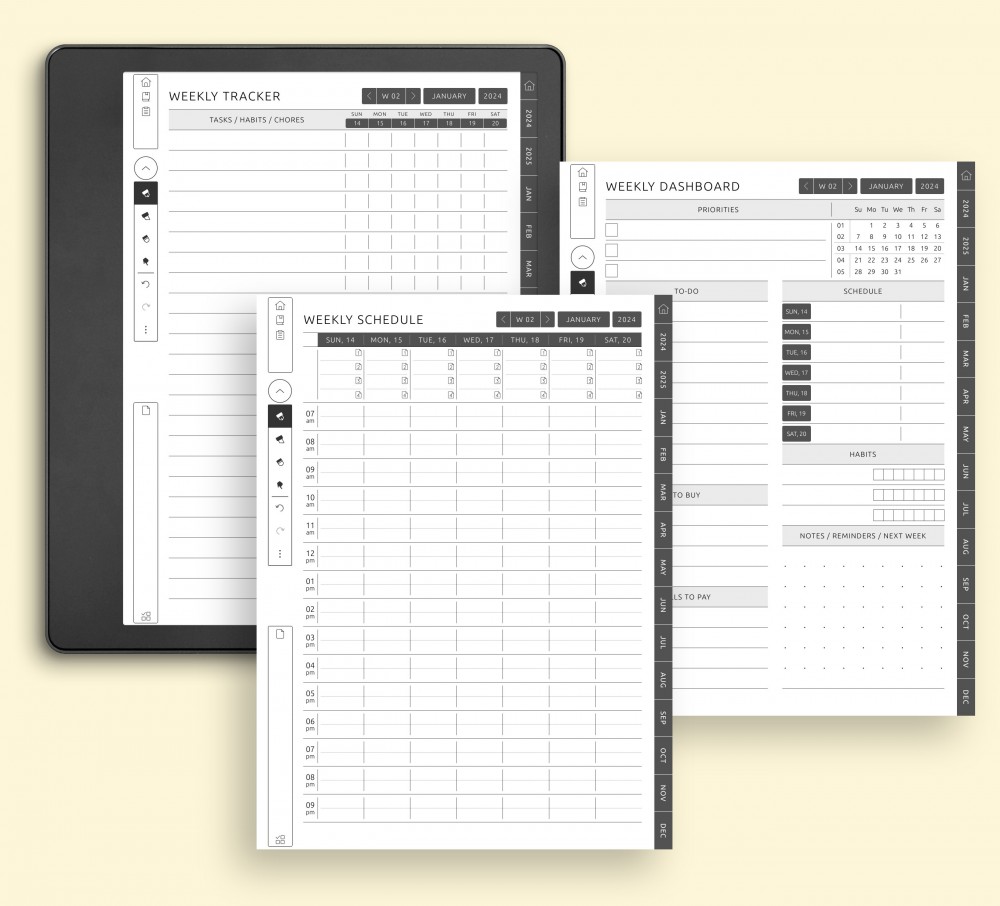 Chart Your Path to Success with Effortless Navigation
With our planner, you can strategically approach your goals through well-designed templates embedded within annual, quarterly, and monthly pages. These tools encourage you to articulate your year's dreams and methodically break them down into achievable targets. Make use of essential productivity aids such as Workflow and Checklist, Tasklist, and more to streamline your journey.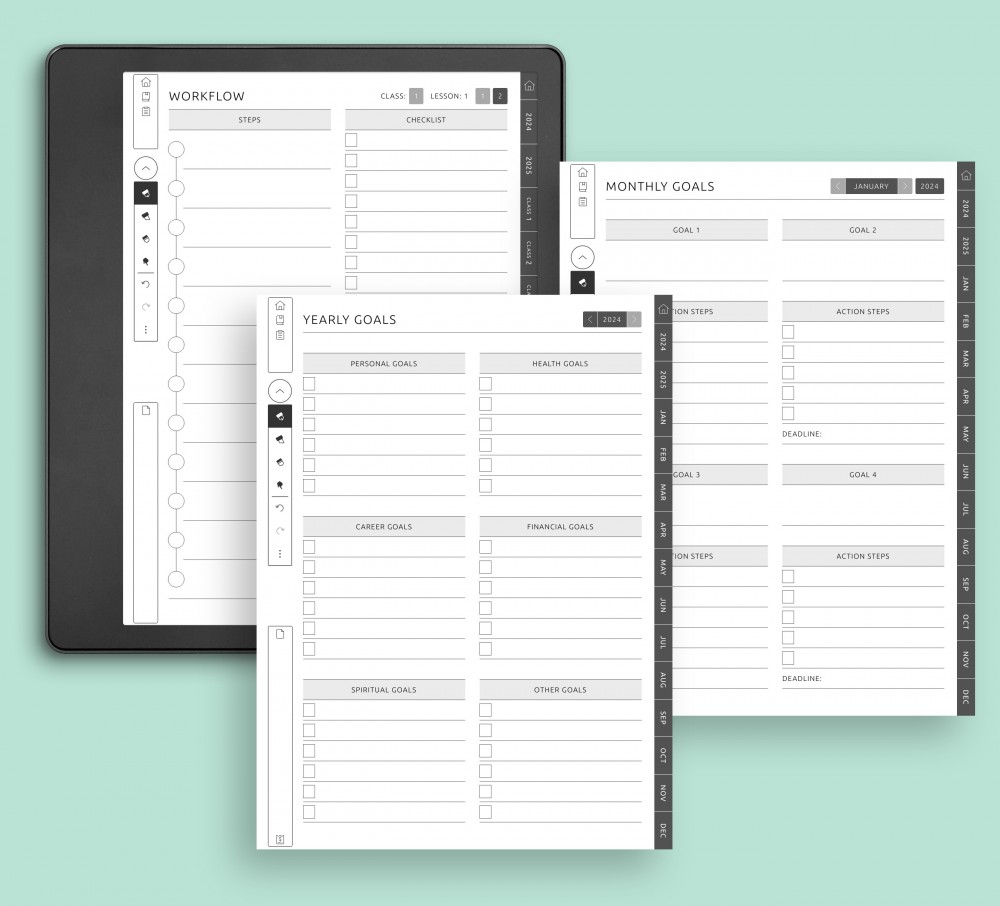 Keep Key Information at Your Fingertips
The Digital Teacher Planner is more than just a scheduling tool; it's a comprehensive system that keeps all your essential information in one accessible place. With templates specifically designed to store contacts, passwords, and vital reminders, you'll never have to scramble for important details again. Enhance your professional development with dedicated areas for conference lists and notes, ensuring that valuable insights from meetings and seminars are always handy.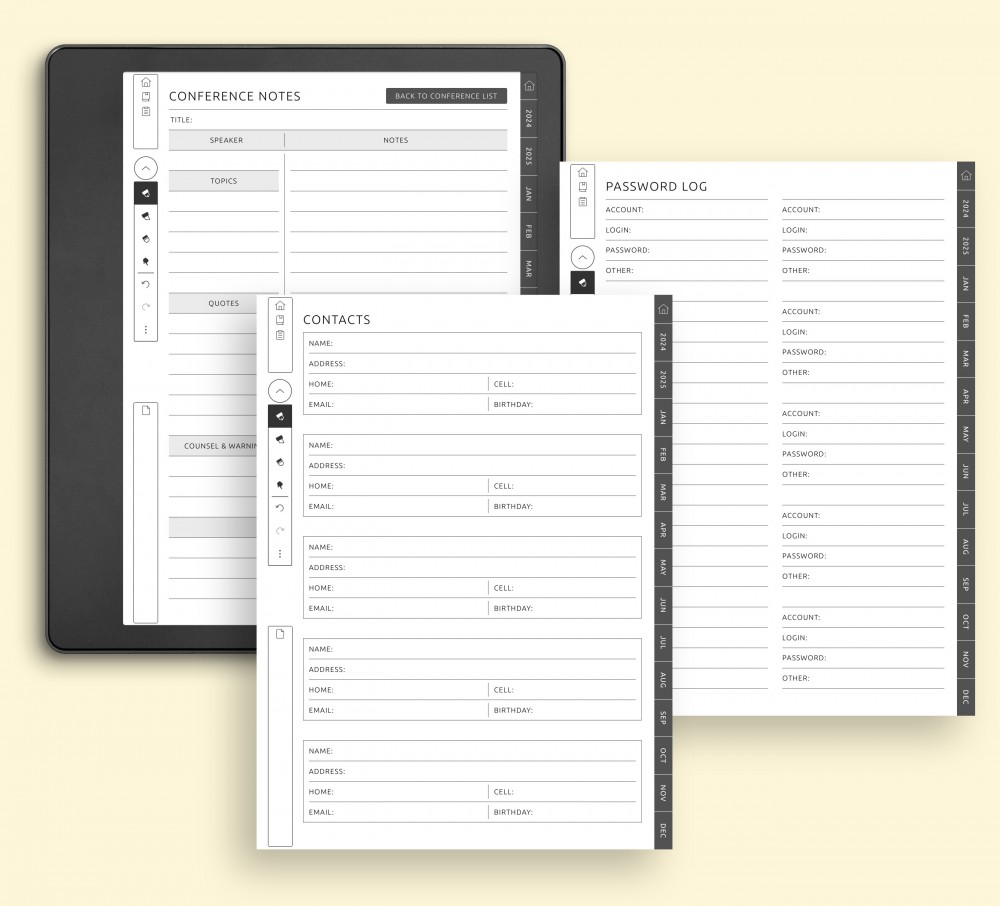 Embrace Literary Exploration and Reflection
Whether you're an educator seeking inspiration or a book lover in search of the next great read, our Digital Teacher Planner's literary section has you covered. Carefully designed templates offer spaces to review readings, record thoughts on favorite authors, and jot down poignant quotes that resonate with you. By keeping all of this cherished literary information at your fingertips, you can revisit your reflections and insights whenever the mood strikes.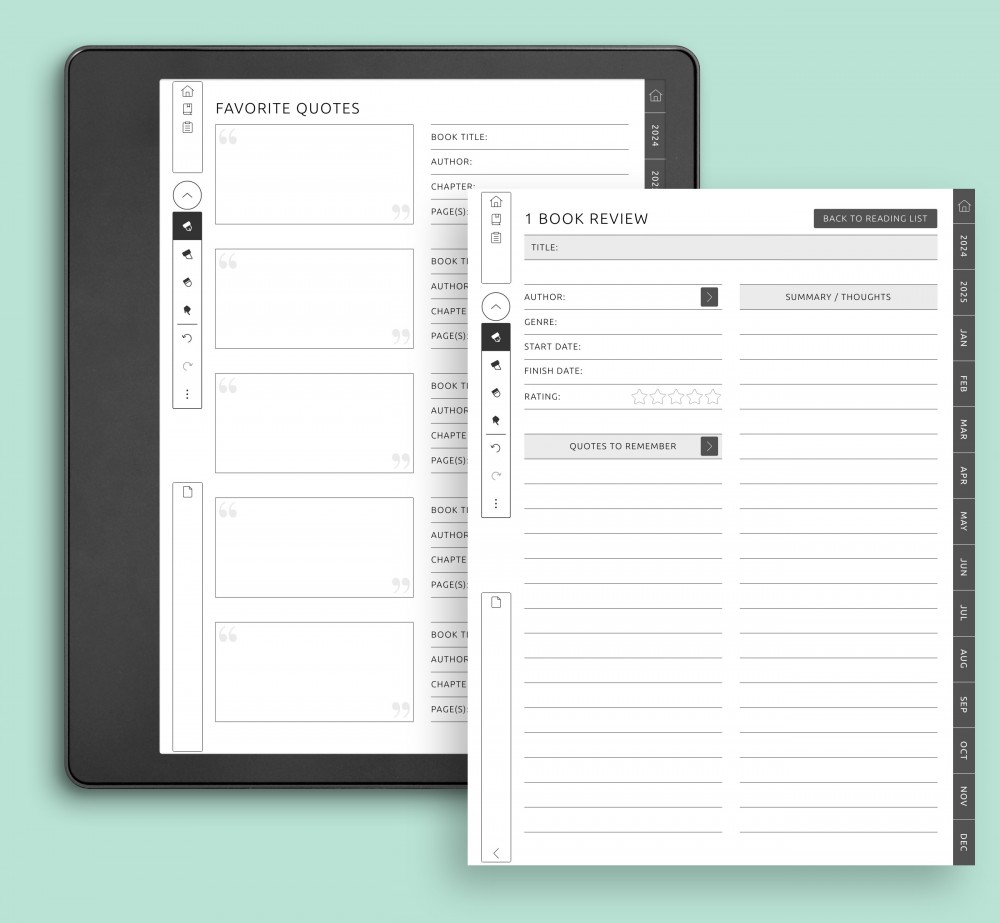 Seamless Navigation: Your Planner's Hyperlinked Structure
Navigate through your planner with unprecedented ease, thanks to our intuitive hyperlinked structure. This customizable planner is thoughtfully designed to enhance your user experience, making navigation not only smooth but enjoyable. Whether you need to access your daily to-do list, find a specific project timeline, or review your monthly goals, everything is only a few clicks away.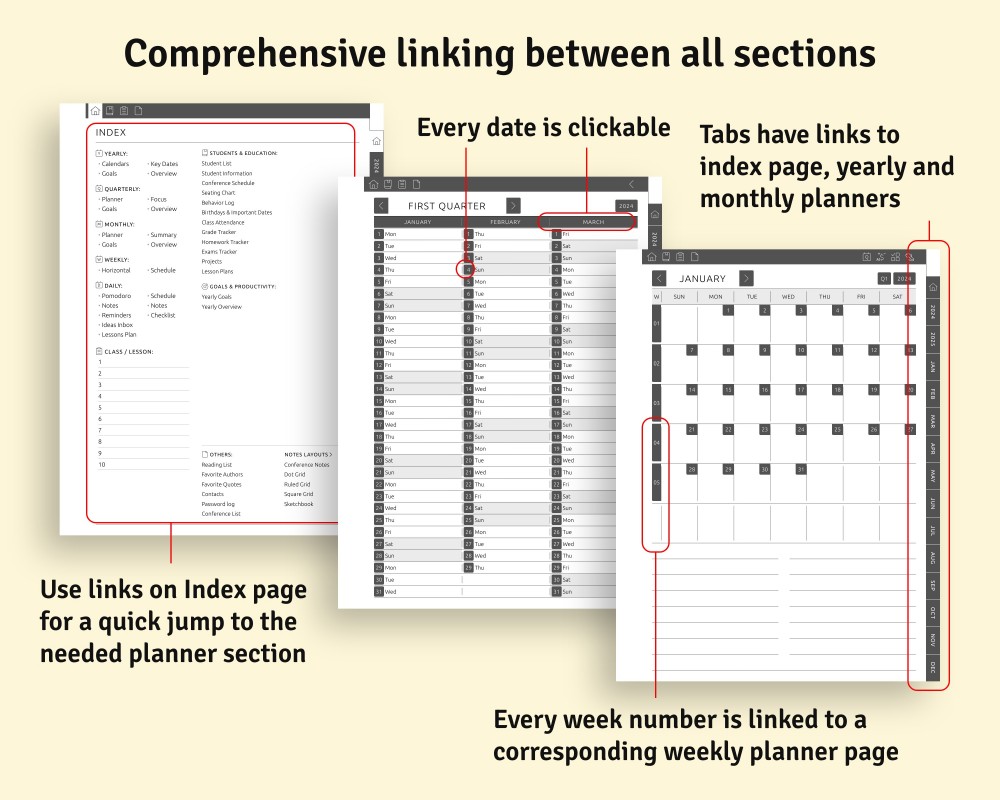 Kindle Scribe Teacher Planner
$9.69
Added to cart.


Continue to checkout
OR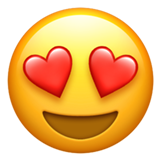 27 Kindle Scribe Planners
+Future Releases & Updates
$19.97
Added to cart.


Continue to checkout
After purchase, enjoy unlimited customizations and downloads of your planner or bundle at no added cost