Digital Teacher Planner
$9.90
Added to cart.


Continue to checkout
OR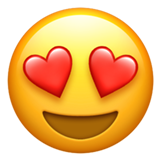 65 iPad Planners
+Future Releases & Updates
$19.97
Added to cart.


Continue to checkout
After purchase, enjoy unlimited customizations and downloads of your planner or bundle at no added cost
Introducing the 2023 + 2024 Digital Teacher Planner, the ultimate tool for educators who demand excellence and organization. With our cutting-edge planner, teachers can customize their experience to suit their individual needs. Featuring 2 daily pages with 18+ templates, including lesson plans, schedules, and task lists, as well as 2 weekly pages, this planner allows for complete control.
From weekly to daily page variations such as Daily 15min Schedule, Task Lists, and Weekly Dashboard, to specialized features for student management including Student Lists, Grade Tracker, and Homework Tracker, the Digital Teacher Planner truly has it all. Organize your year effortlessly with hyperlinked tabs, a yearly calendar, monthly goals & overview, and custom lesson page variations like Workflow & Checklist. Plus, with thoughtful additions like the Behavior Log, Conference Schedule, and Exams Tracker, your planning, teaching, and tracking are all seamlessly integrated into one intuitive system. Invest in yourself and your students today!
Features
Hyperlinks
for easy navigation
Tabs
for quick access to important pages
Custom dates
that fit your needs
Customize Your Planner
adapt your planner to your life by choosing the most suitable layouts
Sunday / Monday
start day of the week that you prefer
Editing mode
draw, write and sketch on the go
Compatible with

Goodnotes

Notability

Noteshelf

Xodo
Samsung Notes
The Educational Pages
Manage your classroom with ease using specialized features such as the daily and custom Lesson Plans, allowing you to structure each day perfectly. Track your students' progress and keep them accountable with the Class Attendance, Grade Tracker, and Homework Tracker. Never miss an important date with the Event Tracker and ensure your students' success by planning and overseeing their projects using the Project Planner.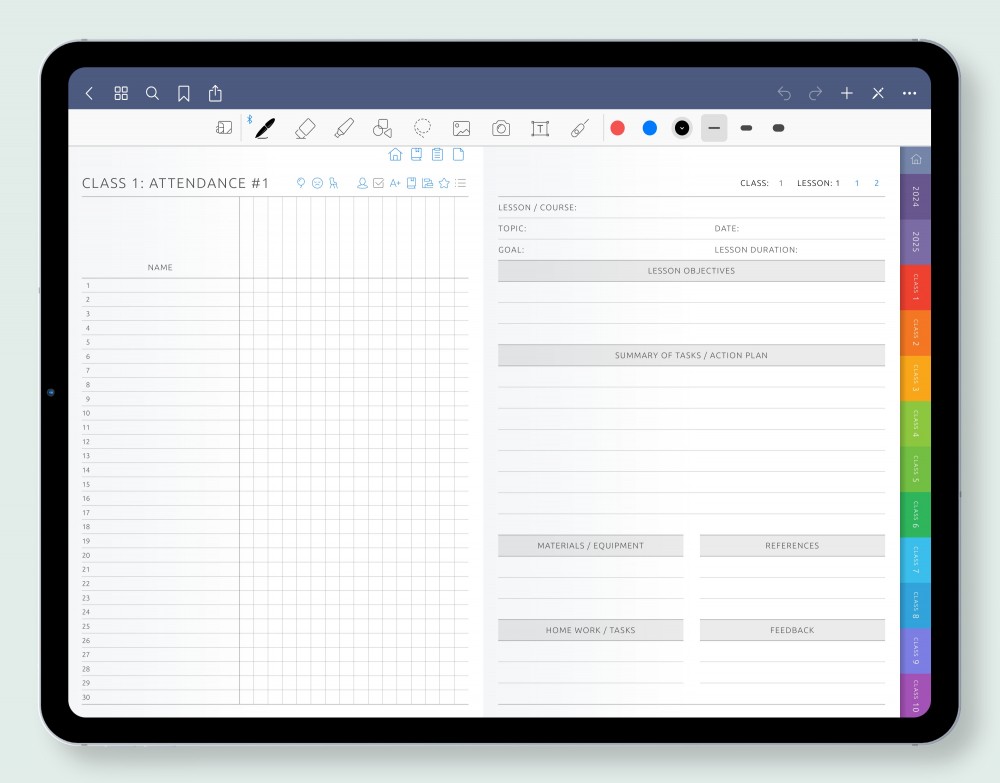 The Student Management Pages
Keep track of all relevant Student Info in one convenient location, and never miss a beat with the Important Dates feature. The Seating Chart allows for quick adjustments and optimized classroom arrangement, while the Behavior Log enables you to monitor and guide your students' conduct. Plus, with the inclusive Student List, maintaining an organized record of your class has never been easier. The Digital Teacher Planner's Student Management Pages lets you streamline your teaching experience.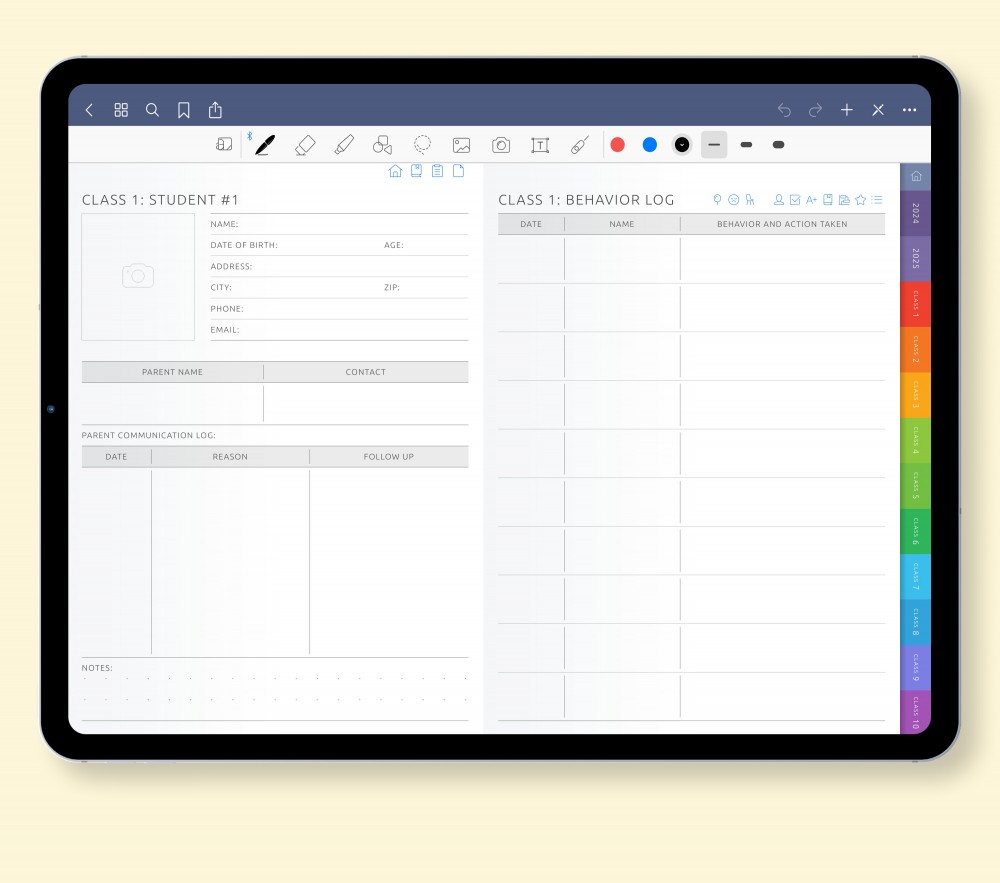 Transform Your Appointments, Meetings, and Events Organization
With our user-friendly customizable templates, adapting the two weekly, four monthly, quarterly, and annual pages to fit your distinctive lifestyle is a breeze. Offering dozens of templates to select from, organization and maintaining control over your schedule has never been easier.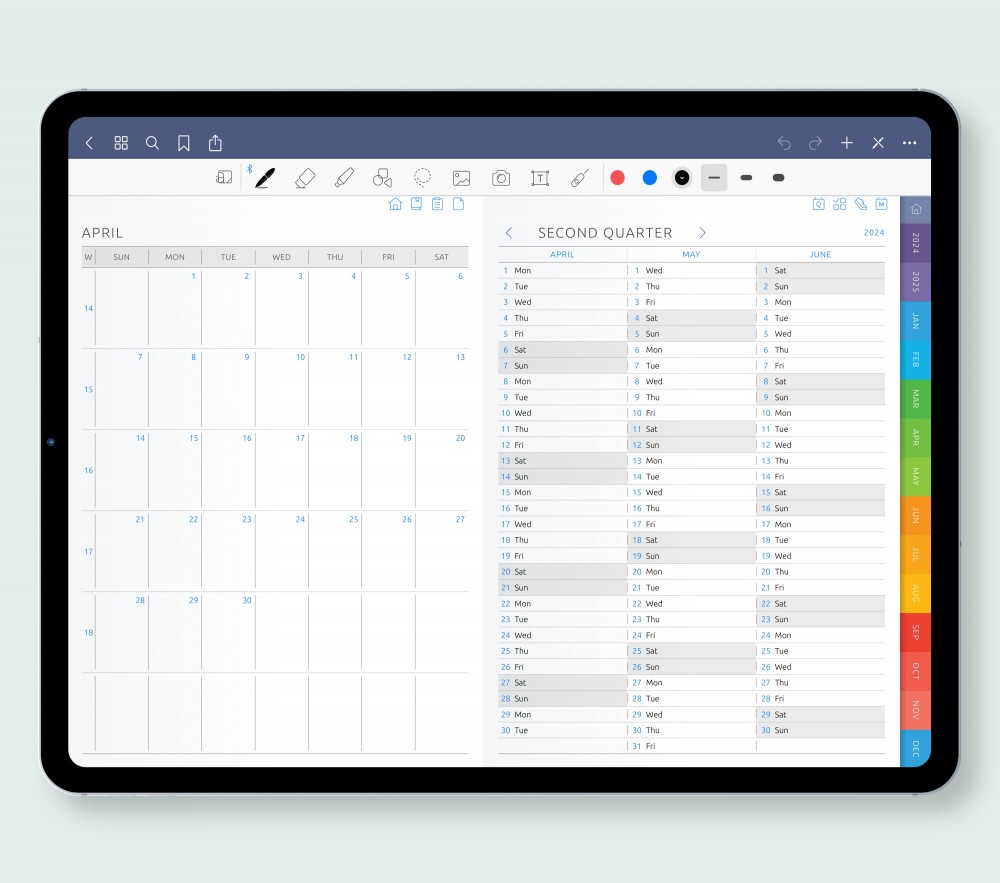 Personalize Your Digital Note-Taking with Our Extensive Selection of Templates
With 30 diverse templates at your fingertips, you can tailor your digital notes to mirror your unique style and personality. Additionally, our planner includes templates explicitly crafted for logging essential contact information, guaranteeing that vital details are always readily accessible when you need them.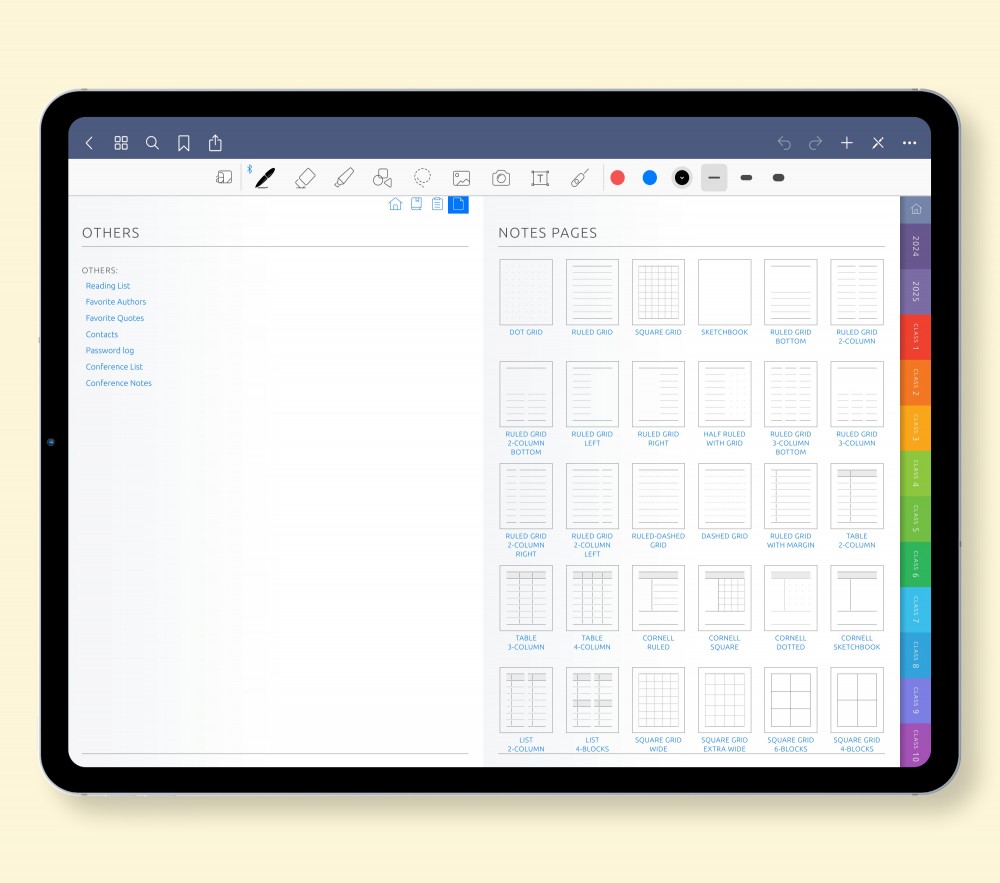 Elevate Your Daily Planning with Our Two Customizable Daily Pages
Whether you're meticulously planning your day or embracing spontaneity, we've got you covered with three daily schedule templates to structure your time. Engage with your tasks effortlessly through our daily to-do's and checklists, designed to simplify your workflow. Tap into mindfulness with our daily gratitude template, a thoughtful addition to help you reflect and appreciate life's blessings.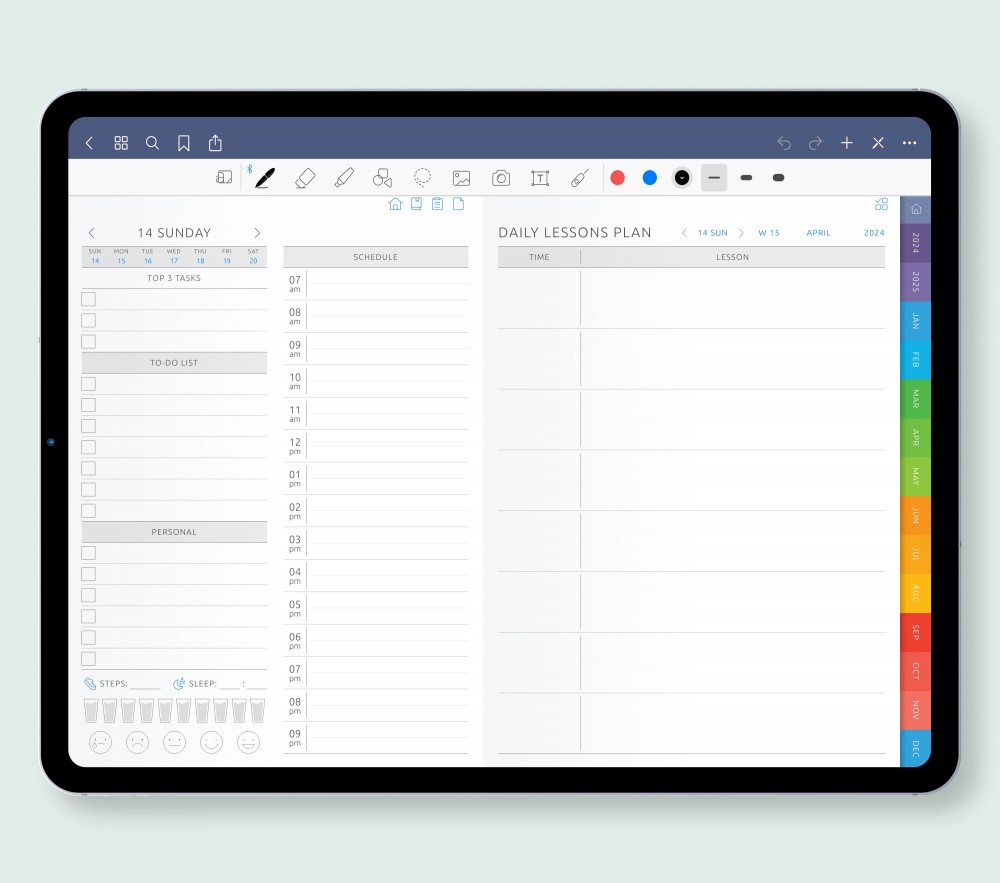 Revolutionize Your Week with Our Two Weekly Pages
Choose between carefully crafted 5-day or 7-day schedules, complete with direct links to daily pages for an effortlessly integrated experience. Explore three other diverse weekly planning templates to find the right fit for your needs. Also, there are productivity templates and our various note templates offer the flexibility to jot down ideas, reflections, or essential reminders. Embrace the future of planning and make your weeks work for you!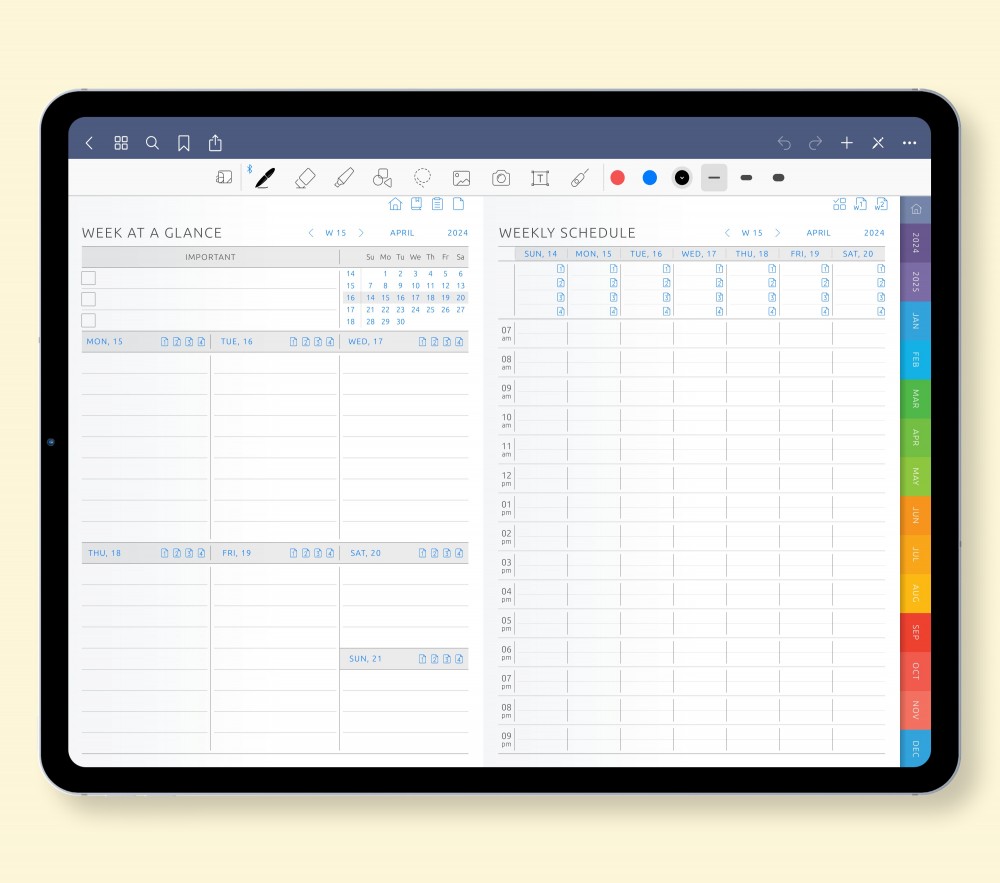 Stay on Top of Your Goals
Our planner is designed to guide you on the path to your goals. With goal templates incorporated into annual, quarterly, and monthly pages, you can outline your aspirations for the year. You can also methodically break them down into manageable steps. Utilize productivity aids such as Workflow and Checklist, Checklist, and Tasklist to streamline your success journey. It's not just about setting goals; it's about achieving them, and our planner is your companion every step of the way.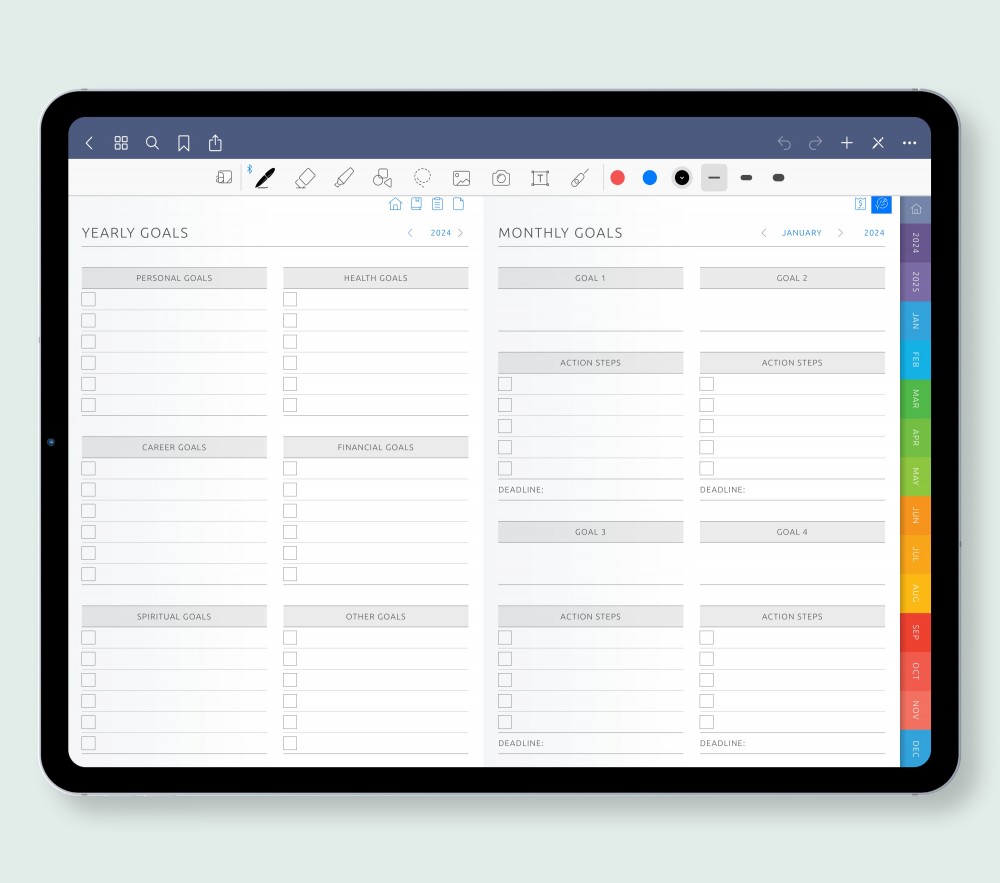 Digital Teacher Planner
$9.90
Added to cart.


Continue to checkout
OR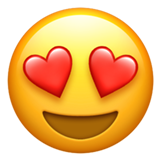 65 iPad Planners
+Future Releases & Updates
$19.97
Added to cart.


Continue to checkout
After purchase, enjoy unlimited customizations and downloads of your planner or bundle at no added cost