BOOX Note Air Teacher Planner
$9.69
Added to cart.


Continue to checkout
OR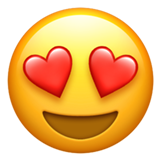 30 BOOX Note Planners
+Future Releases & Updates
$19.97
Added to cart.


Continue to checkout
After purchase, enjoy unlimited customizations and downloads of your planner or bundle at no added cost
Presenting the 2023 + 2024 Boox Note Teacher Planner, an essential asset for educators striving for excellence and efficient organization. Our advanced planner has been meticulously tailored to meet the distinct needs of teachers, offering 2 adaptable daily pages with over 18 templates for lesson plans, schedules, and task lists, complemented by 2 flexible weekly pages for comprehensive control and versatility.
Delve into an array of daily and weekly page options, such as the Daily 15min Schedule, Task Lists, and Weekly Dashboard. Benefit from focused student management tools like Student Lists, Grade Tracker, and Homework Tracker. The Boox Note Teacher Planner's holistic design simplifies yearly organization with features like hyperlinked tabs, a yearly calendar, monthly goals & overview, and customized lesson pages such as Workflow & Checklist. Thoughtful elements like the Behavior Log, Conference Schedule, and Exams Tracker ensure a unified approach to planning, teaching, and tracking. Enhance your pedagogical prowess and enrich your students' educational journey by investing in the Boox Note Teacher Planner today!
Features
Hyperlinks
for easy navigation
Tabs
for quick access to important pages
Custom dates
that fit your needs
Customize Your Planner
adapt your planner to your life by choosing the most suitable layouts
Sunday / Monday
start day of the week that you prefer
Editing mode
draw, write and sketch on the go
The Ultimate Classroom Management Tool
Take control of your classroom with the Boox Note Teacher Planner's specialized and tailored features. Employ daily and customized Lesson Plans, ingeniously designed to sculpt each educational day to your exact standards. Keep tabs on your students' development and enforce accountability with intuitive tools like Class Attendance, Grade Tracker, and Homework Tracker. Keeping track of important dates is made easy by the Event Tracker integration.
Enhance Your Student Management
Revolutionize your student management with our dedicated Student & Education pages. Consolidate all essential Student Info into one convenient place, and keep ahead of the curve with our strategic Important Dates tool. The cleverly designed Seating Chart allows easy adjustments, enabling you to craft the perfect classroom setup. The Behavior Log is an essential tool to monitor and guide your students' behavior. Experience effortless control and organization with this specialized planner.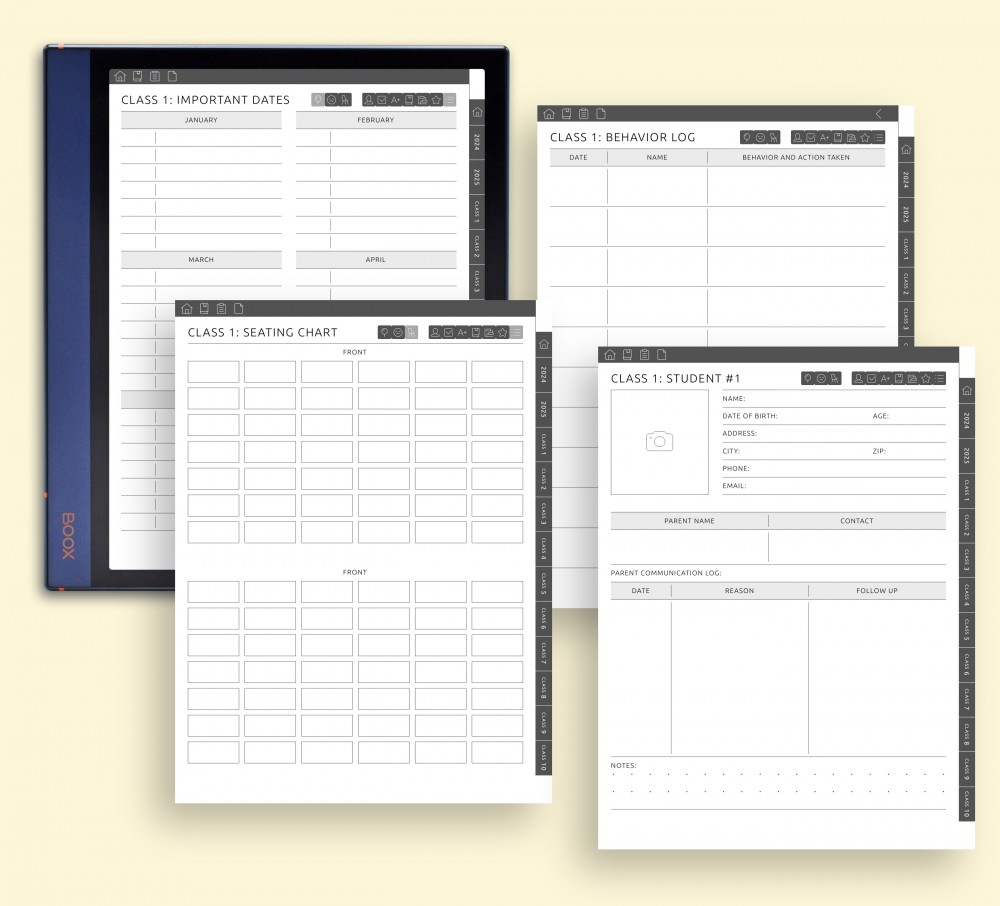 Take Your Scheduling to Another Level
Step into an exciting era of organization with our planner, crafted to align with your distinctive lifestyle and needs. Utilize our intuitive customizable templates to personalize the two weekly, four monthly, quarterly, and annual pages precisely to your liking. With a vast array of templates at your fingertips, orchestrating appointments, meetings, and events has never been easier. Experience the unparalleled convenience of the Boox Note Teacher Planner.
Personalize Your Digital Note-Taking
Enhance your note-taking journey with the planner, offering 30 versatile templates designed to adapt to your individual style and needs. Whether capturing creative insights or logging crucial contact information, these templates are meticulously crafted to ensure vital details are always within easy reach. Immerse yourself in a revolutionized note-taking experience with a customizable, user-friendly, and tailored system for you.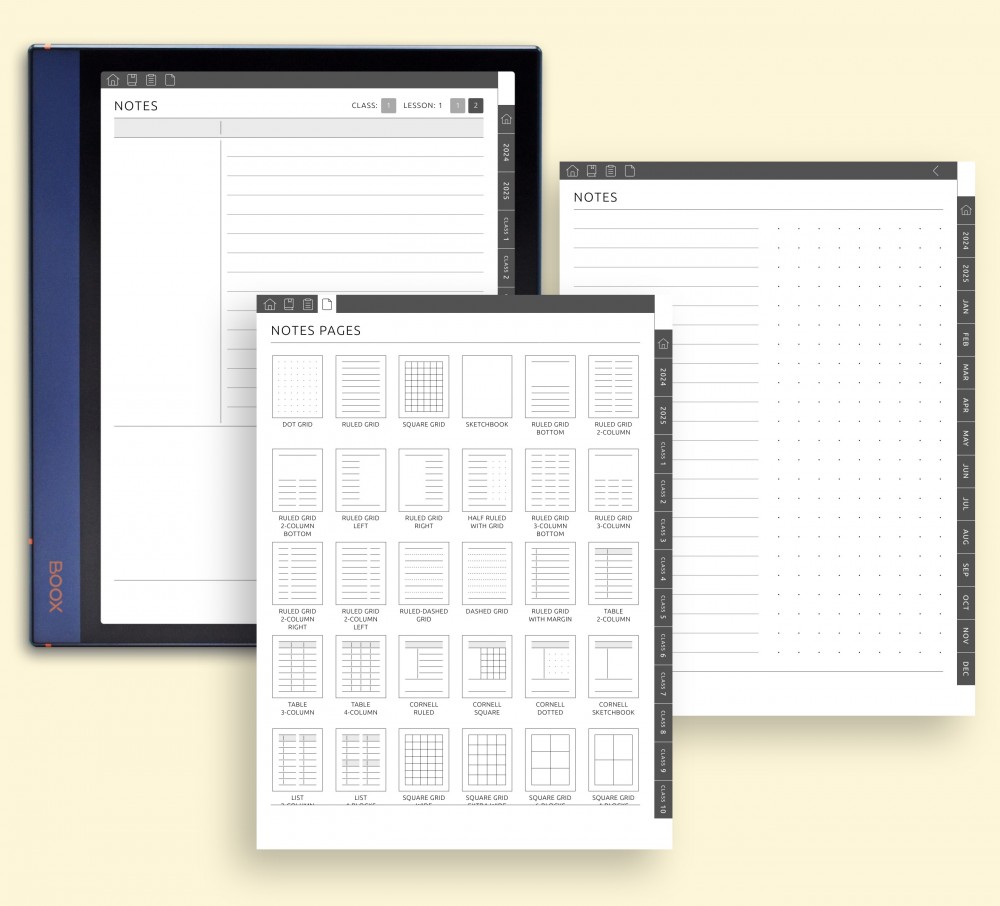 Tailor Your Daily Planning with Two Customizable Daily Pages
Find harmony in your daily routine with the Boox Note Teacher Planner's two customizable daily pages, designed to cater to both meticulous and spontaneous scheduling. The customizable pages feature three daily schedule templates, enabling you to structure your day as you wish. Seamlessly engage with your daily tasks using the planner's intuitive to-do lists and checklists, all specifically crafted to streamline your routine.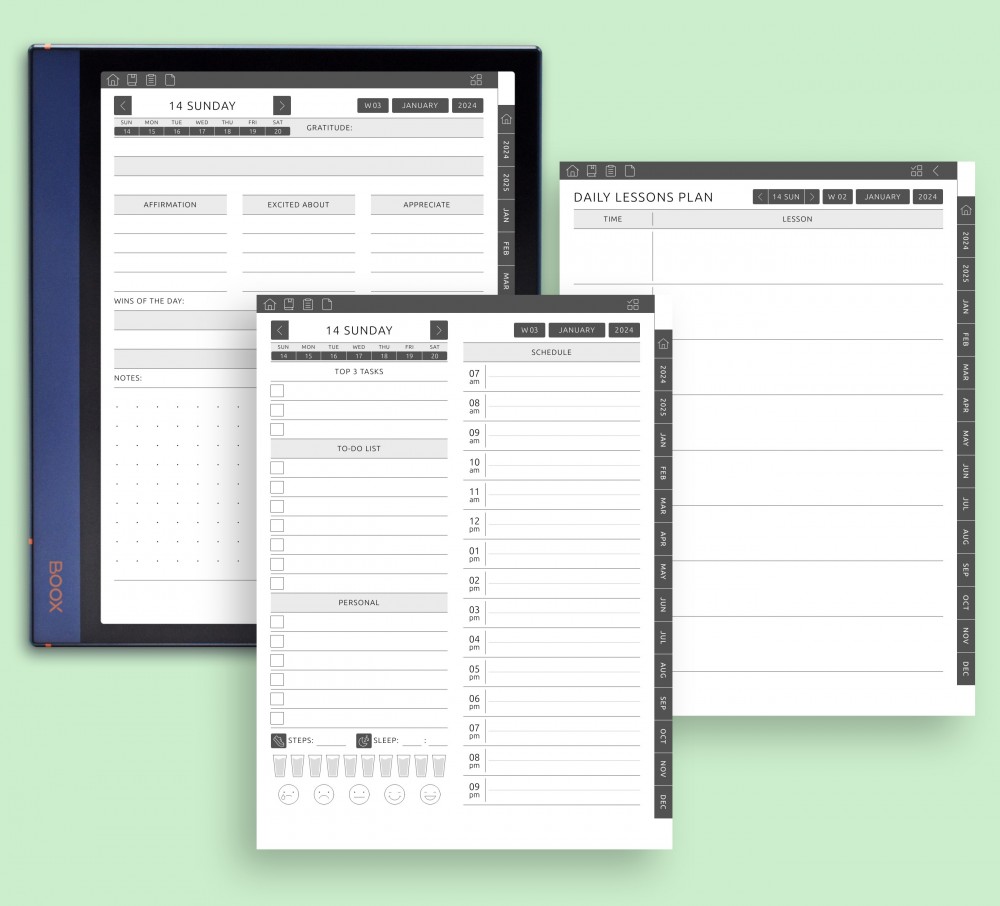 Revamp Your Weekly Planning
Take control of your week with the skillfully designed 5-day or 7-day schedules, each enriched with direct links to daily pages for an integrated and fluid planning experience. Explore three additional adaptable weekly planning templates to find the one that best fits your individual needs, offering you personalized control and organization. The Boox Note Teacher Planner empowers you to elevate your weekly planning to new levels of efficiency and customization.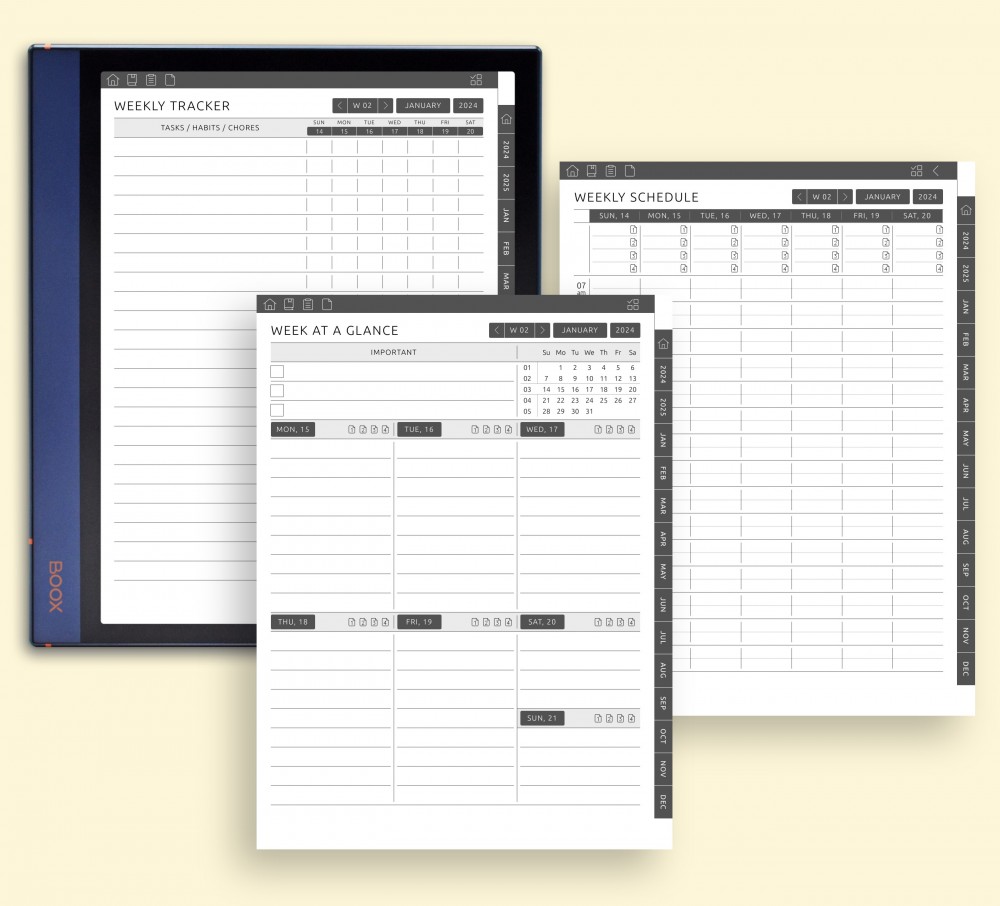 Achieve Success with Precision and Ease
Chart your course to success with our planner, equipped with meticulously designed templates within annual, quarterly, and monthly pages. These insightful tools encourage you to visualize your year's aspirations and systematically transform them into attainable milestones. Harness essential productivity components such as Workflow, Checklist, and Tasklist to pave a clear and efficient path toward your achievements.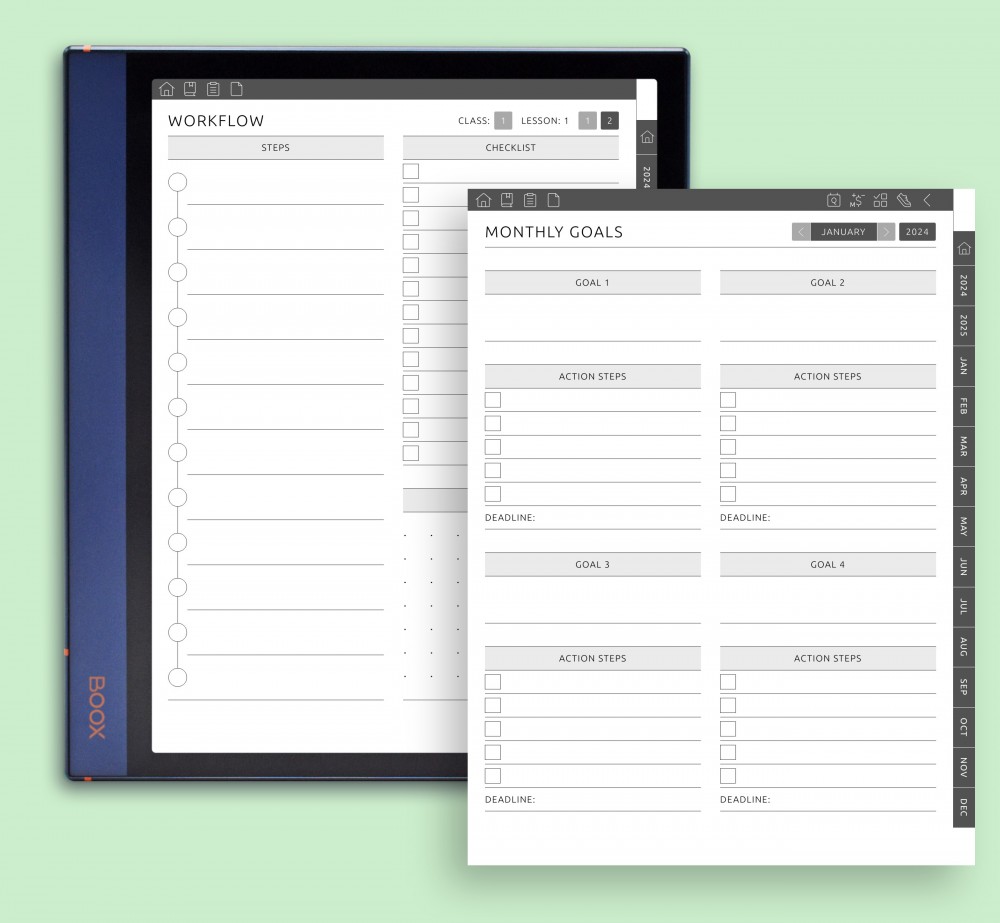 Essential Information at Your Fingertips
Manage all your key information effortlessly with templates thoughtfully designed for storing contacts, passwords, and critical reminders. This takes the hassle out of retrieving vital information. From professional development tools like conference lists and notes to personal data organization, everything is unified, streamlined, and easily accessible within the Boox Note Teacher Planner.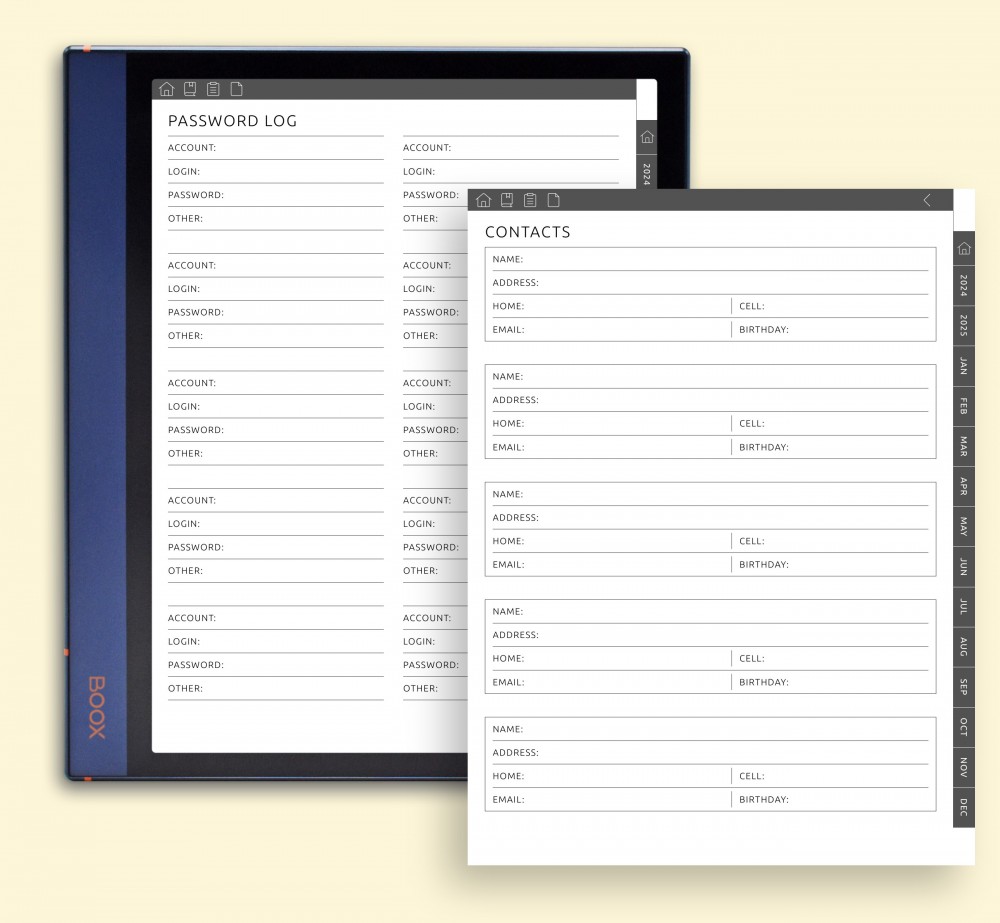 Boost Your Reading Experience
Embrace the joy of reading with the Boox Note Teacher Planner's specialized literary templates, designed for educators and readers seeking inspiration and exploration. Thoughtfully crafted, these templates offer spaces to review readings, pen down reflections on favorite authors, and capture meaningful quotes that resonate with you. Keep all your cherished literary insights at your fingertips.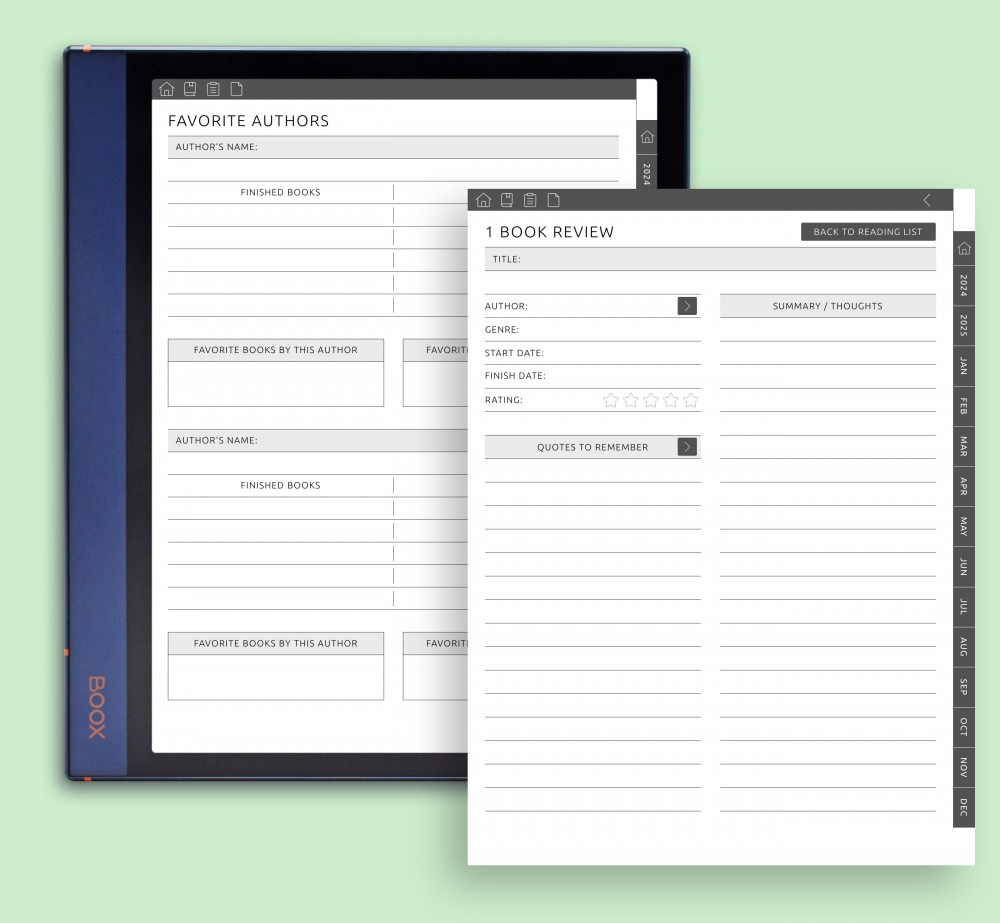 Smooth Navigation: Explore Your Boox Note Teacher Planner with Ease
Explore your Boox Note Teacher Planner effortlessly, thanks to the intuitively designed hyperlinked structure. Whether you're searching for your daily tasks, specific project timelines, or monthly goal overviews, everything is only a few clicks away. Delight in the convenience and accuracy of a planner attuned to your individual needs.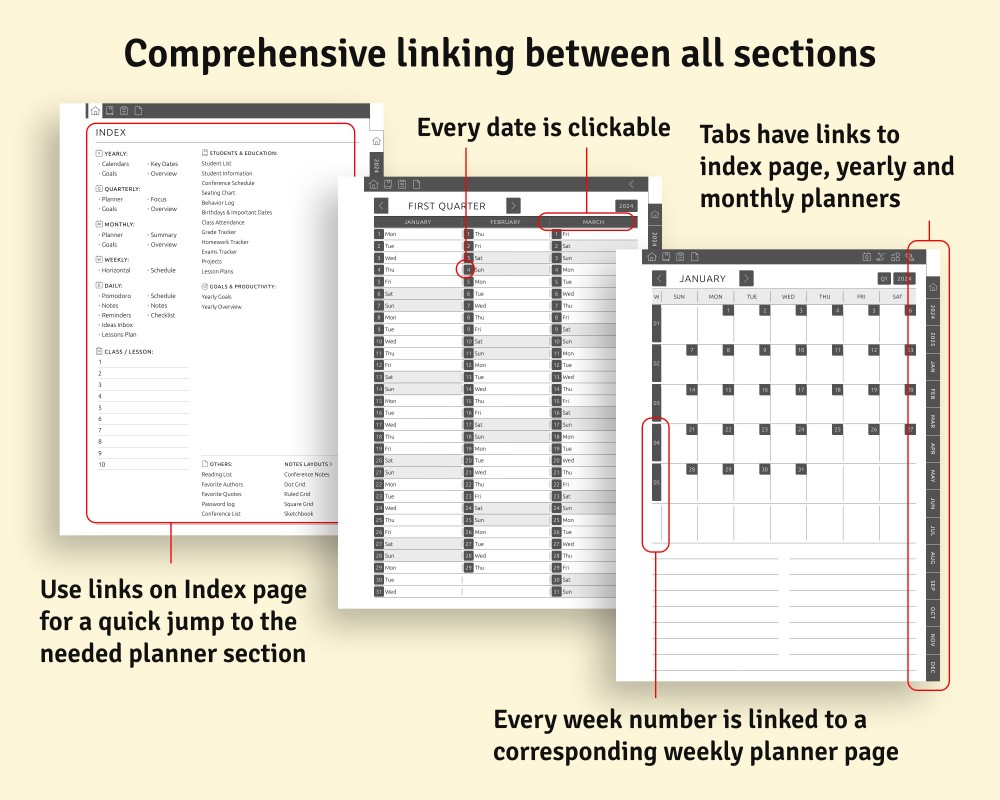 BOOX Note Air Teacher Planner
$9.69
Added to cart.


Continue to checkout
OR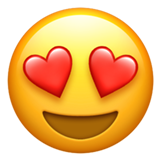 30 BOOX Note Planners
+Future Releases & Updates
$19.97
Added to cart.


Continue to checkout
After purchase, enjoy unlimited customizations and downloads of your planner or bundle at no added cost