Digital Project Planner
$10.00
Added to cart.


Continue to checkout
OR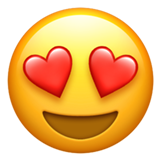 65 iPad Planners
+Future Releases & Updates
$19.97
Added to cart.


Continue to checkout
After purchase, enjoy unlimited customizations and downloads of your planner or bundle at no added cost
Elevate your project management to new heights and optimize your task scheduling efficiency. Immerse yourself in the world of modern digital planning and case tracking with our Project Planner, available for download on your tablet. Seamlessly compatible with popular handwriting apps like Goodnotes, Notability, Xodo, Noteshelf, and more.
Delve into a comprehensive system of 20 subjects spread across 10 easily accessible project pages. Enhance your planning experience by adding up to 4 customizable pages to each subject.
Take charge of your planning journey with the freedom to choose 4 custom project pages from a diverse selection of 14 layouts. Whether it's task lists, various note pages, a Pomodoro planner, or other options, select the templates that resonate with your unique requirements.
Craft your own personalized 4 daily pages by selecting preferred templates for each one. Organize, prioritize, set goals, and effortlessly track your daily to-do lists with ease.
Maximize your efficiency with 2 weekly pages that cater to your specific needs. Choose the ideal schedule layout, notes page, tracker, or self-care checklist to boost your productivity.
Stay ahead of the game with 2 monthly pages that enable you to strategize, gain a comprehensive overview, set priorities, create task lists, or unleash your creativity.
The Project Planner encompasses dedicated sections for projects, productivity, and work & business, providing comprehensive support to help you achieve your desired outcomes.
Enjoy the flexibility of handwriting and pencil input, empowering you to personalize your planner effortlessly. Select between portrait or landscape display modes, catering to your preferred viewing experience. Additionally, specify your preferred right-hand or left-hand format for enhanced convenience.
Customize your Project Planner to infuse planning and task tracking with an exciting and enjoyable twist. Unleash your creativity, boost productivity, and make every planning session a thrilling adventure.
Features
Hyperlinks
for easy navigation
Tabs
for quick access to important pages
Custom dates
that fit your needs
Customize Your Planner
adapt your planner to your life by choosing the most suitable layouts
Sunday / Monday
start day of the week that you prefer
Editing mode
draw, write and sketch on the go
Compatible with

Goodnotes

Notability

Noteshelf

Xodo
Samsung Notes
Organize 10 Projects with up to 80 Pages per Project
Streamline project management with our ultimate planner tool. Set time frames, allocate resources, and analyze constraints to create a plan. Track progress through milestones, budgets, to-do lists, and Kanban boards. Manage projects effortlessly and achieve success.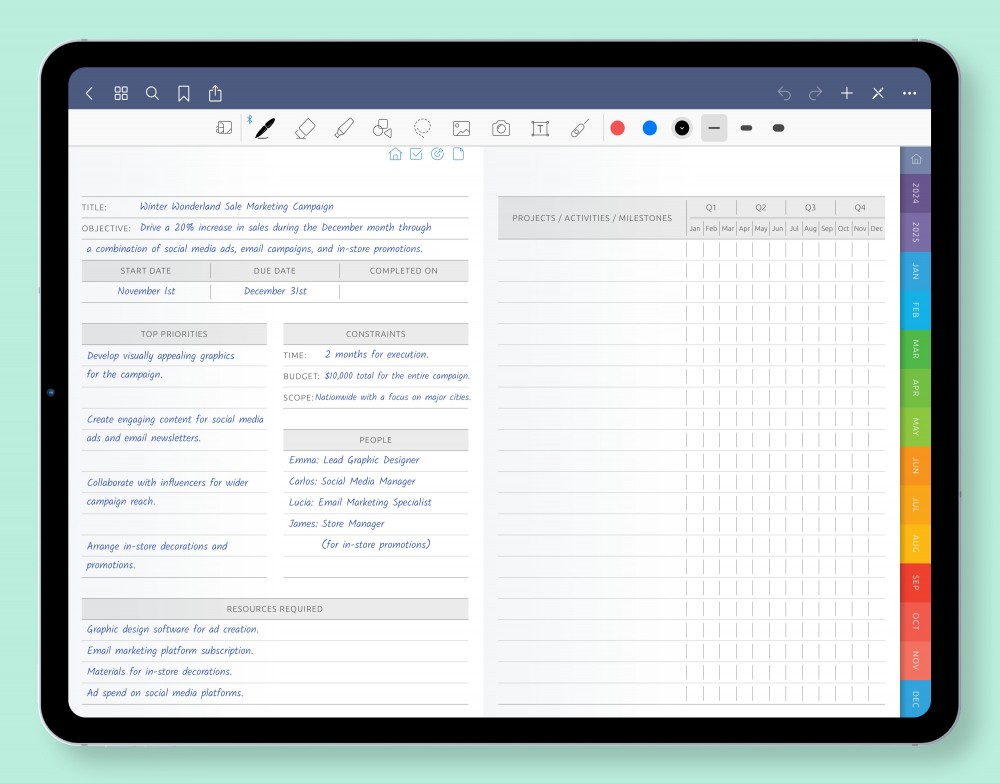 Customize Your Project Pages
Maximize your project organization with our Project custom sections. Explore 20 distinct subjects, each accompanied by up to four pages (two by default) to provide ample room for every project. Choose from a diverse range of project page templates to align with your preferences and maintain impeccable organization throughout your projects.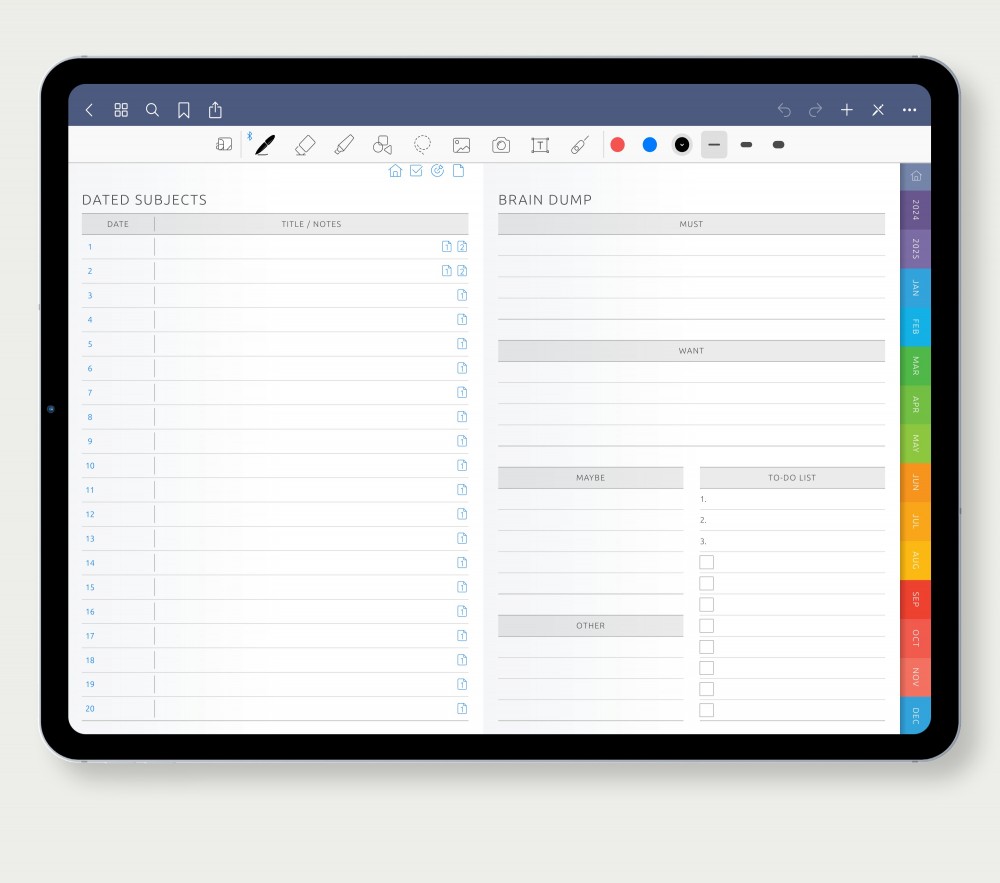 Master Your Day
Empower yourself with the essential tools for success. Our extensive collection of daily templates equips achievers with the ability to excel. Take comprehensive meeting notes, create effective to-do lists, and effortlessly track tasks. With up to four daily pages available, our planner provides a seamless platform to manage tasks, take meeting notes, schedule, and much more.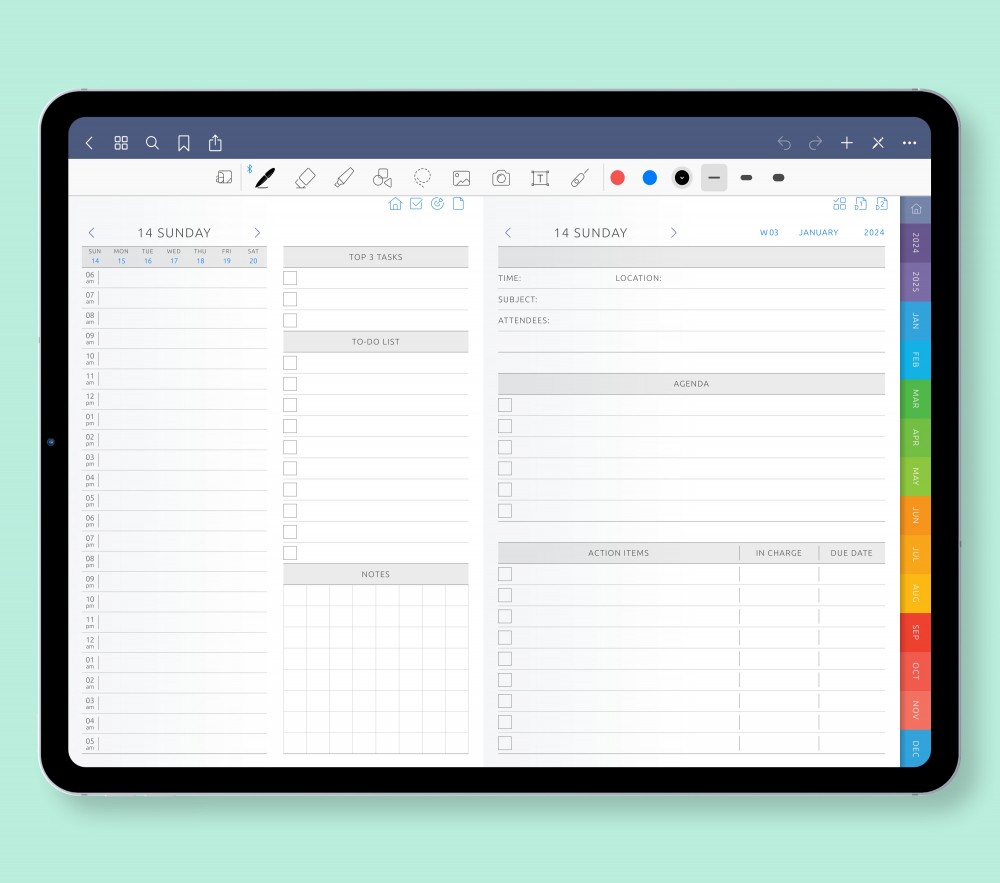 Crush Your Goals
Seize control of your path to success through our dedicated Goals section. With our meticulously crafted templates, you can break down your goals into actionable steps, enabling you to monitor progress and maintain unwavering focus on what truly counts. Be it professional or personal ambitions, our planner equips you with the essential tools to realize your dreams and unleash your maximum potential.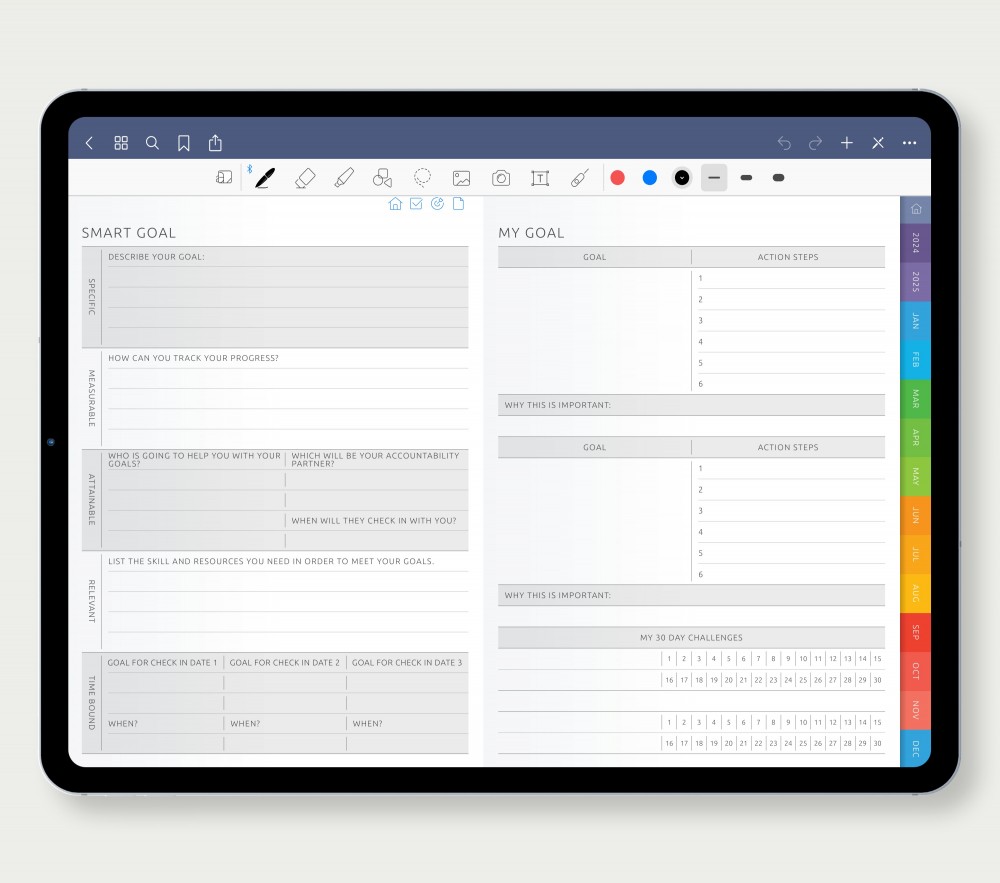 Achieve Financial Freedom
Seize command of your finances effortlessly with our planner, equipped with 10+ customizable templates dedicated to budget planning, expense tracking, and savings goal setting. Whether you aim to build an emergency fund, plan for retirement, or tackle debt, our planner provides the essential tools to ensure financial discipline and foster your journey towards financial freedom.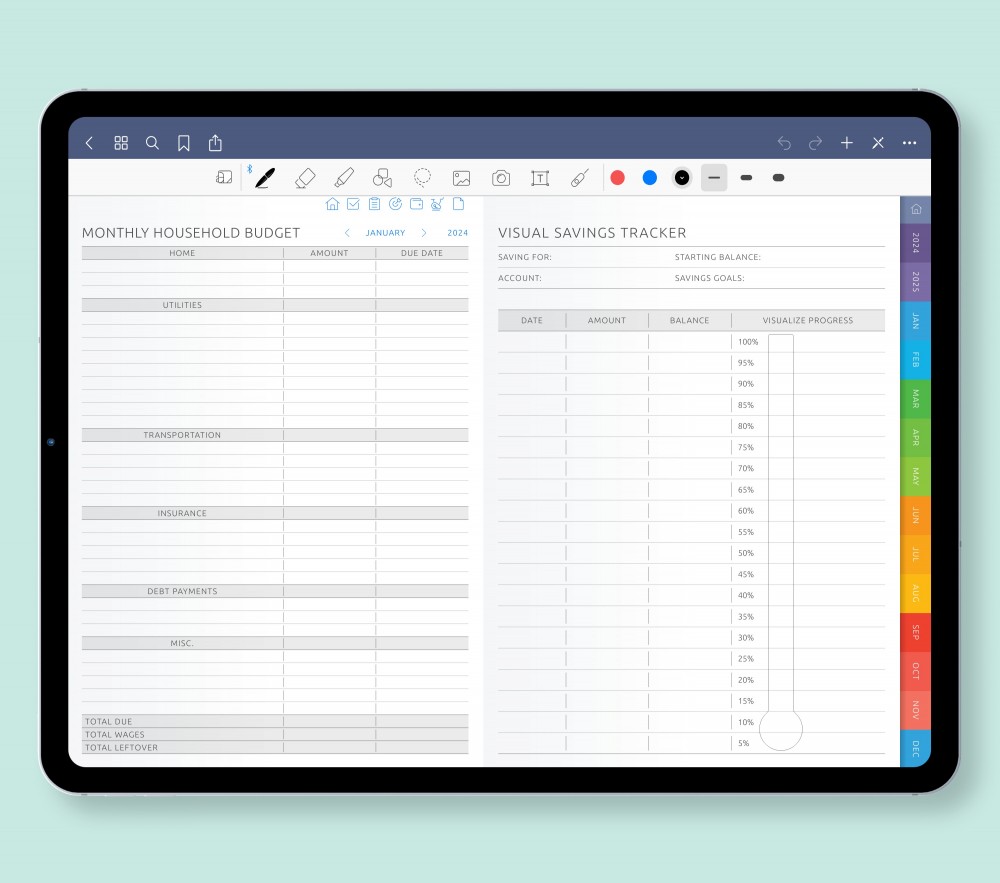 Personalize Your Planner: Choose from a variety of customizable templates
Embrace a planner that seamlessly adapts to your lifestyle, offering customizable templates tailored to your precise requirements. With the freedom to download your planner multiple times, you can effortlessly adjust it as your needs evolve. Personalize your planner with up to 4 daily and custom project pages (2 by default), 2 weekly, monthly, quarterly, and yearly pages, all of which can be tailored to your preferences.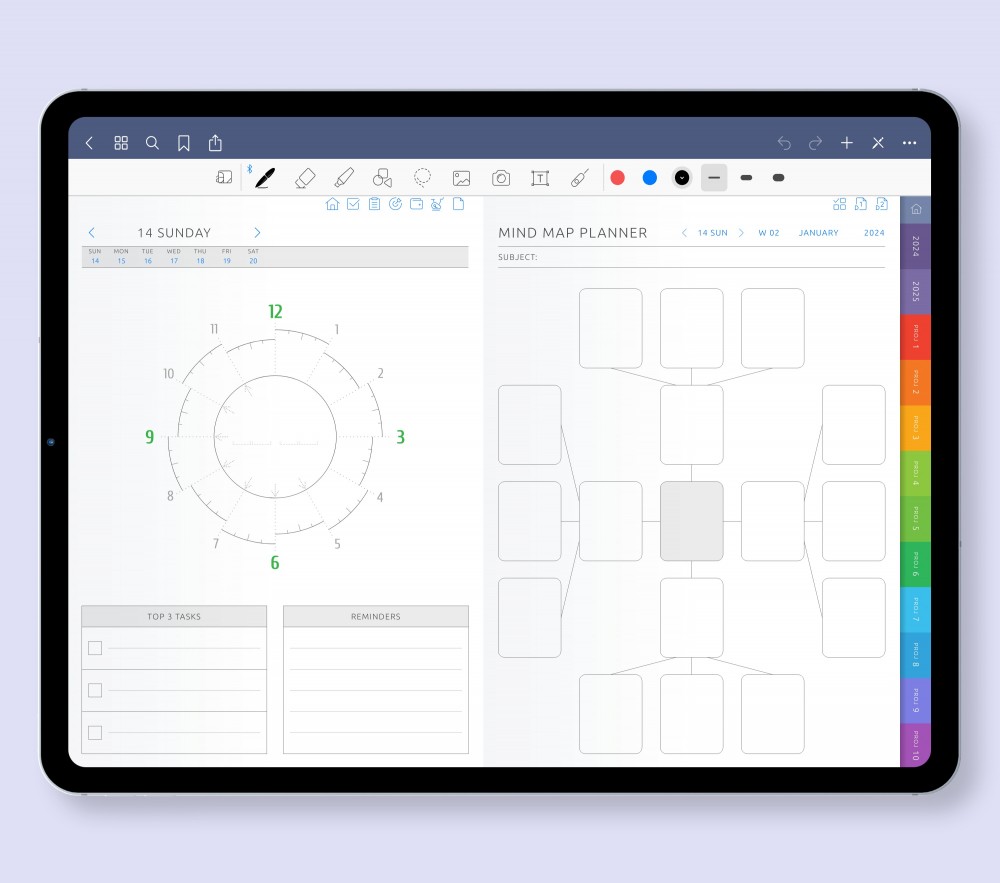 Digital Project Planner
$10.00
Added to cart.


Continue to checkout
OR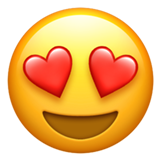 65 iPad Planners
+Future Releases & Updates
$19.97
Added to cart.


Continue to checkout
After purchase, enjoy unlimited customizations and downloads of your planner or bundle at no added cost