reMarkable Client Record Book
$9.69
Added to cart.


Continue to checkout
OR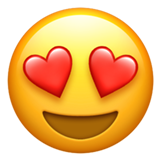 37 reMarkable Planners
+Future Releases & Updates
$19.97
Added to cart.


Continue to checkout
After purchase, enjoy unlimited customizations and downloads of your planner or bundle at no added cost
🤯 Tired of juggling countless contacts, projects, and daily tasks? 🌐 Step into a world of seamless organization tailored for ambitious professionals. 📖 The reMarkable Client Record Book Planner is not just another business planner; it's your all-in-one solution to mastering productivity. 💼🚀
📆 Annual, Quarterly, Monthly, Weekly, Daily: Plan your time efficiently with diverse scheduling options. Choose from dozens of daily templates, including schedules, GTD (Get Things Done) Ideas Inbox, to-do lists, and more.
📇 A-Z Contact Book: Never lose track of a contact again. Customize two dedicated pages for every individual in your extensive network.
📊 Project Management Perfected: Manage up to 10 projects with specialized templates for every stage. From planning and timeline tracking to budgets and Kanban Boards, this planner covers it all. Plus, enjoy the freedom to tailor 20 subjects for each project with two customizable pages.
💡 Boost Your Productivity: Engage with innovative productivity templates, including mind maps, task lists, brain dumps, and more, all aligned with the renowned Get Things Done methodology.
🎯 Your Success, Simplified: Whether managing clients, orchestrating projects, or simply staying on top of daily responsibilities, this planner is designed with your success in mind.
Experience the reMarkable difference and take control of your business life. Invest in the reMarkable Client Record Book Planner today – the only tool you'll need to keep everything in one accessible place. Your future self will thank you!
Features
Hyperlinks
for easy navigation
Tabs
for quick access to important pages
Custom dates
that fit your needs
Customize Your Planner
adapt your planner to your life by choosing the most suitable layouts
Sunday / Monday
start day of the week that you prefer
Editing mode
draw, write and sketch on the go
Effortless Client Management with Customizable Templates
With the reMarkable Client Record Book Planner, client and contact management is streamlined and personalized. Select from various templates for two contact pages, customizing them for your unique needs, whether for business planning, transaction tracking, or simple note-taking. Organize your client information effortlessly and maintain your focus on building successful business relationships.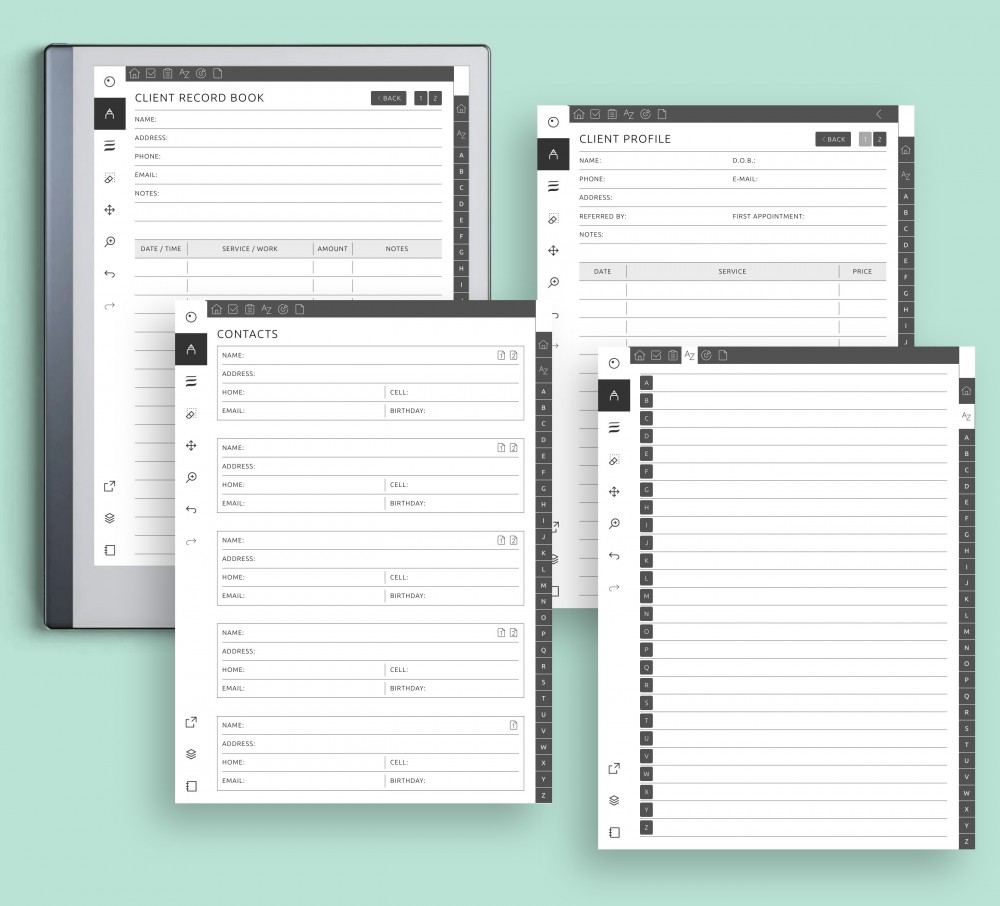 Efficient Project Management: 10 Projects, 40 Customizable Pages in Your Reach
Embrace the sophistication of the reMarkable Client Record Book Planner, your ultimate ally in handling projects. With 10 projects and 40 adaptable pages at your disposal, you gain complete control over milestones, budgets, and visual tracking using custom to-do lists and Kanban boards. Enjoy specialized space with 20 distinct subjects/titles and two customizable pages for each, providing the flexibility to steer your projects precisely as you envision.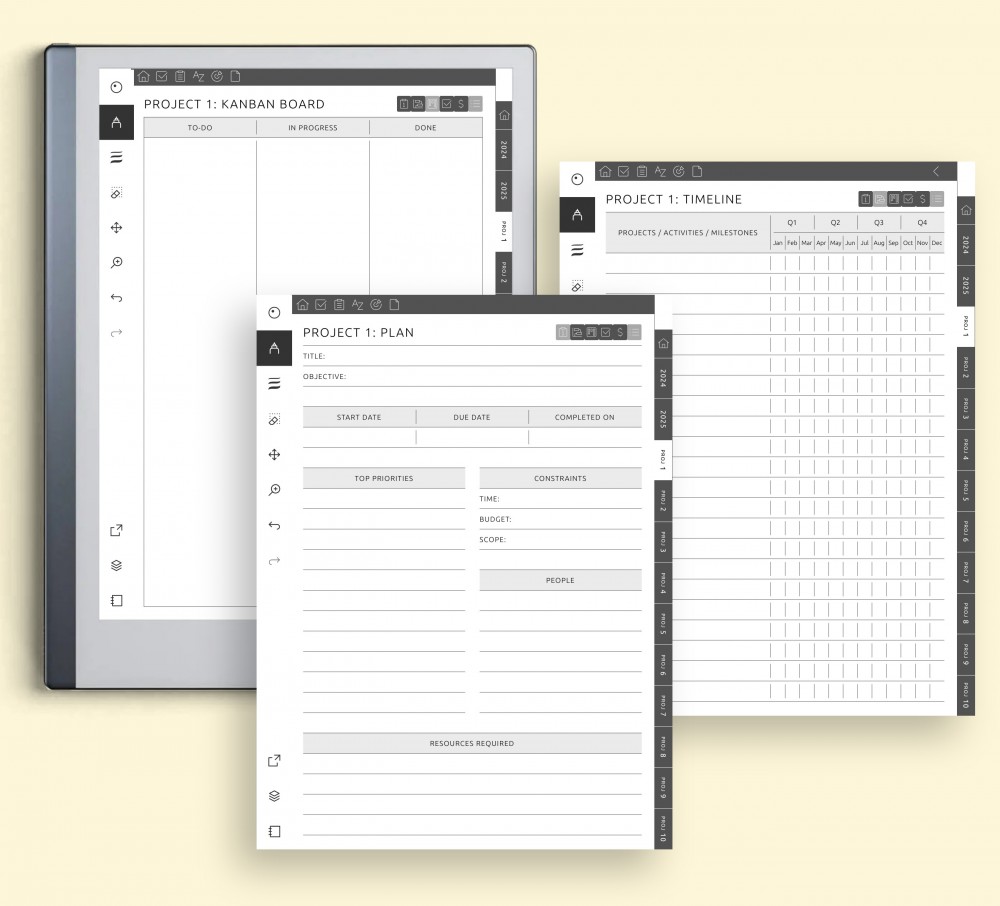 Optimize Your Workflow with GTD Methodology: Your Daily Ideas Inbox Awaits
Enhance productivity and organization using the revered Getting Things Done (GTD) methodology in your reMarkable Client Record Book Planner. Choose the Ideas Inbox template for your daily pages and navigate your tasks with unprecedented clarity. Within the Goals & Productivity section, you'll discover a GTD Guide, Future Ideas, and a Current Task Icon consistently at your fingertips in the top menu.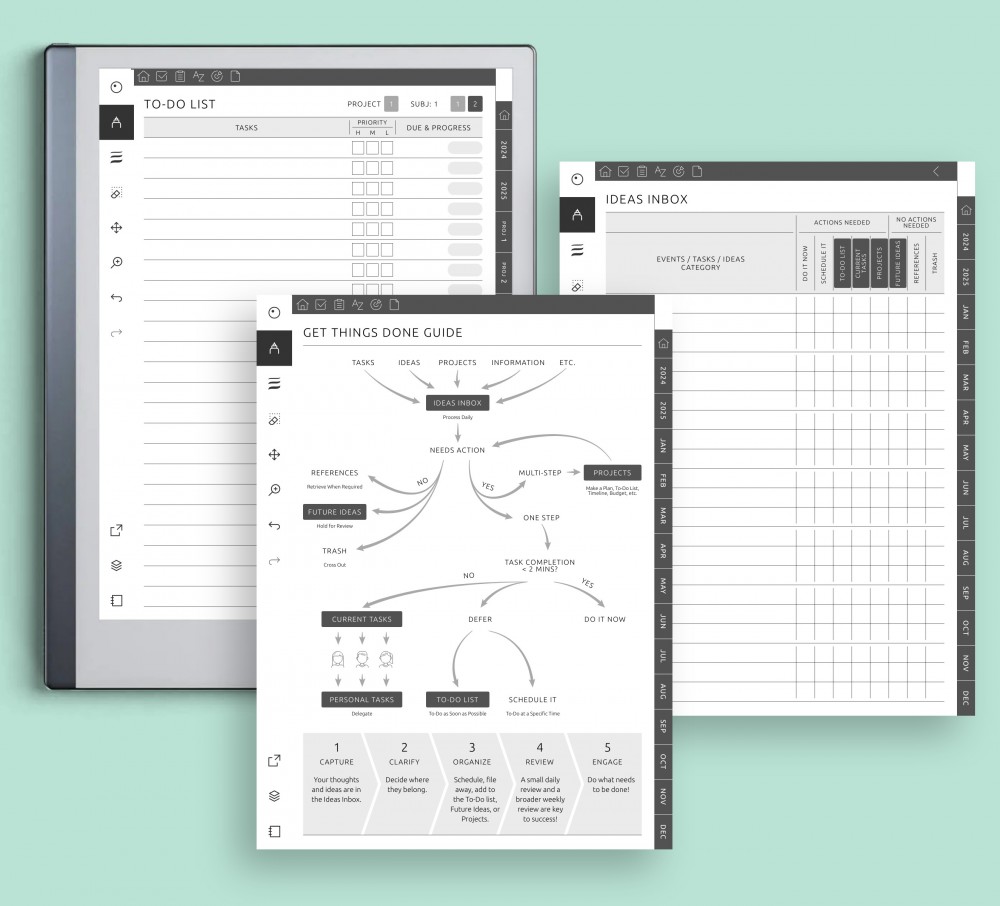 Boost Your Workplace Efficiency: Essential Templates for Productivity
Stay ahead of the curve with productivity-enhancing templates. Tailored for the modern professional, these include Time Tracker, Work Time Log, Employee Work Schedule, and Workflow & Checklist. Whether tracking hours, managing schedules, or systematically breaking down tasks, these user-friendly tools enable you to oversee and optimize your work with unparalleled ease and precision. Experience the difference that streamlined productivity brings to your daily work life.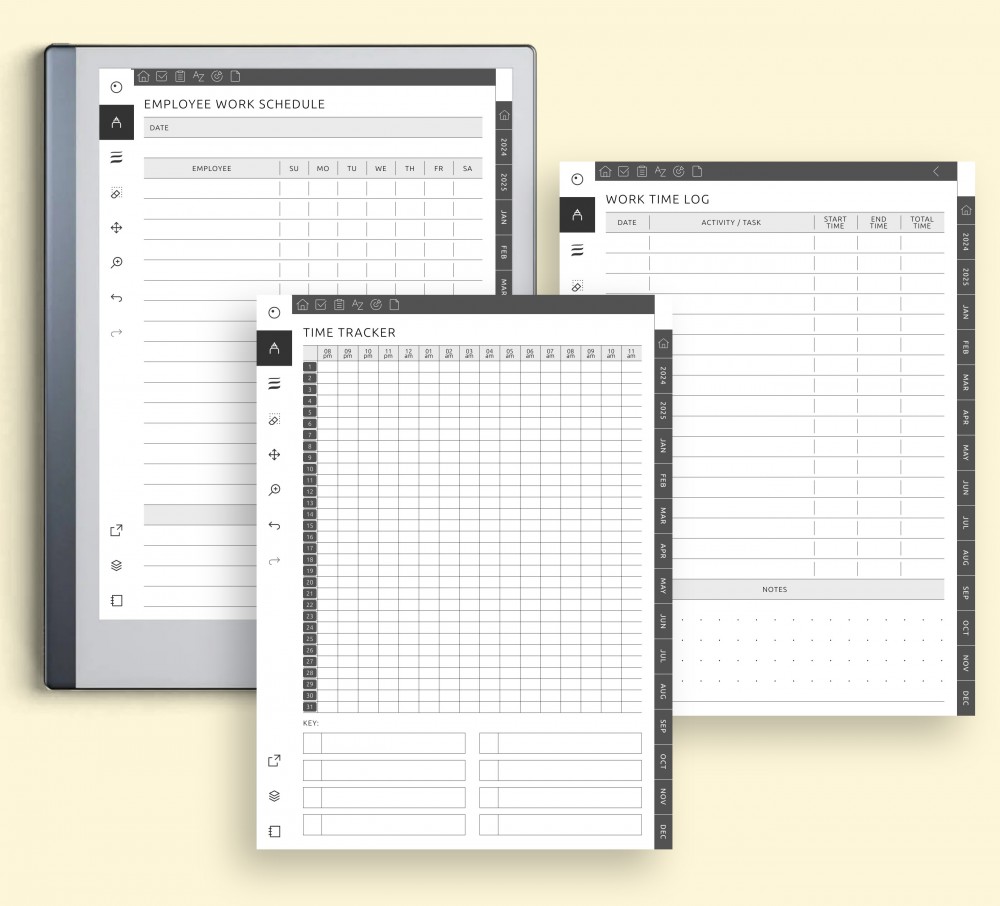 Master Your Daily Tasks: Comprehensive Scheduling Solutions for Every Need
With our Client Record Book Planner, we provide five distinct daily schedules to suit various needs: the Professional hourly schedule with to-do list, a 24-hour schedule, the 15-minute slots schedule, the more relaxed Personal option, and even an ADHD-specific design. Coupled with dozens of additional templates, including Meeting Notes and Brain Dump, we ensure that every facet of your day is catered to, allowing you to seize control of your daily tasks and triumph over your challenges.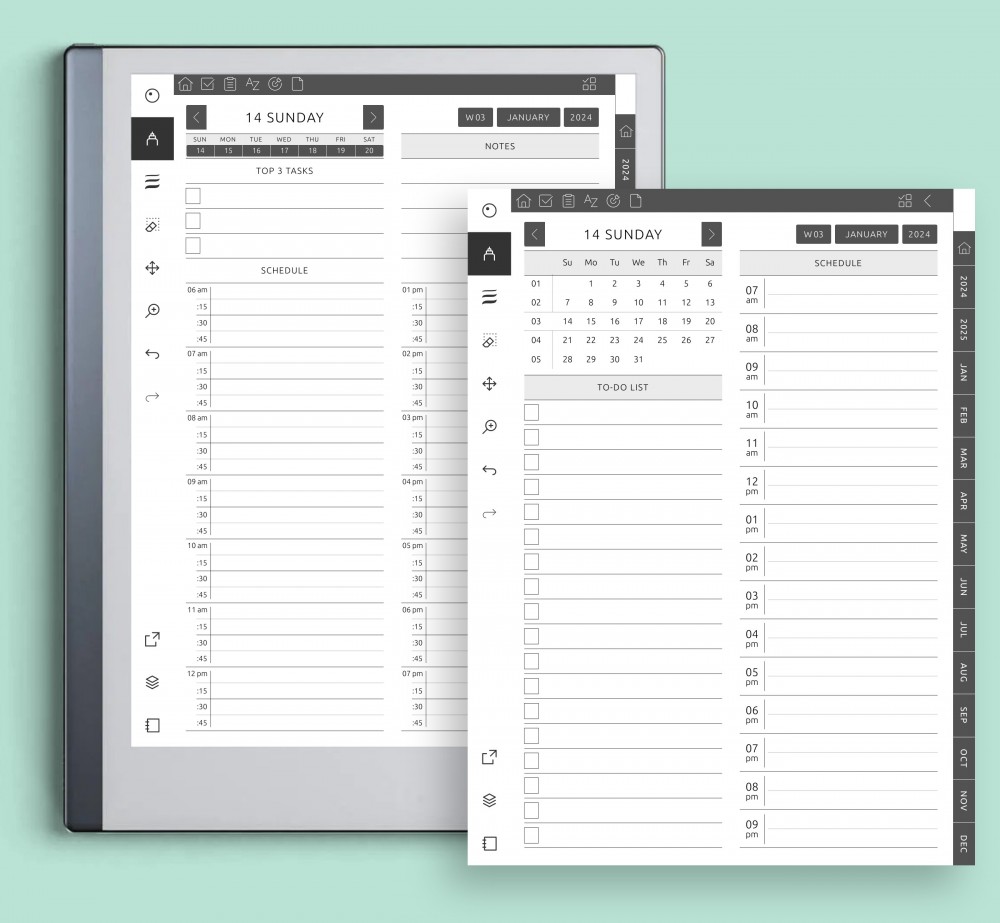 Streamline Your Schedule with Precision and Simplicity
Managing appointments, events, and meetings becomes a breeze with our planner. Utilize the integrated yearly calendar, quarterly planner, monthly planner, and one specialized weekly page to align with your specific needs. With a carefully selected set of templates, you'll find it simple and efficient to keep track of your schedule without being overwhelmed by unnecessary complexity.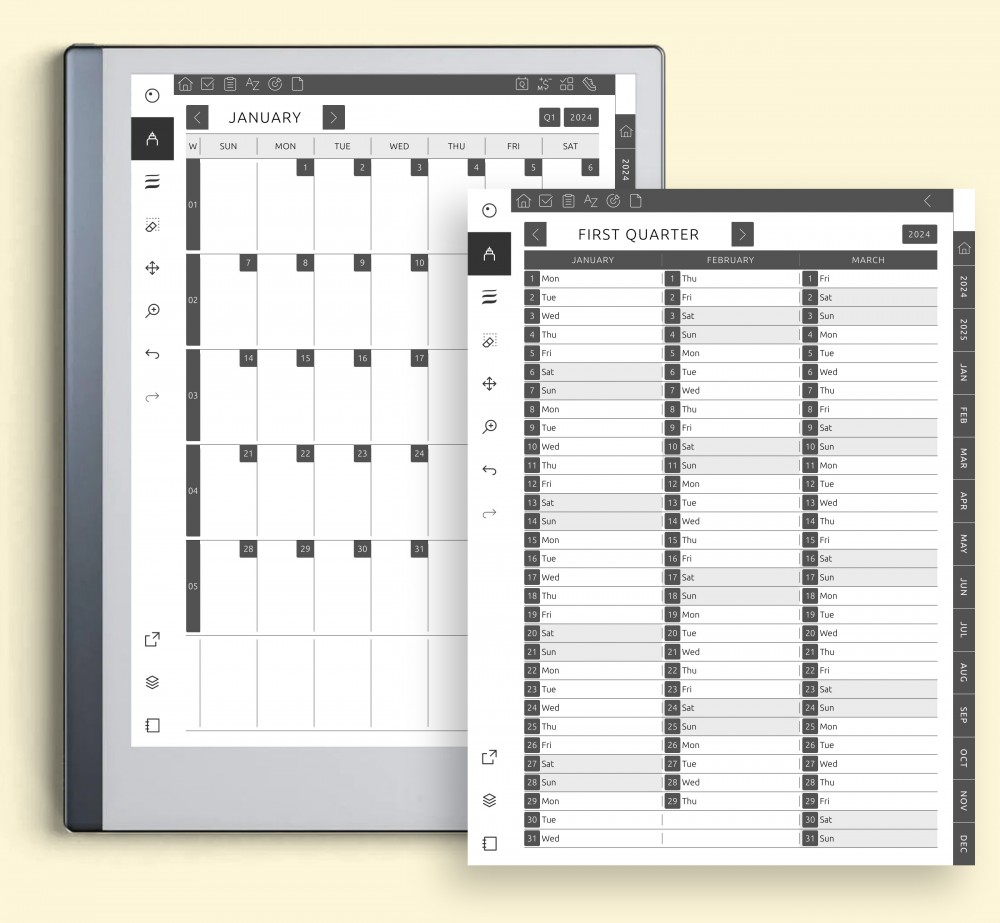 Organize Your Social Media Presence with Ease
Harness the power of social media by utilizing our reMarkable Client Record Book Planner's specialized templates. With the included social media planner, stats template, and accounts template, you'll have all the tools at your fingertips to strategize, track performance, and manage your various social media platforms efficiently. Whether you're an influencer or running a business, these templates make managing your online presence a streamlined process.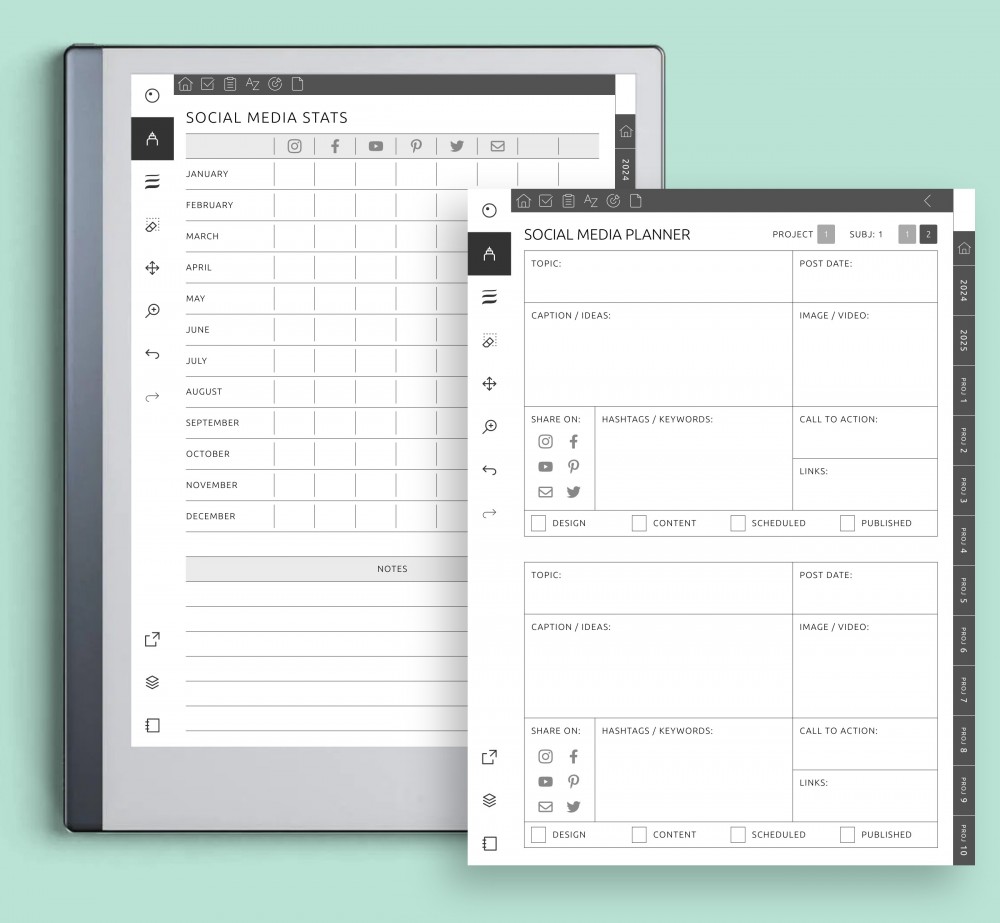 Simplify Your Conference Tracking and Reflection
Utilize the conference list to organize and track upcoming conferences, seminars, or workshops, and never miss an important event again. After attending, employ the conference notes template to jot down valuable insights, key takeaways, or action items. These templates work together to provide an efficient system to manage and reflect on your ongoing professional growth.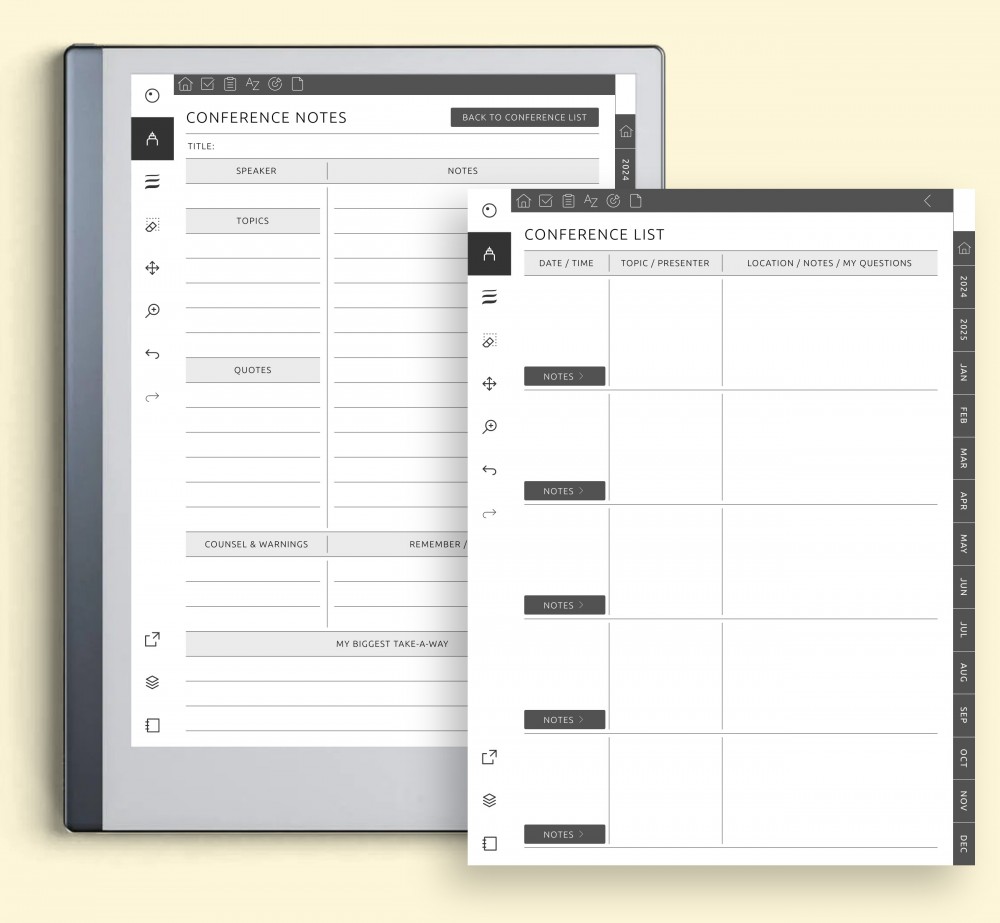 Tailor Your Note-Taking: Unmatched Customization at Your Fingertips
With the reMarkable Client Record Book Planner, personalizing your note-taking experience is a breeze. Choose from 30 diverse templates, crafted to suit your unique style, whether for brainstorming, capturing key details, or creative expression. Specialized templates for recording essential contact information add an extra layer of convenience, ensuring that important details are always readily accessible. Experience note-taking that's truly tailored to you.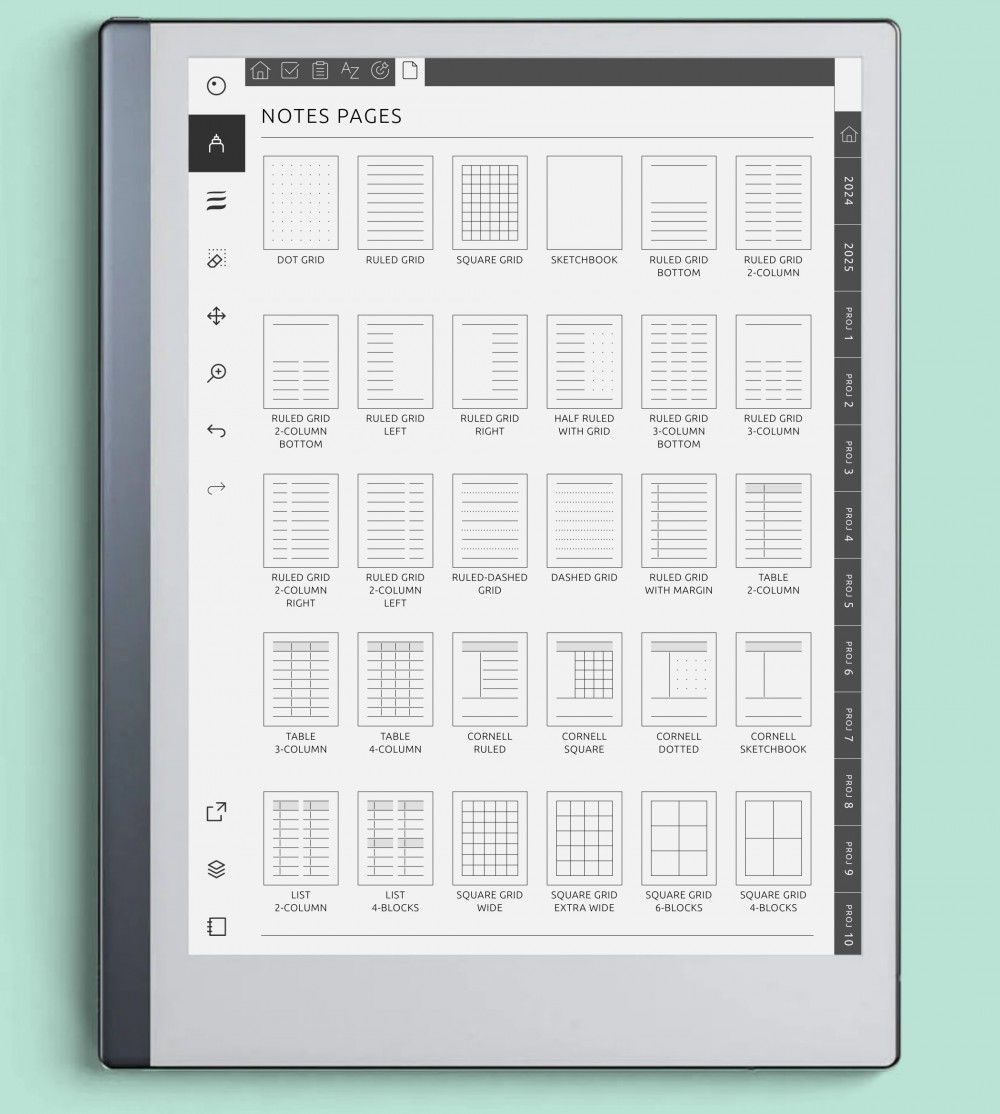 Smooth Navigation
Experience the simplicity of navigating your reMarkable Client Record Book Planner with our intelligent hyperlinked structure. Designed for optimal user-friendliness, it's now effortless to locate your daily tasks, project timelines, or monthly objectives. With just a few clicks, our customizable planner seamlessly connects you to exactly what you need, enhancing your planning experience like never before.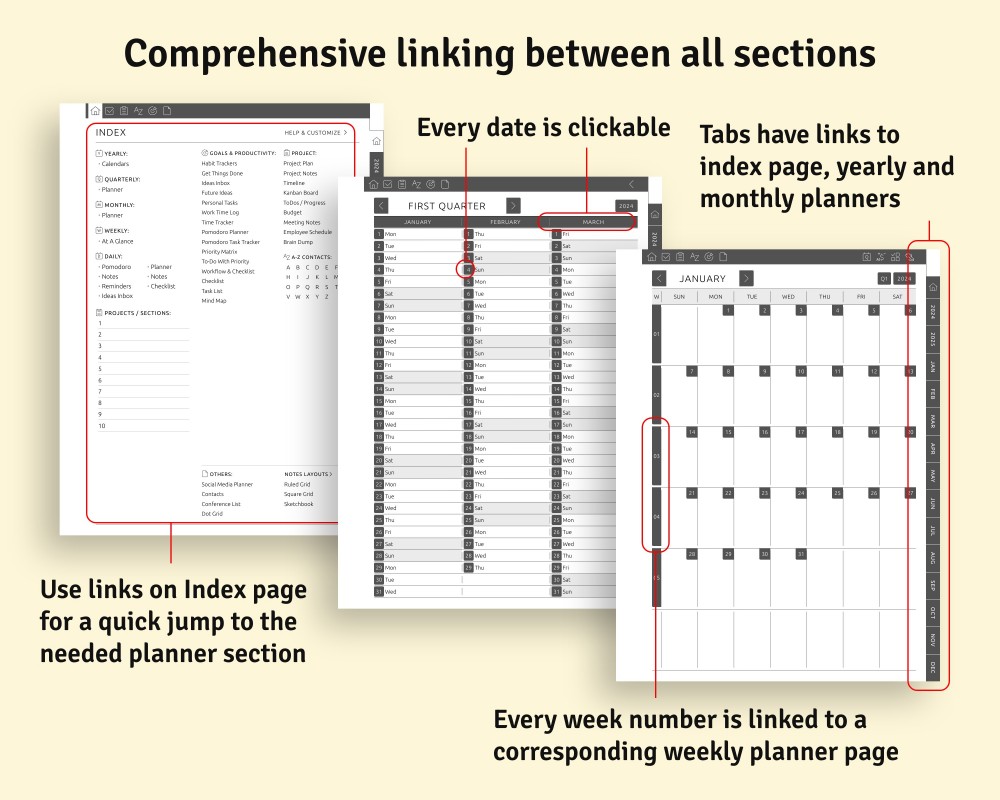 reMarkable Client Record Book
$9.69
Added to cart.


Continue to checkout
OR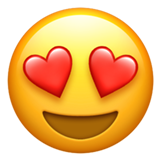 37 reMarkable Planners
+Future Releases & Updates
$19.97
Added to cart.


Continue to checkout
After purchase, enjoy unlimited customizations and downloads of your planner or bundle at no added cost