Supernote Business Meeting Notes
$9.69
Added to cart.


Continue to checkout
OR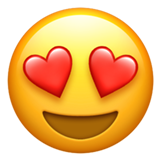 29 Supernote Planners
+Future Releases & Updates
$19.97
Added to cart.


Continue to checkout
After purchase, enjoy unlimited customizations and downloads of your planner or bundle at no added cost
Boost your professional momentum with the Supernote Business Meeting Notes Planner – your ultimate tool for streamlined meeting management, task tracking, and project coordination. Tailor every page to echo your specific needs, from a robust A-Z contact list to customized project segments.
Navigate with precision through specialized sections like Project and Goals & Productivity, each brimming with templates designed to heighten your productivity.
Craft your ideal day by adjusting the two daily pages. Choose between dual daily meeting notes or integrate them with tools like the 5-day Weekly Schedule, molding them to mirror your routine.
Pick from two distinct weekly layouts, be it a focused schedule, a notes segment, a dedicated tracker, or a self-care rundown. Align it perfectly with your work rhythm.
For a panoramic view, opt for two monthly, quarterly, or yearly pages. These platforms empower you to strategize, prioritize, and even indulge your creative side, all while staying on course.
Journey through the planner with our meticulously crafted hyperlinked system. Interactive tabs and prompts ensure that overseeing projects, sketching out tasks, and gauging progress remains a breezy endeavor.
Harness the power of a planner tailored to make your business meetings more fruitful, efficient, and brilliantly organized.
Features
Hyperlinks
for easy navigation
Tabs
for quick access to important pages
Custom dates
that fit your needs
Customize Your Planner
adapt your planner to your life by choosing the most suitable layouts
Sunday / Monday
start day of the week that you prefer
Editing mode
draw, write and sketch on the go
Take Charge of Your Tasks and Reach New Heights
Harnessing the power of the acclaimed Get Things Done approach, our planner streamlines your idea-management process. Effortlessly prioritize daily tasks, break down intricate projects, and zoom in on your top priorities. With our planner at your side, you're equipped with the tools you need to optimize your time, tackle tasks proficiently, and fulfill your ambitions with vigor.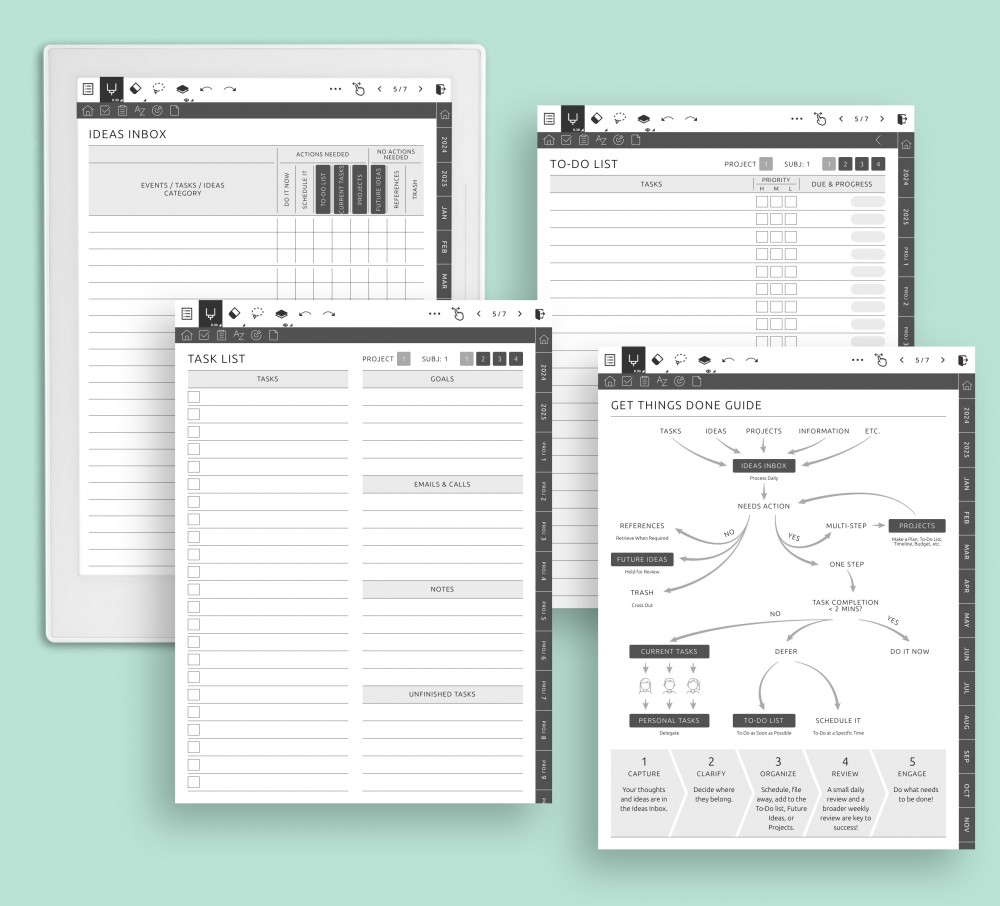 Streamlined Client & Contact Management Made Simple
Our planner lets you neatly categorize all your contact details alphabetically. Benefit from two adaptable pages for every contact, enabling you to shape the data to your unique requirements. This guarantees that every crucial detail is instantly accessible, empowering you to handle your contacts with unmatched precision.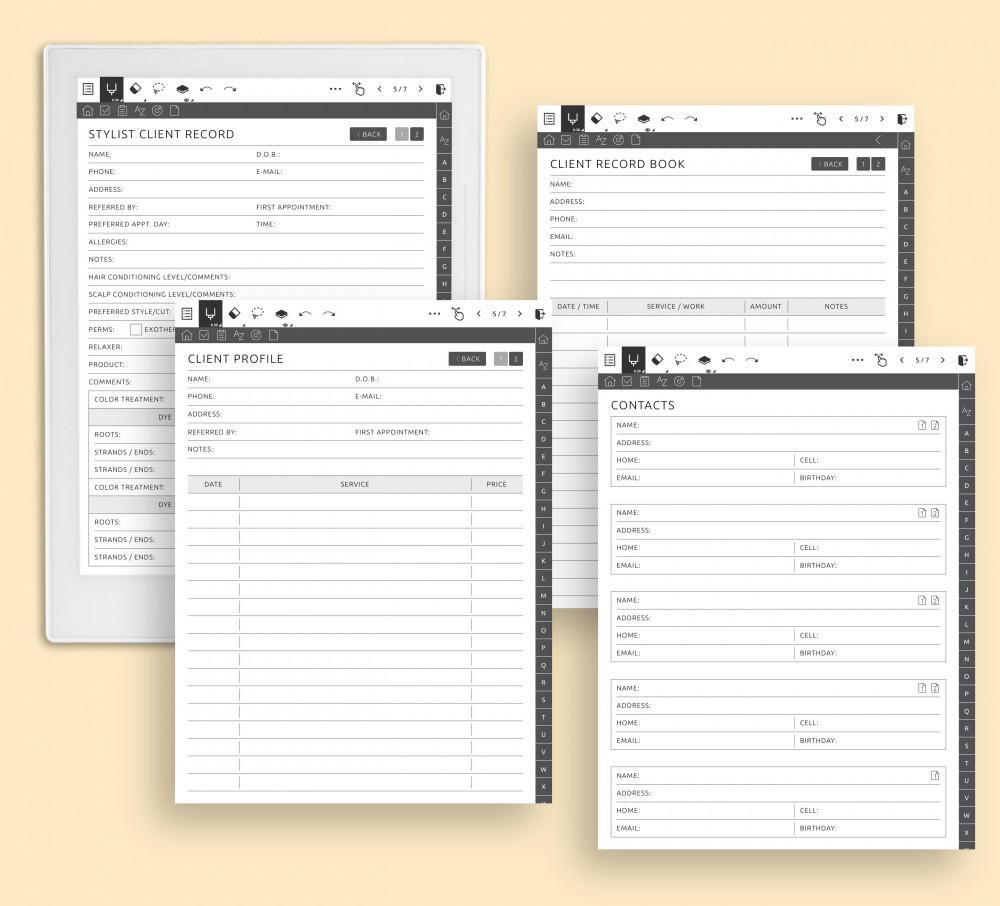 Tailor-Made Contact Solutions for You
Dive into the adaptability of our planner, presenting you with the opportunity to select two distinct contact pages that align with your requirements. Be it specialized client templates for clear communication, bespoke templates crafted for the beauty sector, structured to-do lists for optimal organization, or diverse note templates for vital data capture, our planner ensures you're well-equipped.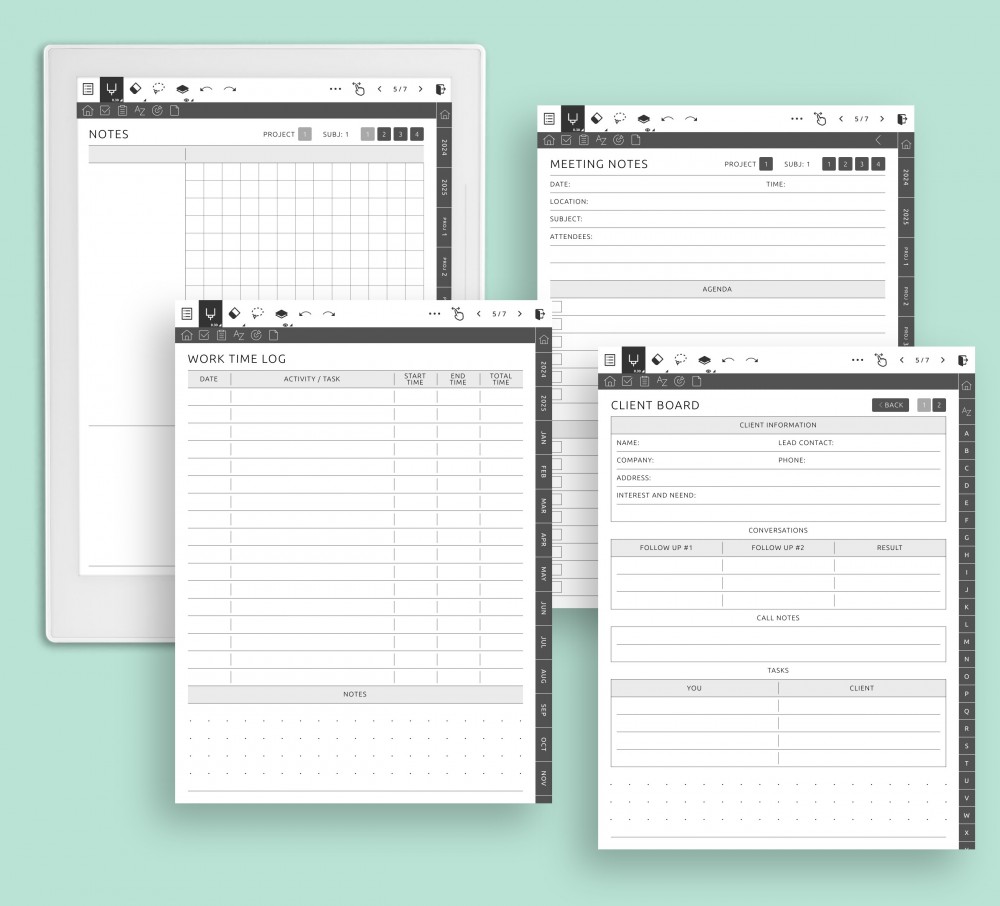 Manage 10 Projects with Ease using 80 Tailored Pages
Navigate through your projects smoothly, thanks to our planner's capability to handle up to 10 distinct projects with a remarkable 80 pages each. Be it balancing varied tasks, client-related assignments, or personal ventures, our planner bestows you with exclusive room for every endeavor, guaranteeing meticulous arrangement and fluid access.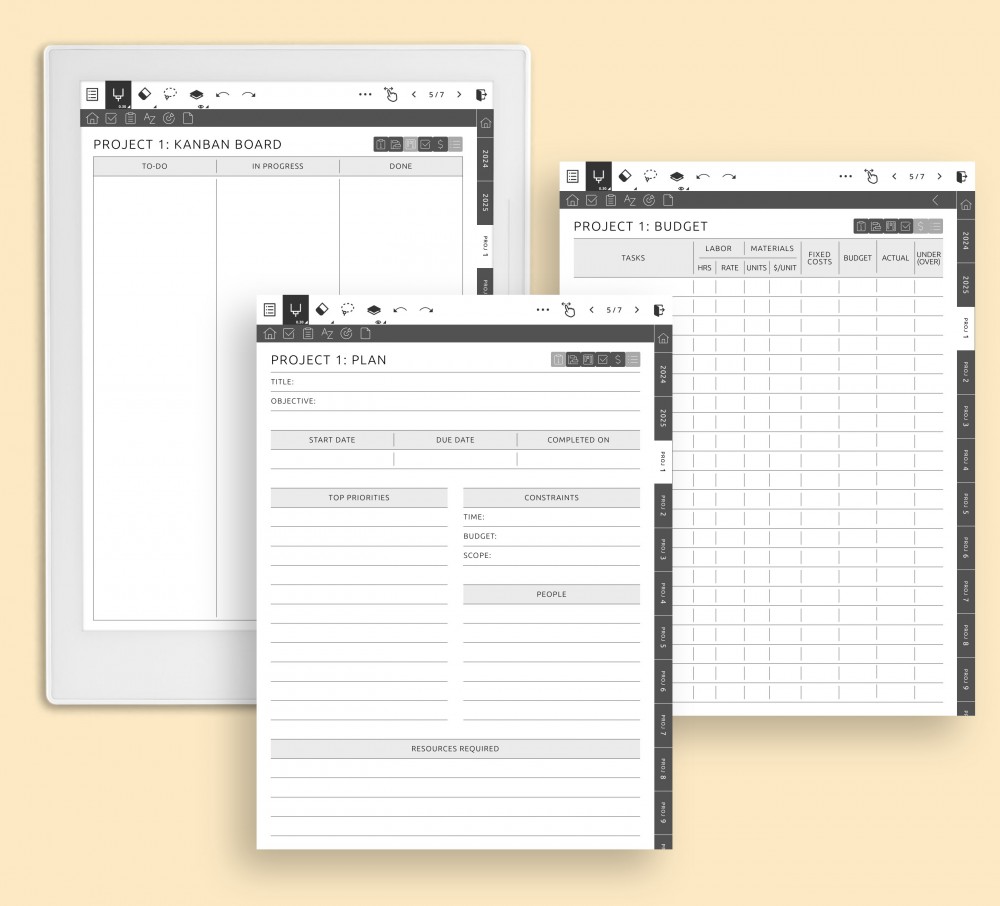 Tailor Your Project Pages to Perfection
Experience the pinnacle of project management with our customizable Project sections. Dive into an expansive selection featuring 20 distinct subjects, each supported by up to four pages – with two set as the standard. Relish unmatched adaptability as you choose from a rich collection of project page templates, granting you the freedom to arrange and personalize your project data exactly to your liking.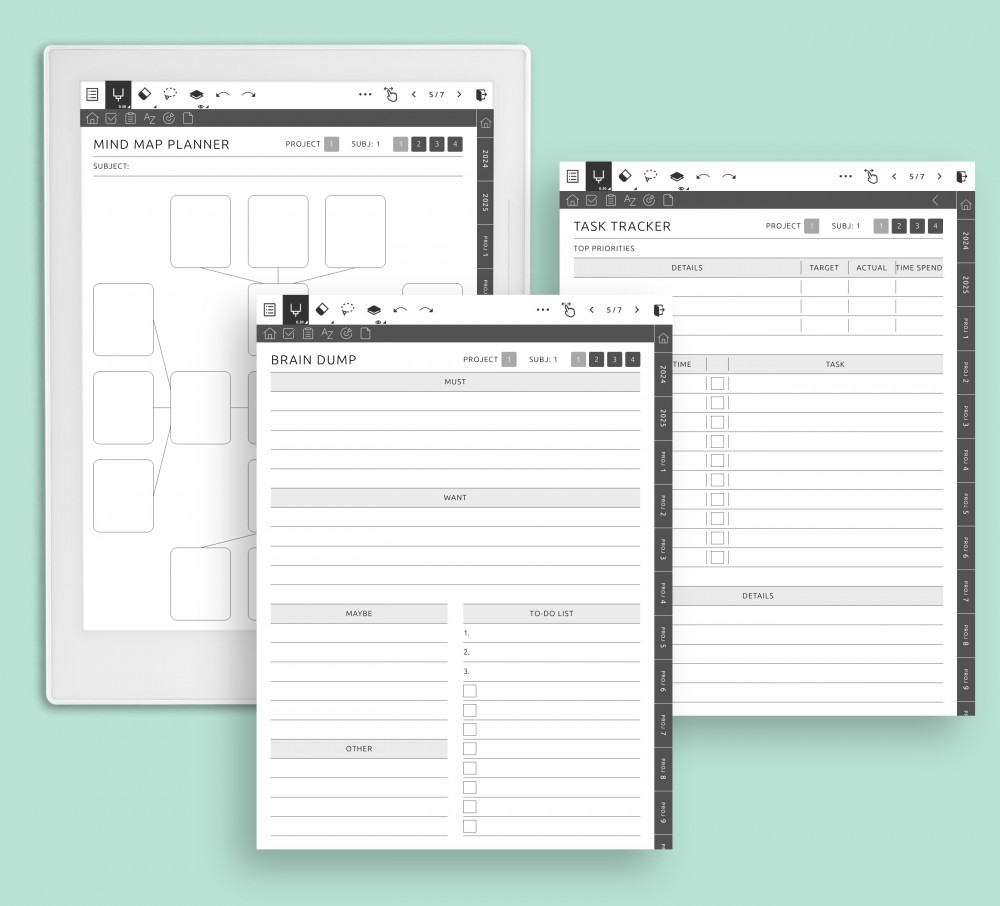 Master Your Planning and Scheduling
Simplify your event, meeting, and appointment planning with unmatched precision. Navigate your days, weeks, and months using a diverse range of templates available for two weekly, quarterly, monthly, and yearly pages. Revel in the unmatched customization options, allowing you to shape your planning trajectory with finesse. Delight in a tailored planning process that mirrors your distinctive requirements and tastes.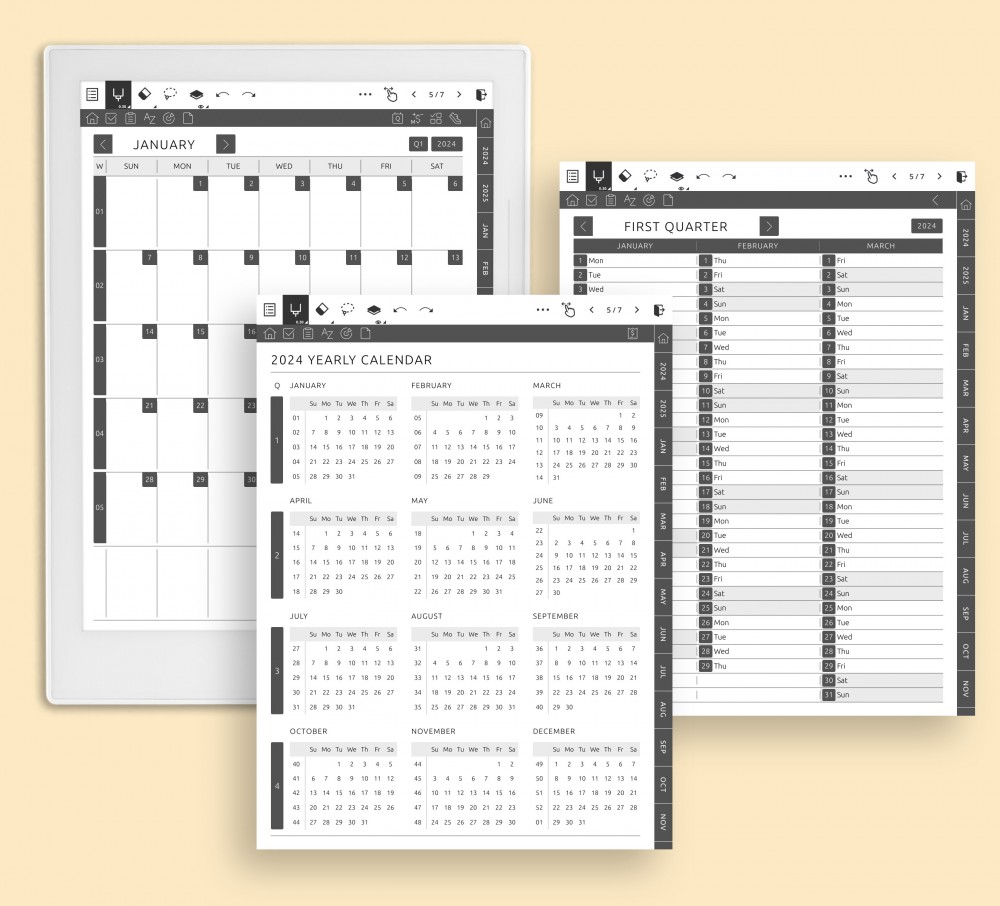 Elevate Your Day-to-Day Efficiency
Tap into unparalleled daily prowess with our meticulously designed templates. From structured schedules to an Ideas Inbox embracing the GTD approach, our diverse offerings cater to every unique pace and preference. Harness these tools to transcend your daily aspirations and realize your ultimate potential.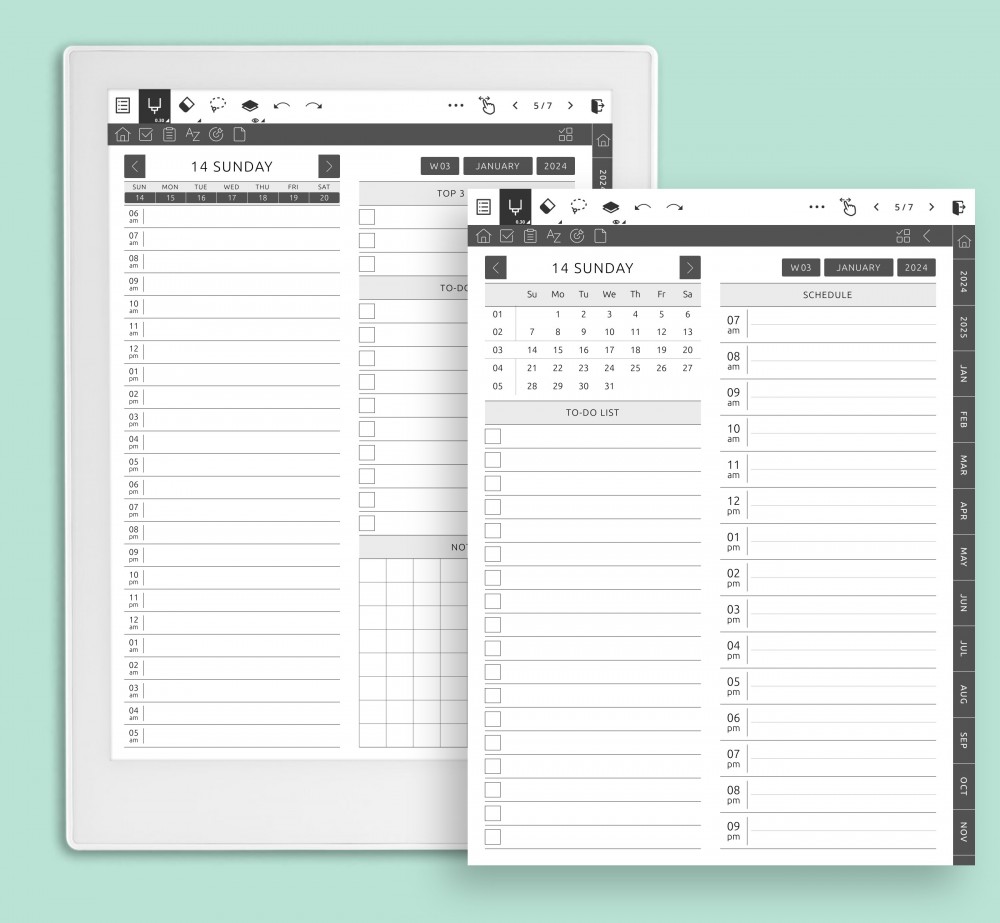 Tailor Your Notes with Diverse Customizable Templates
Tailor Your Notes with Diverse Customizable Templates Dive into a world of note-taking possibilities with our planner's rich array of templates. Offering 30 distinct choices, curate your notes in a way that resonates with your unique style and needs, ensuring every thought and idea is captured just the way you envision.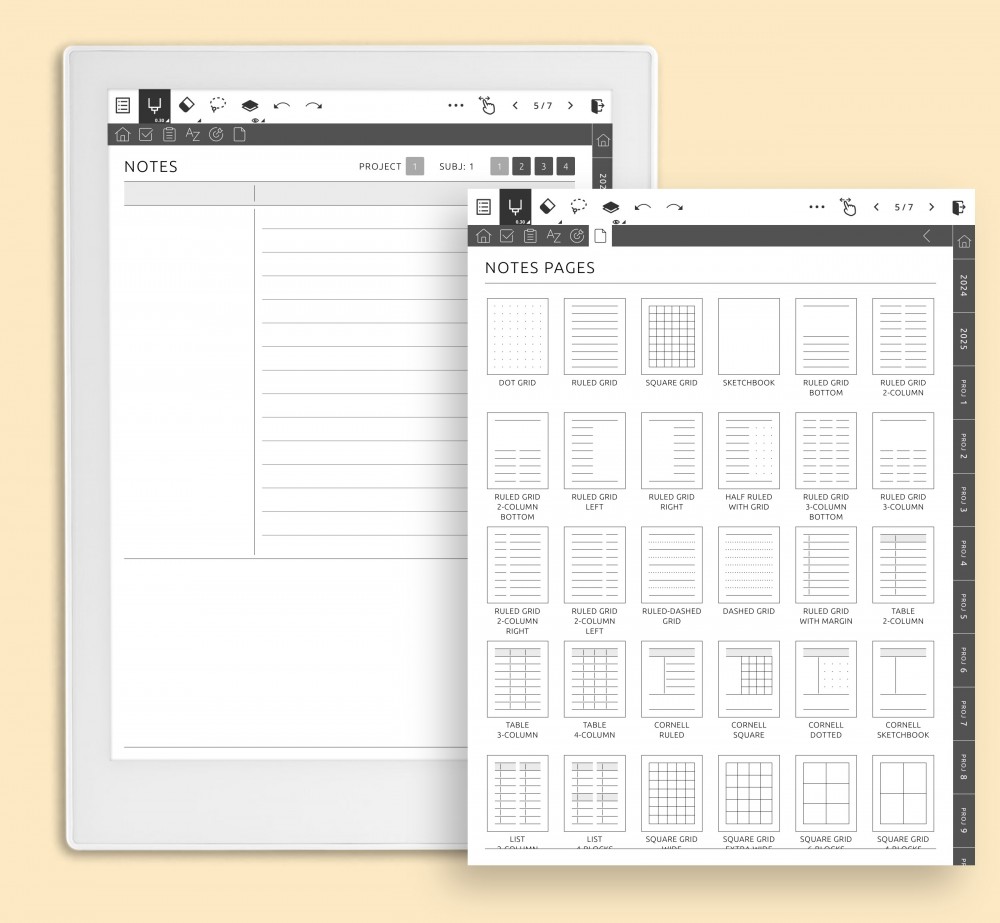 Streamline Your Social Media Management Effortlessly
Harness the power of our dedicated social media templates. From strategic planning with our social media planner to evaluating your impact using the stats template, to efficiently organizing account details – we've got you covered. Elevate your online engagement, whether for personal branding or business growth, with tools designed for efficiency and clarity.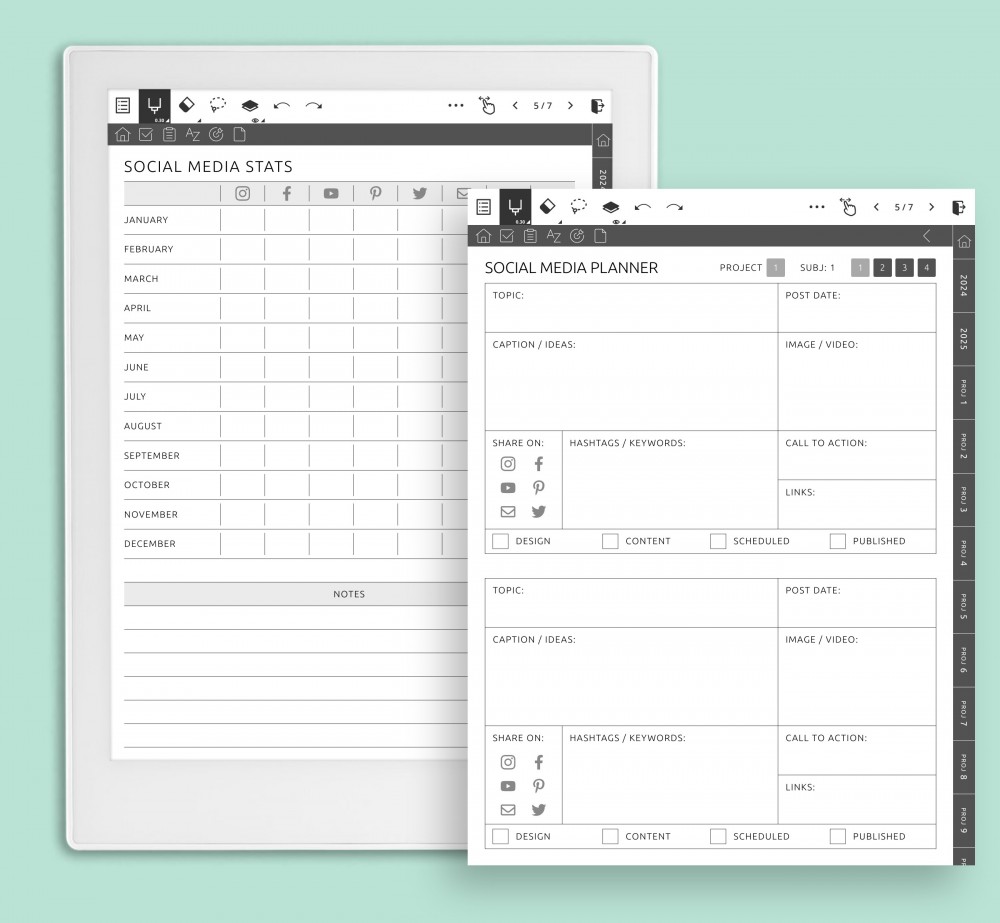 Streamline Your Professional Event Management
With our dedicated conference list, ensure you're always prepared for upcoming seminars, workshops, or conferences. Post-event, the conference notes template is your ally for capturing critical insights and action points. Together, these tools foster a seamless approach to tracking and enhancing your professional journey.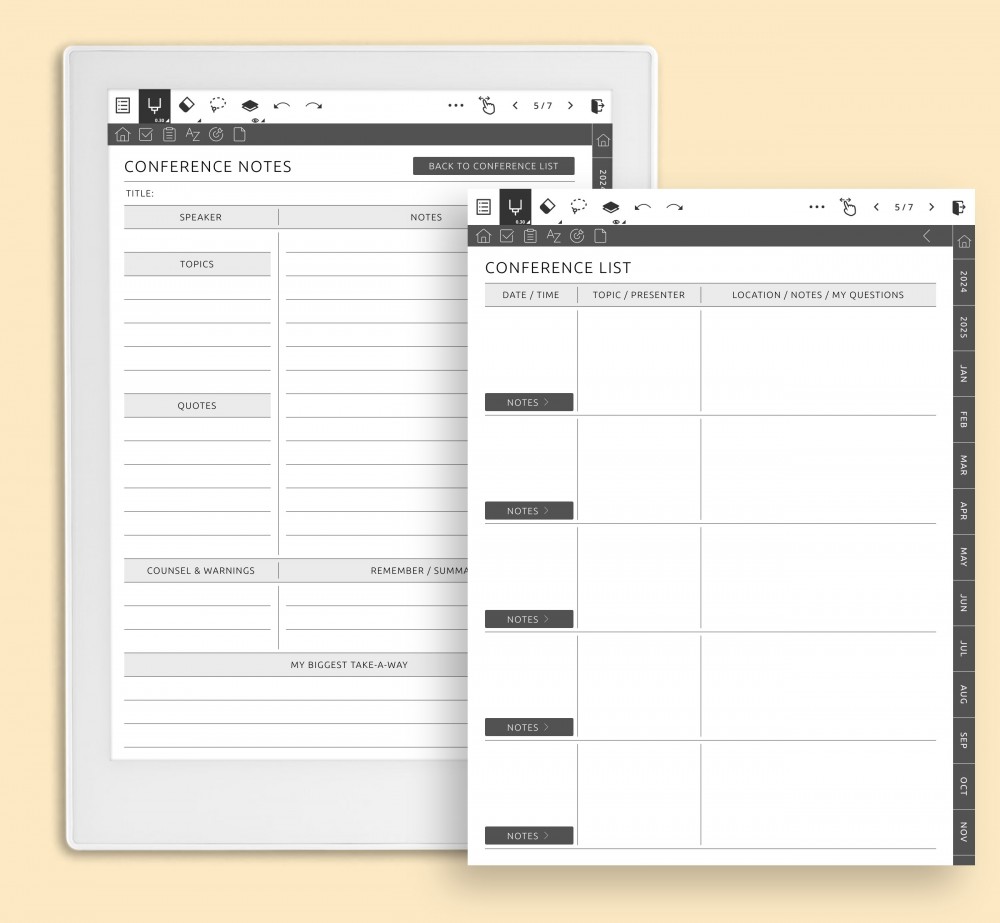 Effortless Browsing
Dive into your Supernote Business Meeting Notes planner with ease, thanks to our intuitive hyperlinked design. Whether you're accessing daily tasks, project milestones, or monthly targets, a few taps will lead you right there. Our planner offers a connected and streamlined journey, elevating your organization to the next level.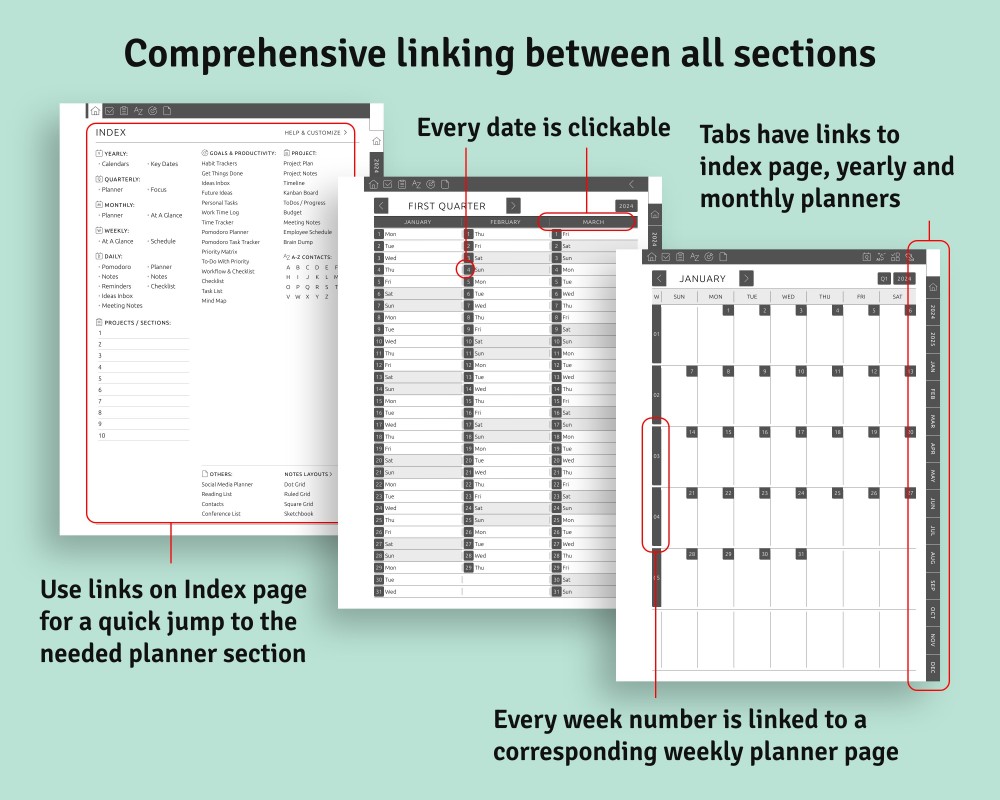 Supernote Business Meeting Notes
$9.69
Added to cart.


Continue to checkout
OR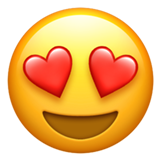 29 Supernote Planners
+Future Releases & Updates
$19.97
Added to cart.


Continue to checkout
After purchase, enjoy unlimited customizations and downloads of your planner or bundle at no added cost