reMarkable Meeting Notes
$8.98
Added to cart.


Continue to checkout
OR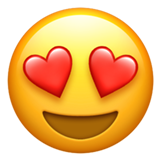 37 reMarkable Planners
+Future Releases & Updates
$19.97
Added to cart.


Continue to checkout
After purchase, enjoy unlimited customizations and downloads of your planner or bundle at no added cost
📝 Meeting Notes is the ideal business planner for planning and managing meetings, projects, and setting goals. 🎯 You can have up to four daily pages and select a Daily Meeting Notes template for each one. 🗓️ The project section will have your project planning up to ten different projects. 📊 It has templates with important information and thirty layouts for taking notes to give you the best possible experience. 📔 With dozens of customizable templates for your annual, quarterly, monthly, weekly, and project pages, you can bet Meeting Notes will work for you. ✅
Features
Hyperlinks
for easy navigation
Tabs
for quick access to important pages
Custom dates
that fit your needs
Customize Your Planner
adapt your planner to your life by choosing the most suitable layouts
Sunday / Monday
start day of the week that you prefer
Editing mode
draw, write and sketch on the go
Manage Ten Projects
You can create a comprehensive project plan quickly with timeframes, resource allocation, and constraint analysis features. Set milestones, calculate budgets, and track progress visually using our customizable to-do lists and Kanban boards, and stay on top of your projects like never before.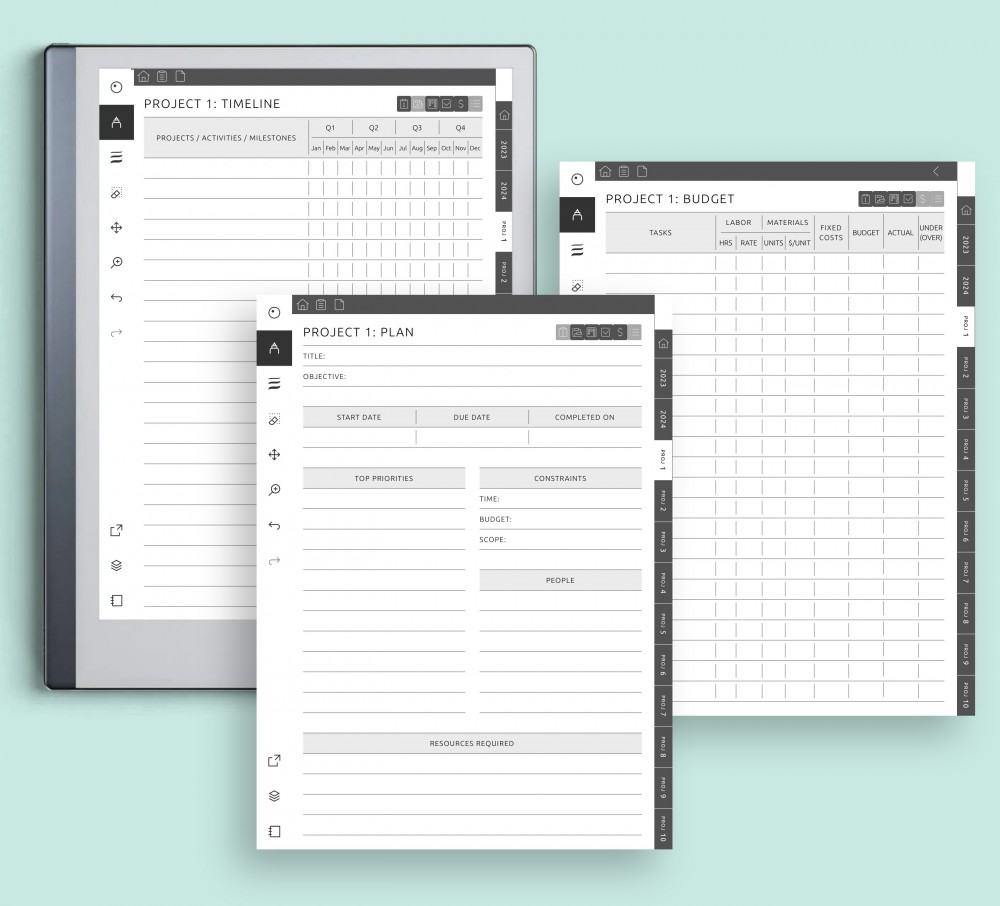 Crush Your Goals with Our Planner
Our planner is designed to help you achieve your goals, whether they are personal or professional. With our customizable templates, you can break down your goals into actionable steps, track your progress, and stay focused on what matters most. Whether you want to improve your productivity, enhance your skills, or reach new heights in your career, our planner provides the tools you need to unlock your full potential and achieve success.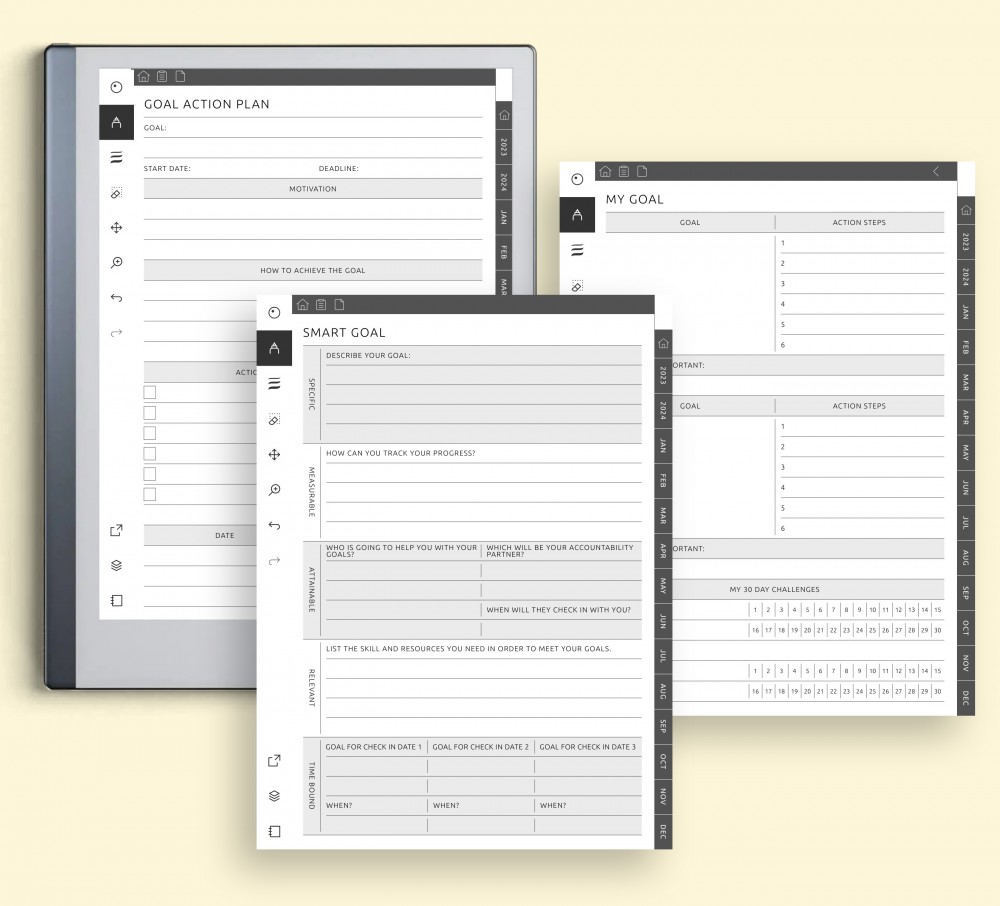 Transform the way you manage your tasks!
Experience a groundbreaking approach to task management with our Meeting Notes. Our intuitive templates and expert utilization of the popular Get Things Done methodology enables you to easily capture, process, and organize your ideas. This empowers you to maintain focus and achieve your goals. Whether you need to rank your to-do list or divide complicated projects into achievable steps, our planner has everything you need to seize control of your time and accomplish your tasks.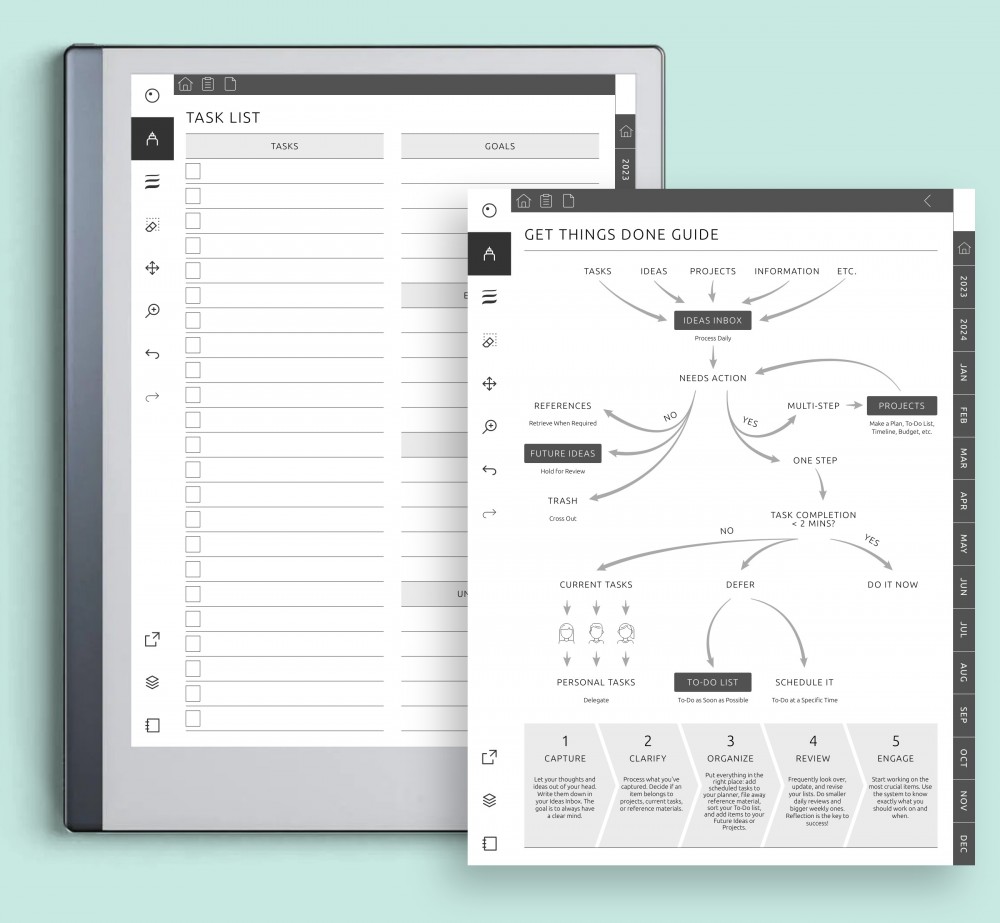 Revamp Your Note-Taking
Our extensive selection of templates provides you with the freedom to take notes in your own unique style. With over 30 templates to choose from, you can select the ones that best fit your preferences. Our planner also includes special templates for recording key contact information, so you never lose track of essential details. Personalize your note-taking experience with our planner, and stay organized in style.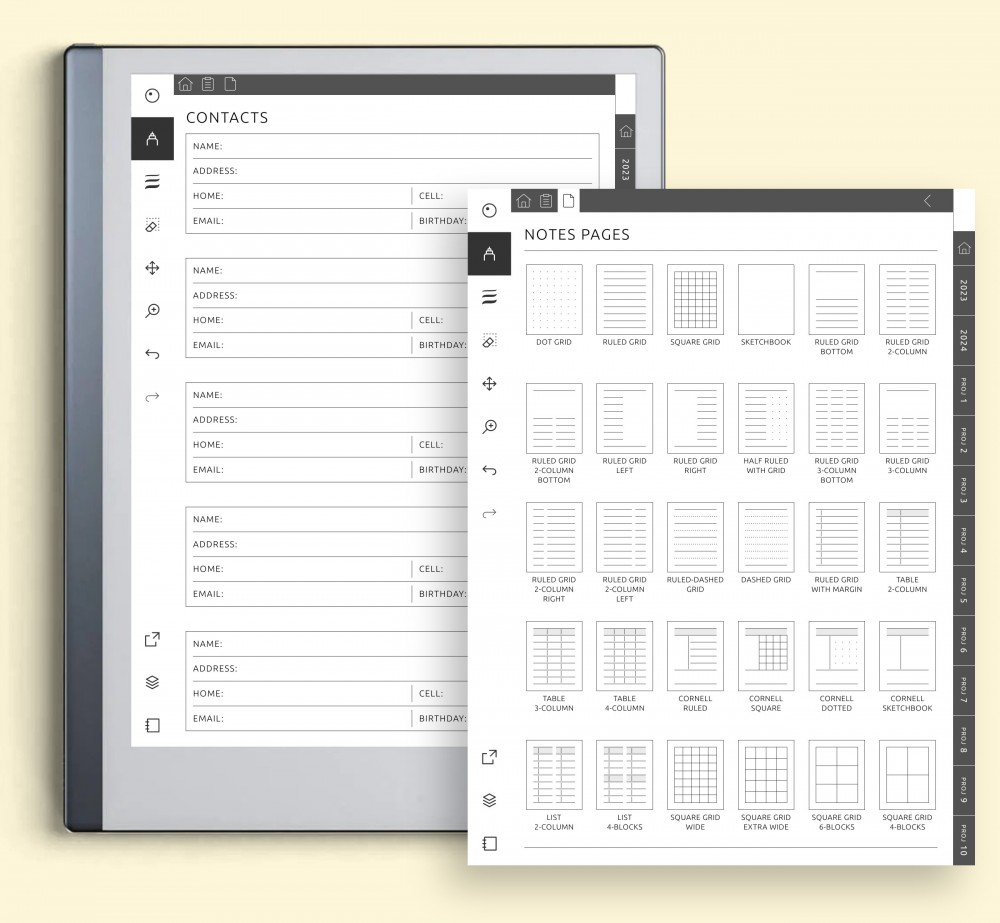 reMarkable Meeting Notes
$8.98
Added to cart.


Continue to checkout
OR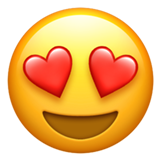 37 reMarkable Planners
+Future Releases & Updates
$19.97
Added to cart.


Continue to checkout
After purchase, enjoy unlimited customizations and downloads of your planner or bundle at no added cost